Why is China's economic growth target so meh?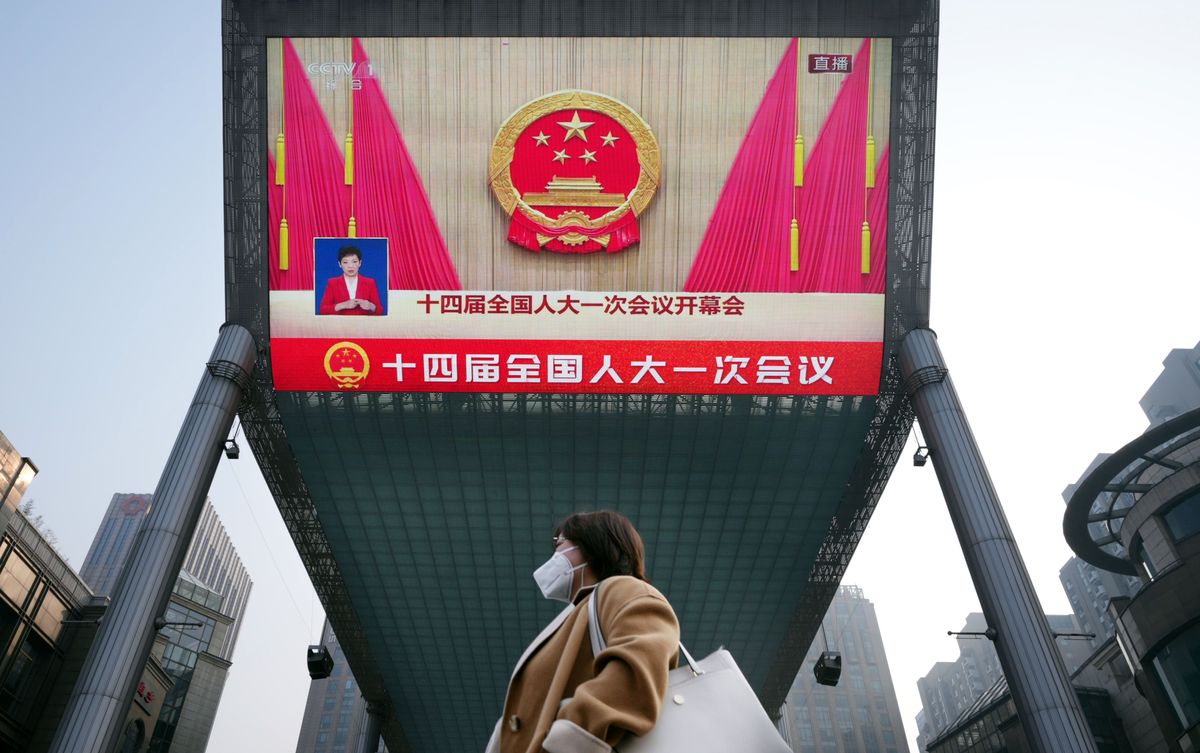 Ichiro Ohara/The Yomiuri Shimbun via Reuters Connect
Dissecting an annual GDP growth target is what economics nerds dream of. For the rest of us, it's instant melatonin.
But if that target comes from the world's most populous nation, second-largest economy, and top exporter, perhaps you should pay attention.
---
At the annual "Two Sessions" meeting of its rubber-stamp parliament over the weekend, China's government set its 2023 economic growth target at "around" 5%, the lowest since 1991. That's (slightly) below market expectations for China, whose GDP for decades expanded by more than 10% annually and before the pandemic was still more than doubling economic growth in the US and Europe.
Why is Xi Jinping doing this? For one thing, he doesn't want to get burned like last year, when the ruling Communist Party for the first time missed its 5.5% annual target by almost half, thanks mainly to zero-COVID.
For another, Xi likely thinks that he needs to play it safe as the economic recovery from zero-COVID is still far off. What's more, China faces major headwinds from sluggish demand, supply shocks, and weak expectations.
In short: China wants to under-promise and — hopefully — over-deliver.
How did we get here? The pandemic laid bare deep structural problems with China's economy that can no longer be swept under the rug. Arguably, the most important one is soaring debt related to the real estate sector, under intense scrutiny since the Evergrande crisis in late 2021.
But it's not just the property market — rural banks and local governments are also very deep in the red. Any of the three is too big to fail, and Beijing is spending billions to ensure they don't.
Still, China's GDP growth figures have been trending downward for years — in part because the economy has matured and no longer needs the breakneck expansion of an emerging market. Xi was previously willing to trade slower growth for "common prosperity," which is CCP-speak for curbing inequality.
Beijing thinks it can turn this around by boosting domestic consumption. Yet none of the big-picture policies currently on Xi's desk would accomplish as much in the short term as taking a page from (!) America's COVID recovery playbook, says Eurasia Group analyst Lauren Gloudeman.
"The most impactful thing Beijing could do to stimulate consumption this year would be handing out stimulus checks," she explains, "but China's leaders have shown ideological opposition to this and other forms of welfare as encouraging laziness."
Although the dim global economic outlook doesn't help, this is mostly a domestic story. For instance, while demand for Chinese exports has been sputtering since Western central banks started raising interest rates to tame inflation, net exports actually have a negligible effect (+/-0.2%) on the country's GDP.
More importantly, less but more sustainable growth is better in the long run for China. The 5% target, Gloudeman explains, "is more realistic and rational as a policy signal compared with a higher target, which would need an excessive stimulus that would probably not be very effective and come at the cost of more sustainable growth in the long term."
The meh figure, she says, "tells us that the focus is not on delivering just the appearance of high growth, but rather on getting the recovery back on track with a focus on addressing risks to the outlook."
FYI, take China's official numbers with a grain of salt. After all, outgoing Premier Li Keqiang admitted to US officials in 2010 that they're "man-made."
If you want to get a more accurate picture of where the Chinese economy stands, check out other statistics like the breakdown of credit growth, industrial output volumes, or property values. Once you aggregate everything, most likely the "real" figures won't add up to the government's.
"In reality, the target is mostly just a political signal," Gloudeman says. And keeping that in mind is "the whole point of analyzing China's economy."