Sign up for GZERO's free newsletters on global politics
SUBSCRIBE
GZERO Daily: the newsletter for people who love global politics
Sign up for our free newsletter to keep up with what's going on around the world - and why it matters.
Subscribe
GZERO Daily: the newsletter for people who love global politics
Subscribe Now

We have updated our Privacy Policy and Terms of Use for Eurasia Group and its affiliates, including GZERO Media, to clarify the types of data we collect, how we collect it, how we use data and with whom we share data. By using our website you consent to our Terms and Conditions and Privacy Policy, including the transfer of your personal data to the United States from your country of residence, and our use of cookies described in our Cookie Policy.
Why Trump 2.0 could be bad news for Canada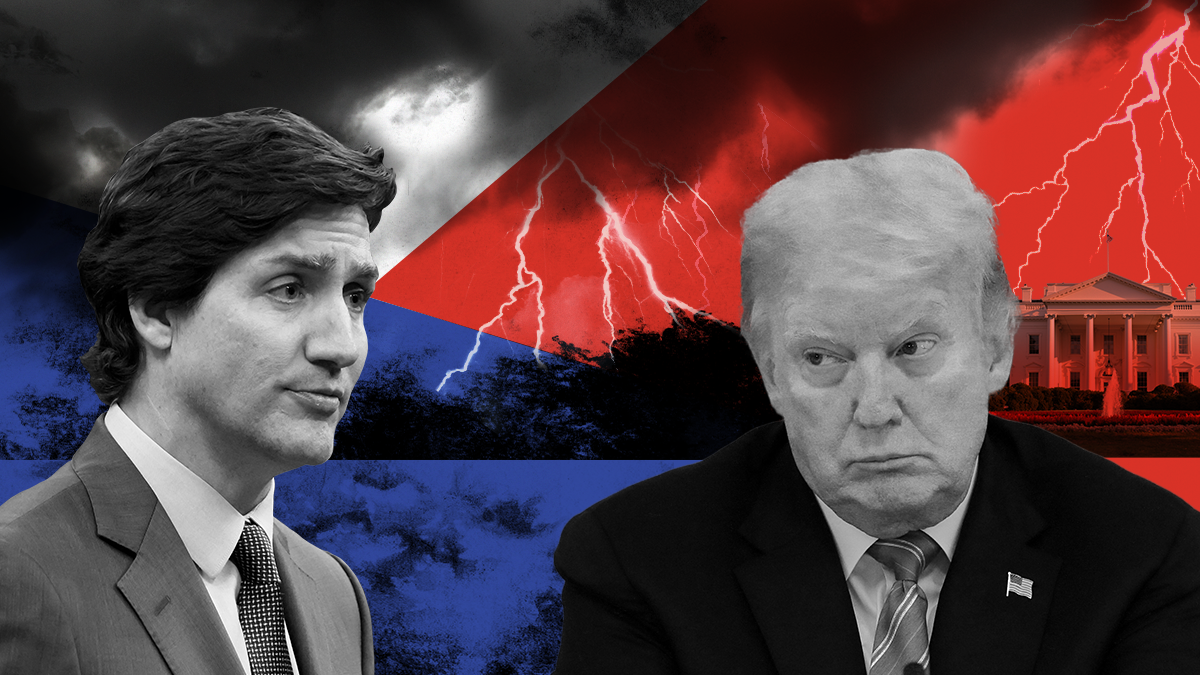 Reuters
When Donald Trump was elected in 2016, Justin Trudeau launched a charm offensive carefully calibrated to try to keep the crucial trade relationship on track. There were gifts, phone calls, and visits, and it worked, to a point.

The Trudeau team managed to develop a friendly relationship with Trump's daughter, Ivanka, and his son-in-law, Jared Kushner, opening a crucial back channel.
---
By 2018, though, as Trump and Trudeau tussled over a new trade arrangement, tempers frayed. After the leaders of the rest of the free world ganged up on Trump at a G7 meeting in Quebec – he didn't want to sign the communique the rest favored, which left him angry and isolated – the US president lashed out at Trudeau on Twitter from Air Force One. According to a memoir by John Bolton, then Trump's national security adviser, when Trudeau said that American "tariffs threaten to harm industry and workers on both sides of our border," Trump's blood boiled.
Trump, Bolton wrote, directed his aide Larry Kudlow to attack Trudeau on the Sunday shows: "Just go after Trudeau. Don't knock the others. Trudeau's a 'behind your back' guy." Peter Navarro went further on Fox News Sunday, saying there is a "special place in hell" for Trudeau.
The blow-up in Quebec was a low point in the Canada-US relationship, which normally consists of politicians exchanging friendly pieties while officials and businesspeople on both sides of the border aim to maximize trade and minimize tension. That was true when the leaders were politically like-minded — the Trudeau-Barack Obama bromance — and during periods where the leaders met across an ideological divide, as when Jean Chrétien and George W. Bush led their countries.
Finding leverage in USMCA review
If Trump is the nominee in November, and the polls say he will be, and if he defeats Joe Biden, which polls say he might, we can expect craziness, says Bruce Heyman, who served as Obama's ambassador to Canada.
"That craziness is not good," he said. "Not good for the world order and not good for the Canada-US relationship."
Trump mobilized a coalition of blue-collar workers against NAFTA – the standing trade agreement between Canada, the US, and Mexico – as the reason for the economic pain many working class voters experienced as manufacturing jobs moved to Mexico and overseas. Once in the White House, Trump forced Canada and Mexico to negotiate the USMCA, a deal similar to NAFTA except with some added bonuses for US dairy farmers.
The USMCA comes up for review next year, and while Trump hasn't indicated that he plans to renegotiate it, Heyman thinks a re-elected Trump might decide to let it lapse.
"Donald Trump doesn't have a large appetite for Canada-US relations. If we revert back to isolationism, and autocracy, and a King-of-the-Hill kind of attitude, then alliances get thrown under the bus."
Jon Lieber, Eurasia Group's head of research and managing director for the United States, who worked as a Republican economic policy advisor, agrees that we should expect conflict from Trump 2.0. "His modus operandi is to use whatever leverage he has to get what he wants. We don't know exactly what he wants yet, because he hasn't articulated a vision for North American trade, but we know there's these pre-existing irritants, and a big part of his political coalition is going to be auto workers in the Upper Midwest."
Trump will need to say something that contrasts with Biden on the campaign trail, and "things that you say on the campaign end up being enacted as policy," Lieber adds.
Poster boy for a frozen blue state
Trump was an unknown quantity in his first term, and it took him some time to find his footing as he slowly figured out how to manipulate the levers of power. As Bolton wrote: "It is undeniable that Trump's transition and opening year-plus were botched irretrievably."
Next time, Trump would know how to work the levers — aided by a group of policy and communications professionals who have been cooking up plans in a new constellation of MAGA think tanks. And Trump wants to exact revenge on the Democrats who he blames for his grave legal difficulties.
Trudeau, of course, has not played any role in prosecuting Trump, and the former president hasn't gone after him, but the Congressional Republicans closest to him have taken to lobbing rhetorical potshots north of the border. Marjorie Taylor Greene, for instance, has suggested (falsely) that Trudeau is the child of Fidel Castro while complaining about Canadian gun laws. Lauren Boebert has said that Canada needs "to be liberated," and Tucker Carlson proposed that the United States invade Canada, although the hour-long special he had planned was kiboshed when Fox showed him the door.
Trudeau's image as global progressive poster boy grates on American conservatives, who see him as a woke, virtue-signaling irritant, overseeing a frozen blue state where Muslim immigrants are welcome, guns are banned and vaccines mandated. Over the weekend, prominent Republican online influencers denounced and mocked him in crude terms when he posted a picture of himself and his son at a showing of Barbie. He is an irresistible target for the MAGA GOP.
'Deeply fearful'
As the culture war increasingly dominates American politics, and the two voting blocks come to resemble warring factions, it is possible that the domestic American impulses may find expression in the Canada-US relationship, which has for decades been dominated by arcane disputes about softwood stumpage fees and dairy quotas.
Lieber thinks that's likely just noise: "Fundamentally, none of these people have reason to care about US-Canada trade relations or do anything to upset it. It's not like Mexico."
Heyman, though, is uneasy. "I am deeply, deeply fearful for the Canada-US relationship if Donald Trump is back in the White House."
Next time, if it happens, Trudeau would be unwise to rely on charm.