GZERO Daily: the newsletter for people who love global politics
Sign up for our free newsletter to keep up with what's going on around the world - and why it matters.
Subscribe
GZERO Daily: the newsletter for people who love global politics
Subscribe Now

We have updated our Privacy Policy and Terms of Use for Eurasia Group and its affiliates, including GZERO Media, to clarify the types of data we collect, how we collect it, how we use data and with whom we share data. By using our website you consent to our Terms and Conditions and Privacy Policy, including the transfer of your personal data to the United States from your country of residence, and our use of cookies described in our Cookie Policy.
As crisis deepens in Israel-Hamas conflict, cracks emerge for Biden and Trudeau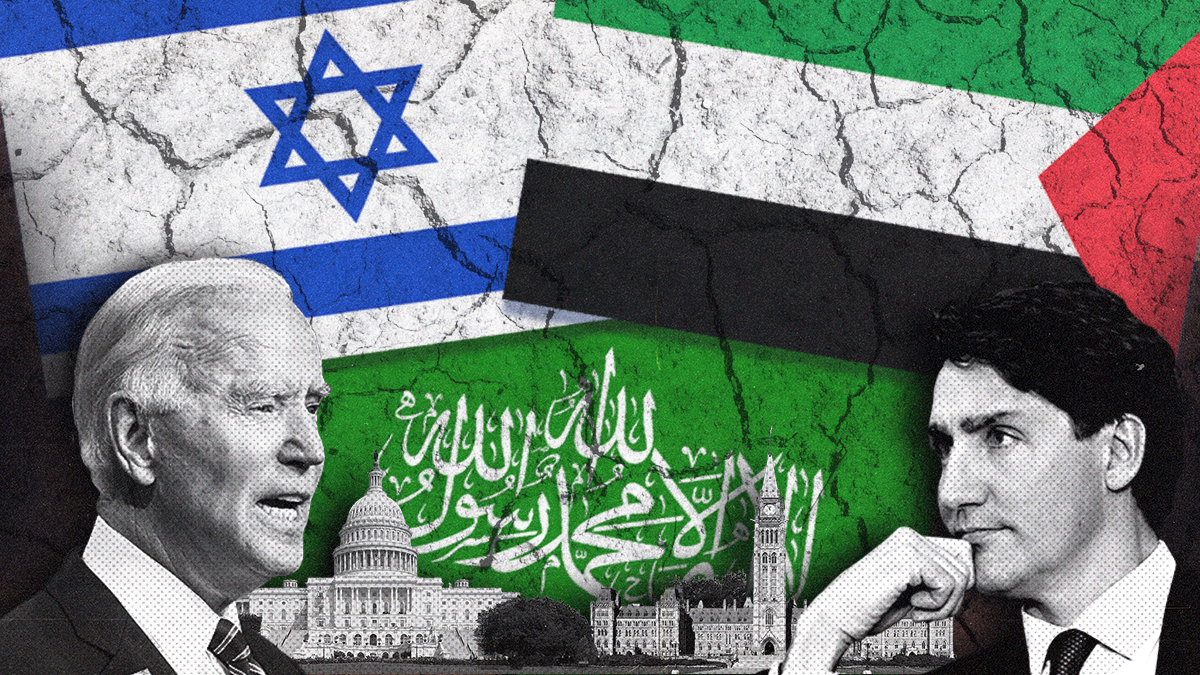 Ico Oliveira
The fallout from Hamas' deadly attack and Israel's retaliatory bombing and planned invasion of Gaza is putting pressure on North American leaders while surfacing internal divisions. Just as demonstrations have erupted worldwide in support of and against Israel, President Joe Biden and Prime Minister Justin Trudeau are wrangling dissent among their constituencies and their party ranks. As both stare down approaching elections, their Middle East policies will factor heavily both abroad and at home.
---
Last week, 33 members of Parliament in Canada called for a cease-fire in Gaza. Among the signatories of a letter to Trudeau are nearly two dozen Liberal MPs, including a former Cabinet minister and six members who currently serve as parliamentary secretaries.

On Tuesday, Trudeau said he supports "humanitarian pauses" in Gaza to supply aid to Palestinians and to facilitate evacuations of foreign nationals. But the government does not support a cease-fire, and Defense Minister Bill Blair has said he supports the destruction of Hamas, calling it a terrorist organization and saying he believes Israel has a right to defend itself.
The internal divisions in the Liberal caucus come as US Secretary of State Antony Blinken told the United Nations Security Council Tuesday that such "pauses" ought to be considered, despite the Biden administration's unwavering support of Israel and its bombing — and expected ground invasion — of Gaza. So far, the war has displaced over a million residents of Gaza, and one aid group reports that over 2,000 children have been killed.
In the United States, meanwhile, reports suggest that some Democrats are "enraged" by Biden's refusal to encourage a cease-fire. Last week, just over a dozen left-wing Democrats in Congress introduced a resolution calling for an immediate cease-fire and delivery of humanitarian aid. Supporters of the resolution include Rashida Tlaib — a progressive Democrat from Michigan and the only Palestinian in the House of Representatives, Cori Bush, and Alexandria Ocasio-Cortez. But Biden maintains that Israel has a "duty" to defend itself and has said the possibility of a cease-fire can only come once the hostages are released.
The Biden administration's position on the conflict is significant because the US is a major supporter of Israel, both in terms of military aid and political support. Canada's clout is far less significant, and the country is unlikely to stray too far from America's stance.
Domestically, however, both Trudeau and Biden are on the back foot, with the prime minister facing devastating polls that suggest he is unlikely to win the 2025 election. Biden, meanwhile, is confronting his own worrying polls about a hypothetical rematch with Donald Trump, as well as criticism from many Americans, including Democrats, that he is unfit for a second term.
Is that sufficient pressure to persuade Biden to change his position? Unlikely, says Clayton Allen, US director at Eurasia Group. While the division between left Democrats and the White House is "significant," Allen says, it doesn't imply a constraint on Biden.
"Progressive members have limited leverage to force immediate shifts in the White House position," he explains. But that doesn't mean Biden won't face electoral consequences. "Longer term, the disappointment among key left-wing figures will impose a drag on Biden politically," Allen adds, which may impede his reelection efforts in 2024.
Many younger voters already feel Biden is too old to serve a second term. When you add potential fallout from his staunch support of Israel, that could further hamper his chances of victory in what could be a close presidential contest.
As Allen notes, the effect of Biden's position on Israel "will be to suppress, at least to some extent, younger and more progressive voters." That's because a recent CNN poll found that while Americans are broadly sympathetic to Israel in the war, under a third of 18- to 34-year-olds believe its attacks are "fully justified," while over 80% of those 65 or older believe they are.
"In a binary choice election between Trump and Biden, Biden could count on the support of these voters as they would have no place to go," Allen says. "But the presence of progressive Professor Cornel West — who has been critical of Israel throughout his career — on the ballot in all 50 states gives them an alternative that could hurt Biden."
Luckily for the president, however, the independent candidacy of Robert F. Kennedy Jr. is breaking his way. A recent poll has RFK Jr. at 13%, siphoning votes from Trump at a 2:1 ratio over Biden. West, meanwhile, is polling at just 4%.
In Canada, most respondents in a recent poll doubt that a lasting peace is possible in the Middle East. Still, a strong plurality of 40% believe Canada's support of Israel is "about right" compared to 16% who think it's too high.
While those numbers might reinforce Trudeau's support for Israel, it is unusual to have so many of his MPs speak publicly against the prime minister, a sign that his hold on the caucus might be weakening. Among Canadians, more than half think Trudeau should step down before the next election, including 40% of past Liberal voters.
Divisions around the Israel-Hamas war are exacerbating an already fractious state of affairs in the United States and Canada, reflecting divisions within parties and the population at large. With both Biden and Trudeau steadfast in their support for Israel, this may have little effect on either country's posture on — or assistance to — the country as it bombs and prepares to invade Gaza. But it may shape domestic political considerations and, indeed, help determine whether either leader is still at the helm in the years to come.