WATCH : Global Stage @ the UN: Reimagining Tomorrow: Breakthroughs in Data and AI
WATCH
GZERO Daily: the newsletter for people who love global politics
Sign up for our free newsletter to keep up with what's going on around the world - and why it matters.
Subscribe
GZERO Daily: the newsletter for people who love global politics
Subscribe Now

We have updated our Privacy Policy and Terms of Use for Eurasia Group and its affiliates, including GZERO Media, to clarify the types of data we collect, how we collect it, how we use data and with whom we share data. By using our website you consent to our Terms and Conditions and Privacy Policy, including the transfer of your personal data to the United States from your country of residence, and our use of cookies described in our Cookie Policy.
Smoky skies part of new normal as planet heats up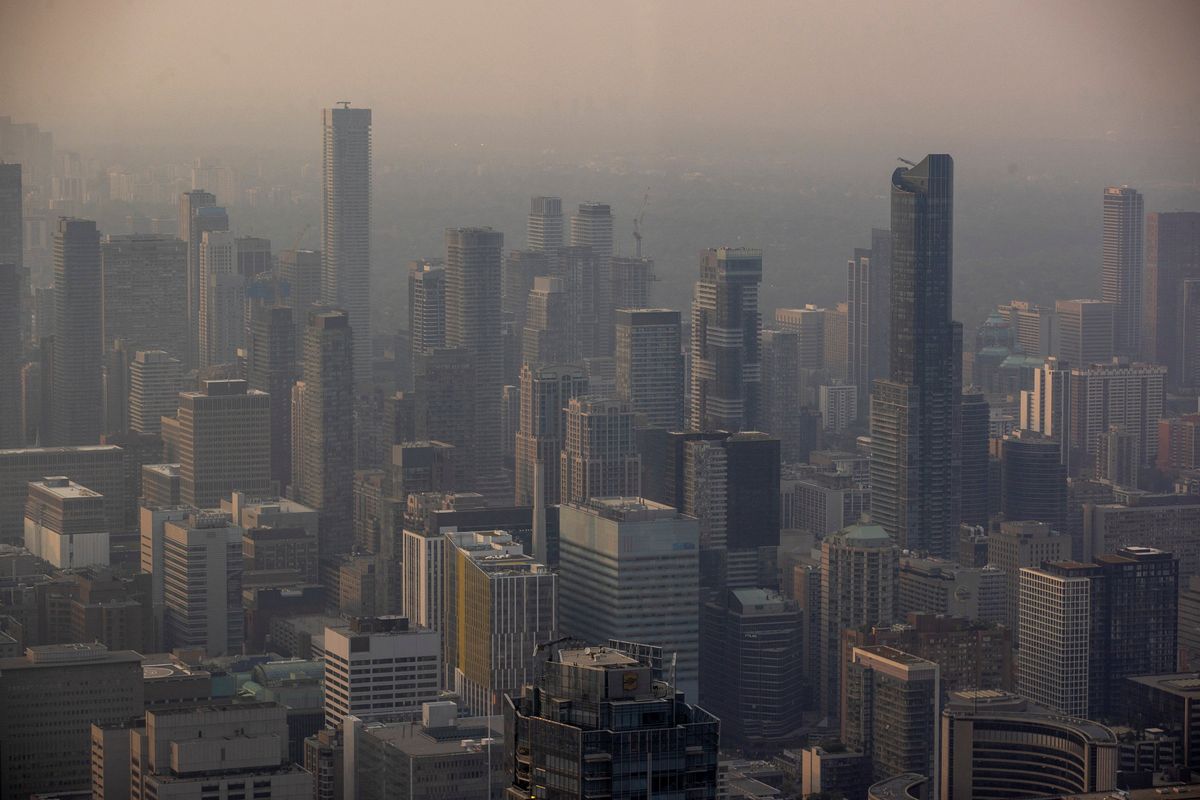 REUTERS/Carlos Osorio
Residents of Canada's capital awoke to hazy yellow skies on Monday. The Air Quality Health Index showed that the pollution level was putting residents at high risk. The day tasted like a campfire.
Ottawa was under a pall because of wildfires, both small ones nearby and big ones farther away in northern Quebec. A cold front spread the yellow blanket across the Great Lakes. Toronto, Montreal, Chicago, Indianapolis, Cincinnati, and much of Wisconsin were hazy on Monday. By Tuesday, the smoke had crept in over Boston, New York, and Washington. By the end of the week, it would be noticeable as far south as Nashville. Half of Canadians and a third of Americans can expect to experience unhealthy air quality by week's end.
---
Last week, the emergency was in Nova Scotia, where 18,000 people had to be evacuated from their homes after fires broke out in suburbs outside Halifax, where Hurricane Fiona downed many trees last year, leaving the woods full of dry kindling. Nova Scotia got some rain over the weekend, and the threat has receded, but it has been dry in Quebec, where 153 fires are burning, and 14,000 people have been evacuated from remote communities.
The provincial fire service is in triage mode, only fighting fires that threaten communities. Help would usually be expected from the rest of Canada, but many of those provinces are also on fire, so Quebec has had to look to the Canadian Forces for help. Firefighters from France and the United States are flying in to help, and the province is looking for help from Costa Rica, Portugal, and Chile.
On the West Coast, in British Columbia, the situation is almost just as grim. It's early in the season, but the woods are dry and warm, and one fire there is already one of the largest ever recorded.
The new normal
Across Canada, 413 fires are burning, and 26,206 people are under evacuation orders. An area larger than Belgium has burned already this year — about 13 times the 10-year average — and the season is just getting started.
Officials warned Monday that Canadians can expect to smell smoke into August. The woods are too dry and too hot, the result of the accumulation of greenhouse gases in the atmosphere, which has dried up the boreal forests that ring the top of the planet. Seasonal fires are part of the ecosystem in the boreal ring, but the fires are getting bigger, hotter, and more dangerous as the climate changes. The forest floor is so dry and warm that the wildfires behave in new ways, spreading at night, for example, where in the past they would die down after sunset. Fire season starts earlier and lasts longer.
Some of the worst fires produce pyrocumulonimbus clouds, what NASA calls "fire-breathing dragons" — towering cauliflower-shaped systems that produce their own weather like high winds and lightning strikes, which spawn even more fires. They suck smoke and moisture up into the stratosphere, where it is carried around the world.
All of that combustion is sending vast amounts of carbon into the atmosphere, accelerating global warming. Europe's Copernicus Atmosphere Monitoring Service measured 54.8 million tons of emissions from Canadian fires in May, more than double the amount in any May since 2003, when it began tracking emissions.
Forests producing CO2
In his recent book "Fire Weather," Canadian journalist John Vaillant points out that since the turn of the century the world's wooded carbon sinks — including the Amazon rainforest and the boreal ring — have become net carbon emitters.
"In other words, what used to be a reliable source of carbon storage is now generating more CO2 than it is sequestering," Vaillant writes. "This grave reversal is one of the most pernicious developments of the Petrocene Age. As forests heat up and die — from disease, beetle infestation, fire, logging, land clearing, and drought, they skew the CO2 balance even further. It is not that living, growing trees don't continue to absorb carbon, it is that they are no longer keeping pace with the emissions of their sick, dead, and burning neighbors."
There is a horrifying risk of an enormous release of emissions if the tundra above the treeline catches fire, Vaillant adds.
"We are, right now, witnessing the early stages of a self-perpetuating and self-amplifying feedback loop, accompanied by myriad 'cascade effects.'"
Planning for disaster
This is an urgent matter for leaders, not just because there are processes underway that could render much of the planet uninhabitable, but also because we have no choice but to change how we live in this hot new world.
The centerpiece of Vailliant's book was the 2016 fire — nicknamed "the Beast" — that destroyed much of the northern Alberta town of Fort McMurray, which cost the economy about CAN $9 billion, including CAN $3.58 billion in a direct hit to insurers. Insurance companies are turning away from the risk in California (and from the risk of hurricanes in Florida and Louisiana).
The climate is making fires more common, but our building practices are making them more costly. Many homes are built in the "Wildland-Urban Interface" — among the trees, which makes them vulnerable when the trees go up. Half of Canadian homes and a third of American homes are in the WUI. Planners need to change that.
During the fires last month in Halifax, the city had to quickly build gravel roads to provide new emergency exits to subdivisions where residents could be trapped, something it ought to have done years ago.
And we need to plan for more effective firefighting. On Monday night, Canadian parliamentarians held an emergency debate to discuss creating a new national firefighting service to back up provincial governments in years like this.
Ultimately, of course, what we need to do is stop putting so many emissions into the atmosphere. There are reasons to be hopeful about that, given the shift to electric vehicles and away from coal. Both Justin Trudeau and Joe Biden have pushed hard for policies to bring down emissions. Trudeau has introduced a carbon tax against fierce opposition and is risking his government by pushing for an emissions cap in the oil patch. Biden has built his presidency around an industrial strategy to hugely expand green energy.
"They are both pushing as hard as their domestic politics will let them," says Eurasia Group Vice Chairman Gerald Butts. But those policies will not have an immediate impact. "It's not an individual cigarette that gives you lung cancer. It's 40 years of smoking."
In 2016, the year the Beast devoured Fort McMurray, scientists noted with alarm that the concentration of carbon in the atmosphere reached 403.3 parts per million, up from 400 in 2015. On Monday, the National Oceanic and Atmospheric Administration reported that we are now at 424.
As long as that number keeps going up, so will the number of fires.