Watch today's livestream from the Paris Peace Forum: can we use technology to protect democracy?
November 06, 2023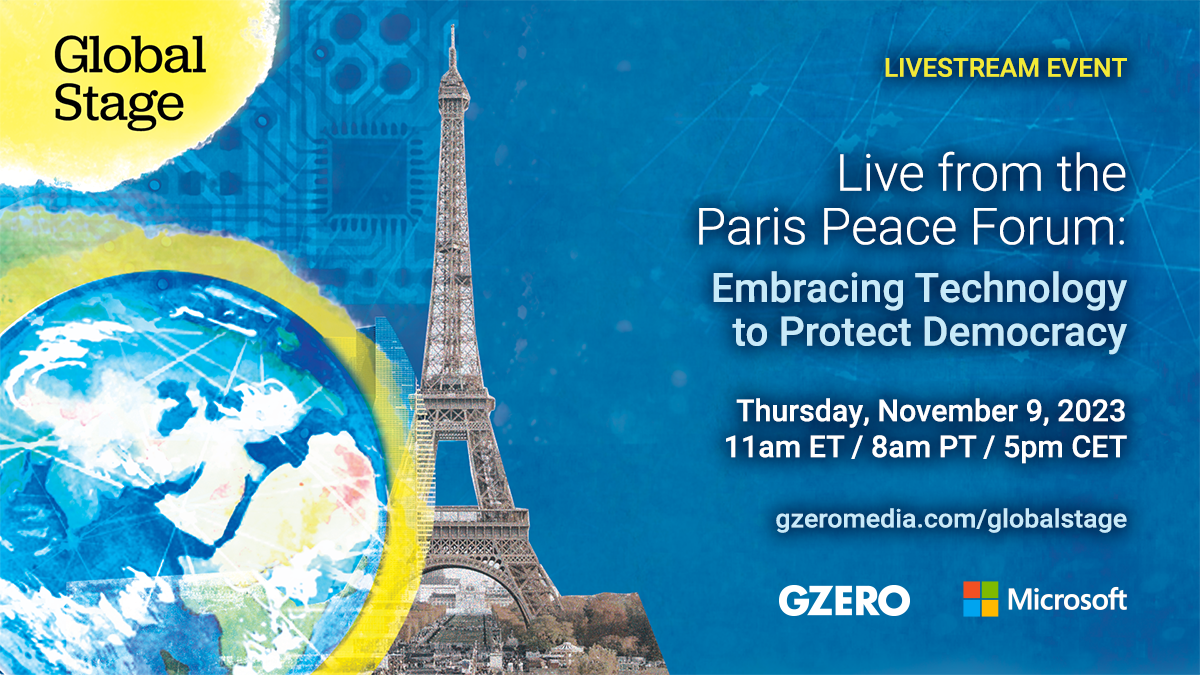 We're entering a year of critical elections at a precarious moment for the world. Key votes in the United States, European Union, Taiwan, India, and others across 78 countries will take place in 2024 amid ongoing conflicts in Ukraine and the Middle East, escalating US/China competition, and declining trust in both governments and the media.
Concerns about AI, disinformation, negative social media algorithms, and cybersecurity raise the question: how can we use technology as a tool to protect democracy, instead of harming it?
Live from Paris today at 11 am ET/5 pm CET we're convening leaders from politics, the private sector, and media to examine how that can happen. Julien Pain, journalist and host of Franceinfo, will moderate a live discussion from the historic Palais Brongniart, site of the 2023 Paris Peace Forum, in a GZERO Global Stage livestream produced in partnership with Microsoft.
Watch at gzeromedia.com/globalstage Thursday, November 9 at 11a,m ET/8am PT/5pm CET.
---
The participants include:
Ian Bremmer, President and Founder, Eurasia Group & GZERO Media
Eléonore Caroit, Vice-President of the French Parliament's Foreign Affairs Committee
Maria Ressa, Co-Founder and CEO, Rappler
Brad Smith, Vice Chair and President, Microsoft
Special appearance by Justin Vaïsse, Director General of the Paris Peace Forum
Thursday, November 9, 2023 | 11a,m ET/8am PT/5pm CET