Pakistan's military pays the price for Imran Khan's arrest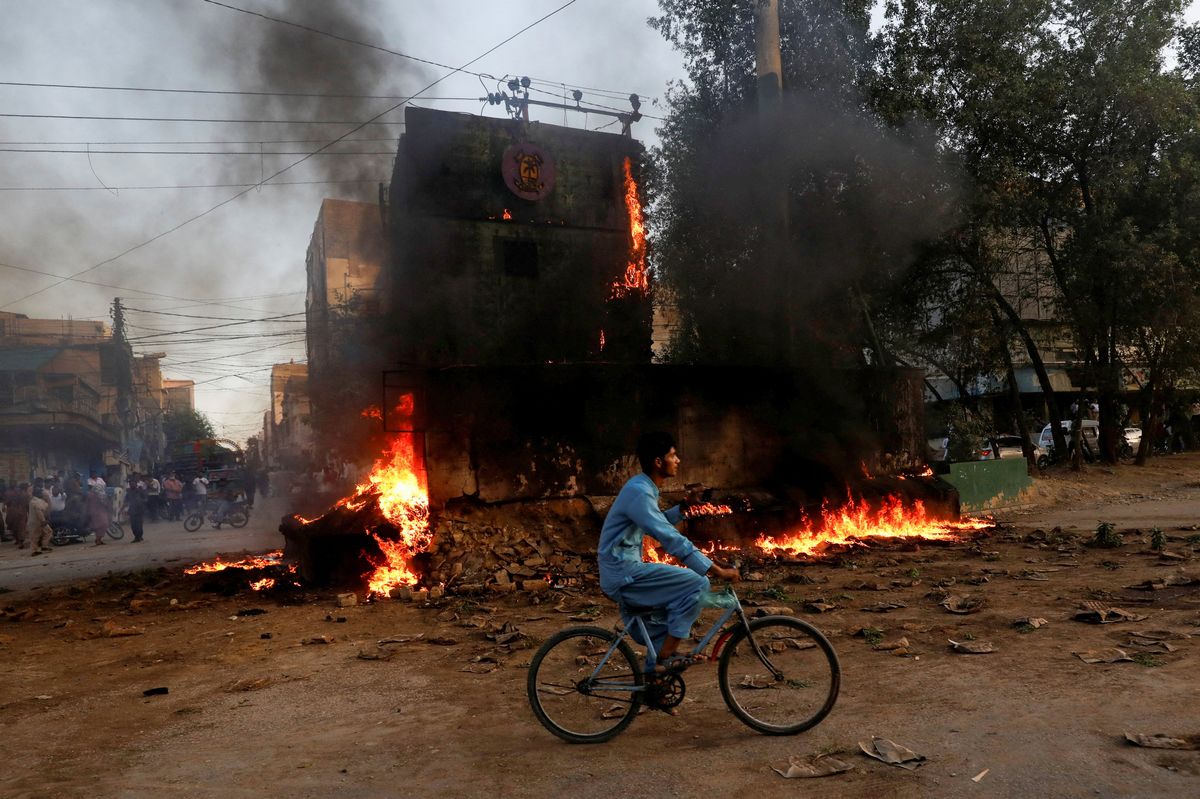 REUTERS
Pakistan's former Prime Minister Imran Khan was arrested in Islamabad on Tuesday as he appeared in court to face corruption charges. The move triggered nationwide protests against the military, the country's most powerful institution, with clashes killing at least one protester late Tuesday. A judge is expected to rule Wednesday on whether to grant a request by authorities to keep the former PM in detention for the next 14 days.
---
Khan was ousted in 2022 in a no-confidence vote and has faced countless anti-corruption and terrorism charges ever since. While the arrest was ostensibly linked to those charges, it came after Khan accused a military intelligence official of plotting to kill him. Experts say Khan crossed a red line with his accusation, which the military immediately denounced. His arrest "was essentially a warning from the military," says Eurasia Group's head of South Asia Research, Pramit Chaudhuri.
Pakistan has historically revered its military, but Khan's arrest triggered a brazen backlash from supporters. Videos circulated by the former PM's media team show his backers smashing through the gates of the military headquarters in Rawalpindi. Khan supporters also demonstrated outside military compounds nationwide.
To Chaudhuri, the mass protests indicate that "at the end of all of this, Khan will almost certainly be released, and that he will actually come out stronger." And this comes just in time for Sunday's provincial election in Punjab. Pakistan's military has since been deployed to the state to maintain order.
In an attempt to regain power, Khan dissolved assemblies earlier this year in Punjab and Khyber Pakhtunkhwa, provinces where his party has a stronghold. Pakistan's constitution stipulates that an election be held within 90 days of dissolution. But PM Shehbaz Sharif's ruling party argued the votes should be held at the same time as national elections in October, hoping that the economic and political conditions would be more favorable for them by then. The Supreme Court decided the delay was unconstitutional, and the elections are expected to be an opportune moment for Khan to capitalize on his growing popularity.
Tuesday's arrest will only add to that momentum. Chaudhuri says Khan is by far the most popular politician in Pakistan. "He controls the streets and has positioned himself as a populist agitator against the entrenched establishment, Shehbaz Sharif, and the military," he says.
"As far as legitimacy is concerned, he has almost all of it in Pakistan."