GZERO Daily: the newsletter for people who love global politics
Sign up for our free newsletter to keep up with what's going on around the world - and why it matters.
Subscribe
GZERO Daily: the newsletter for people who love global politics
Subscribe Now

We have updated our Privacy Policy and Terms of Use for Eurasia Group and its affiliates, including GZERO Media, to clarify the types of data we collect, how we collect it, how we use data and with whom we share data. By using our website you consent to our Terms and Conditions and Privacy Policy, including the transfer of your personal data to the United States from your country of residence, and our use of cookies described in our Cookie Policy.
Strongman with a strong mandate? El Salvador's Nayib Bukele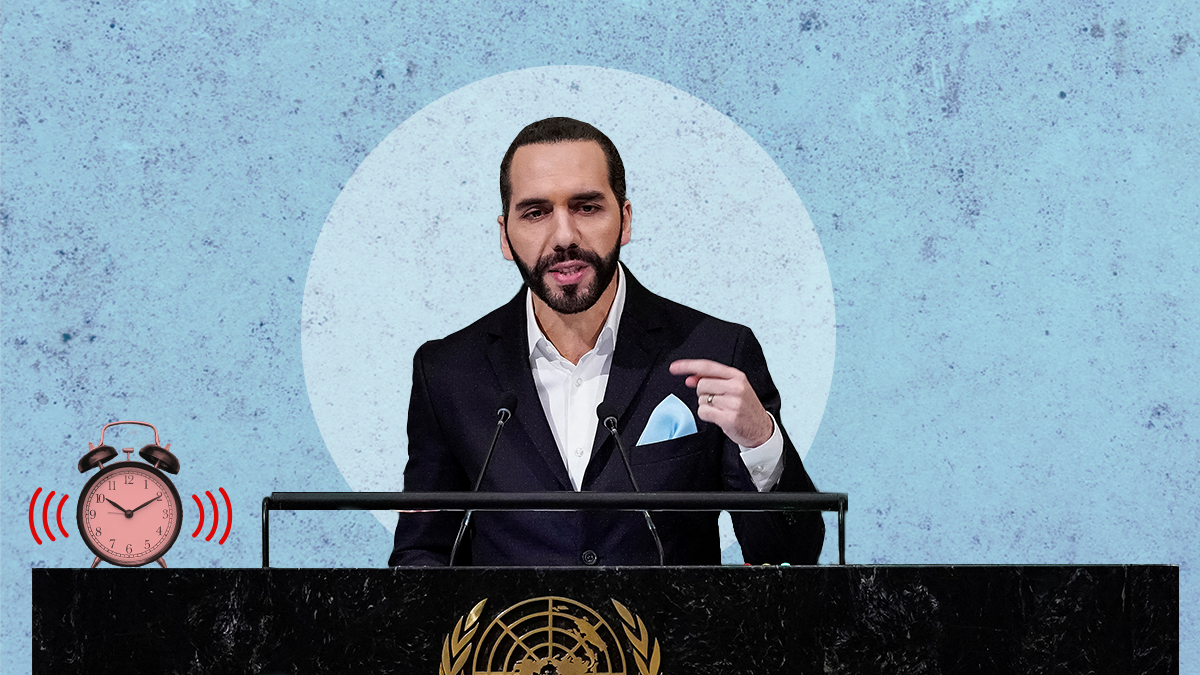 GZERO Media
Since riding an anti-establishment wave to power in 2019, El Salvador's young, social-media savvy, mano dura ("firm hand") President Nayib Bukele has tested the limits of his country's fragile institutions.
He's sent armed men into congress to pressure lawmakers, harried the opposition with arrests, packed the courts with loyalists, and raised human rights concerns with his jail-first-ask-questions-later approach towards gang violence.

But he's also done something remarkable: he's become one of the most popular democratically elected leaders in the world. After three years in office, his approval rating hovers around 90%.

---
Last week, high on that popularity, Bukele announced he would seek another five-year presidential term in 2024. The constitution seemed to say he couldn't, but a court ruling last year by his own judicial appointees paved the way for the move.

Democracy and human rights activists aren't surprised by the reelection bid. "There's no news in the fact that he's running again," says Juan Pappier, an El Salvador specialist at Human Rights Watch. "He's been using his popularity to undermine democratic institutions and the rule of law from the start."
So, why is he so popular? One reason is that Bukele – a political upstart who favors a baseball cap and leather jacket over a suit and tie – represents a stark break from the country's traditional politics. After a brutal civil war ended in the early 1990s, the warring sides became the two main political parties. As they deadlocked the country's politics, the economy sputtered and violence soared.

"There was a demand for a third option, something different," says Risa Grais-Targow, a Latin America specialist at Eurasia Group. "Bukele captured that and capitalized on it."
Once in power, he quickly dealt well with the pandemic, securing vaccine supplies and setting up vaccination centers much faster than neighboring countries in Central America. But crucially, he also managed to bring down the country's gang-driven murder rate – one of the world's highest – by a staggering 67%.

Early on, his crime fight was helped by pandemic lockdowns, and there were whispers that he might even have made a shadowy truce with the country's powerful gangs. But more recently, he's used drastic emergency powers that give the police broad leeway to arrest people, particularly in poorer areas where gangs thrive.
There's a downside. Many, actually. Activists say the gang crackdown has led to thousands of arbitrary detentions in what Amnesty International calls a "human rights crisis." And they worry about broader moves to bring the country's institutions under presidential control.
"To deal sustainably with gang violence," says Pappier of HRW, "you actually need strong judicial institutions that are willing and able to investigate the gangs and to hold those responsible for the horrible abuses that these gangs commit. But that is exactly the opposite of what Bukele has done."
What's more, the US and EU have already raised concerns about Bukele playing fast and loose with the rule of law. And with immigration a perennial hot-button issue in US politics, the Biden administration in particular has pressured governments across Central America over corruption and impunity, part of a strategy to address the "root causes" of northward migration.
Pressure from big players matters to small El Salvador. After all, it's a tiny, resource-poor, dollarized economy with a massive debt burden. The country relies heavily on external financing, and remittances alone account for about a quarter of GDP. Bukele's splashy bid to become a crypto economy has largely flopped so far, and with little to offer in the way of infrastructure or resources, it can't really play the China card the way other Latin American countries do.
That may limit how far Bukele's authoritarian instincts can go. "If El Salvador becomes a pariah," asks Grais-Targow, "what do they have to keep them going and to keep the population happy?"
But analysts say Bukele is also betting the US won't push him too hard. For one thing, they say, he seems confident that Donald Trump – or another Republican in his image – will take the White House in 2024, heralding the return of a more transactional approach to foreign policy.
For another, the sensitivity of immigration in American politics may limit how much pressure any administration would put on El Salvador.
"The Bukele administration assumes, probably correctly, that the US would never dream of imposing major economic sanctions on them," says Grais-Targow. "That would drive more Salvadorans north, which would be a huge domestic political problem for whoever is in the White House."

The pathway from here is ominous for El Salvador, says Pappier. "We have seen this situation of highly popular leaders destroying the rule of law and evading constitutional limits many times in Latin America — we saw it with Chavez in Venezuela, with Evo Morales in Bolivia – this is the same story. And in the case of Venezuela and others, we have seen where it ended."
But with strong domestic support, little opposition, and nearly complete control over institutions, the savvy Bukele is in a commanding position to write that story however he likes. For now, the next chapter seems certain to begin in 2024.
This article comes to you from the Signal newsletter team of GZERO Media. Sign up today.