Tragedy upon tragedy in war-torn Syria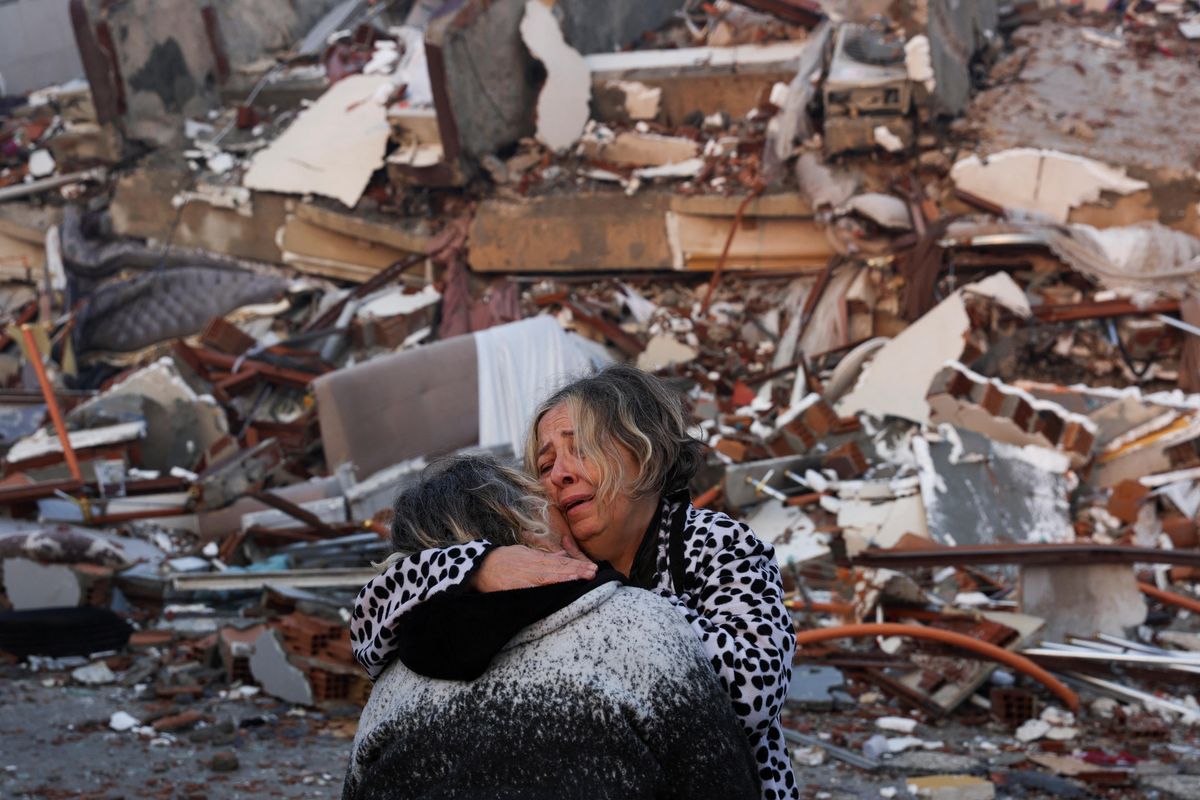 REUTERS/Umit Bektas
Days after a devastating 7.8-magnitude earthquake hit southern Turkey and northern Syria, the window for rescuing victims buried in the rubble is closing. Rescue efforts – and survival prospects – are being further challenged by freezing weather conditions.

The death toll has now surpassed 11,000 – and that number will certainly rise. Thousands remain missing, and nearly 400,000 have been moved to government shelters or hotels. Some 4 million Syrians in northern Syria alone were already displaced and relying on humanitarian support.
Tragically, this crisis compounds existing regional calamities, particularly for war-torn Syria, that make recovery efforts extremely difficult.
---
Tragedy compounds tragedy. For the people of northern Syria, the temblors bring yet more misery after a decade of war. Crucially, Idlib and Aleppo, central to the Assad regime's strategy of retaking the country, have been subject to heavy shelling since late 2019. Before Monday's tragedy, at least 3.3 million people in northwest Syria (out of 4.6 million) were food insecure. Meanwhile, a deadly cholera outbreak has also spread across the country in recent months.
Assad Sam Hanna, a Syrian activist who previously worked with Syria's "White Helmets," says this week's tragedy is even "more traumatic for the people who escaped the war where buildings used to collapse because of bombings." He notes that a lot of those families resettled to southern Turkey, where they "felt they were on the safe side."
Who's offered aid? At least 45 countries have offered to help Turkey in its recovery efforts, including dispatching 27 teams to assist with search and rescue efforts. Conversely, just a handful of states – China, Russia, Algeria, the United Arab Emirates, and cash-strapped Lebanon – have offered support to Syria, most of which is controlled by President Bashar al-Assad, considered a pariah by the West.
Since Syria's civil war erupted in 2011, Western countries have cut the country off from international markets and imposed measures that have obliterated local industries, causing widespread poverty. Without access or logistical connections in the region, it remains unclear whether – or how – Western states are going to – or can – help the Syrian people. Washington has pledged to help those on both sides of the border but will do so through "humanitarian partners," not by working with Assad's regime. Assad, meanwhile, rejects any involvement that isn't coordinated with the central government in Damascus.
The struggle to deliver aid. Control of northwestern Syria is divided between Turkey and Hayat Tahrir al-Sham, a rebel group with connections to al-Qaida. Meanwhile, northeast Syria is held by a Kurdish-led group backed by the US and where most of the services are provided by NGOs. Simply put: There is no central government to enforce a coordinated response.
Making matters worse, the Bab al-Hawa border crossing, the only humanitarian artery linking Turkey and northwest Syria, has been damaged by the earthquake. That's a big problem for the Syrian recovery effort, Hanna says, because "the only way [to deliver aid] is through the Turkish side."
But even before the earthquake, deliveries through this safe passage had been hindered by cynical geopolitics. Consider that Russia, a permanent member of the UN Security Council and a key backer of the Assad regime, used its clout to force the closure of several humanitarian corridors, leaving Bab al-Hawa as the sole lifeline. Still, Russia recently threatened to block this route as well if the UN failed to coordinate aid programs with the Assad regime.
Retraumatization of refugees. Many people impacted by the earthquakes – on both sides of the border – had already been displaced by Syria's civil war. While some fled to northwestern Syria from other parts of the country, around 3.6 million had resettled in Turkey since 2011. Gaziantep, the epicenter of Monday's quake, is home to around 500,000 Syrians.
Complicating matters further is the fact that anti-refugee sentiment has been on the rise in Turkey in recent years. In response to growing public concern over migration flows, Ankara had already capped at 20% the number of foreigners in some districts. Now, dealing with its own catastrophe, it will be even more difficult for Turkish authorities to accommodate a surge in Syrian migrants.
While those on the ground await political and humanitarian solutions that may never come, aid workers are racing against the clock as the prospects of finding more people alive grow bleak.