What We're Watching: Domestic & foreign policy implications, lame-duck maneuvers, Trump 2.0?, a Lake of doubts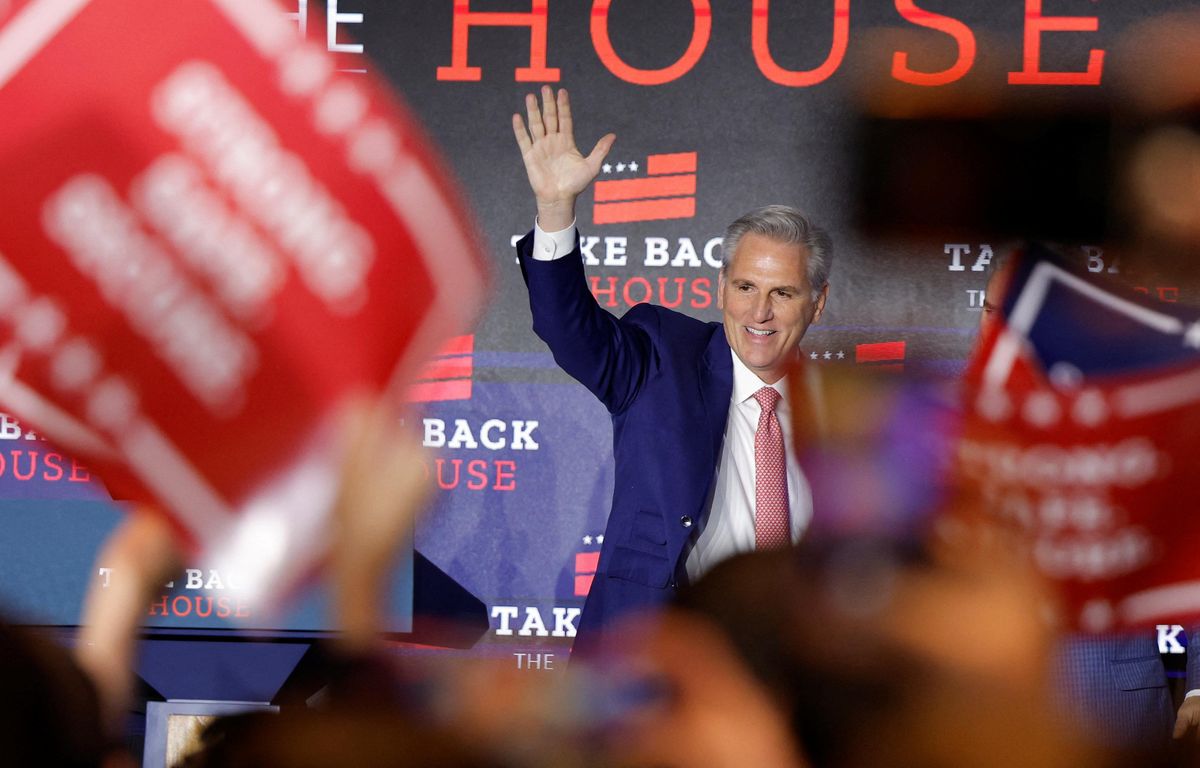 REUTERS/Tom Brenner
Probe payback incoming?
After being on the unhappy side of a raft of Democrat-led House investigations the last few years, incoming GOP House leaders are itching to launch a number of their own. Subjects may include the Biden administration's clunky withdrawal from Afghanistan, the origins of the COVID-19 virus, the alleged politicization of the Justice Department, and of course, the GOP's favorite target, Hunter Biden. What about impeachment? The Dems did it twice to Donald Trump. Could Republicans return the favor? Likely incoming House Speaker Kevin McCarthy says the GOP would never pursue it for "political purposes."
---
Will foreign policy change under a GOP House?
The biggest immediate issue will be Ukraine, where McCarthy will try to balance the views of establishment GOP Russia hawks against those of MAGA members who want to limit aid to Kyiv. McCarthy's already pledged to scrap what he calls a "blank check" policy and to scrutinize more closely the content and aims of US aid to Kyiv. Also, expect an even harder line against China, focusing on Beijing's trade and industrial policies, its role in the opioid crisis, and a sharper focus on the activities of Chinese students, companies, and investors in the US. In principle, whacking China is a rare bipartisan winner.
Can outgoing Dems beat the clock?

If Democrats lose their House majority, they still control the chamber for two months of a lame-duck session before the 118th Congress begins. Expect action on two Biden administration priorities. First, Dems might try to pass a big Ukraine spending package to lock in funds for Kyiv before the GOP takeover. Second, Democrats want to raise the debt ceiling so the government can borrow more to pay its bills and avoid default. If there's no agreement, House Republicans might use the debt limit as leverage to force Biden to accept painful entitlement cuts.
Trump teases 2024 announcement
We're officially on Trump watch. On Monday, the former president told an Ohio crowd to expect a "very big announcement" from his Mar-a-Lago home next Tuesday, and there isn't much mystery about what he means. The big looming question is whether other viable challengers for the GOP's 2024 presidential nomination will emerge, how Trump will respond to them, and how they will respond to him. In 2016, Trump's Republican opponents tried many tactics to take him down while protecting their opportunities to win over his supporters. Will Florida Gov. Ron DeSantis succeed where Ted Cruz, Jeb Bush, and Marco Rubio failed?
Raising (doubts in) Arizona
The gubernatorial race in the Grand Canyon State is too close to call, but Republican hopeful and new MAGA icon
Kari Lake
is already crying fraud. Lake — who's losing by two percentage points as of 6 a.m. EST — said in a fiery speech that it felt "
like Groundhog Day
," a reference to the 2020 presidential election that she insists was stolen from Donald Trump. If elected, Lake, a former TV anchor and anti-immigration hawk, might opt to not certify a Democratic victory in the 2024 presidential election, especially if Trump picks her as VP ...