What We're Watching: Hong Kong democrats on trial, EU-Turkey high seas drama, Clooney vs Orban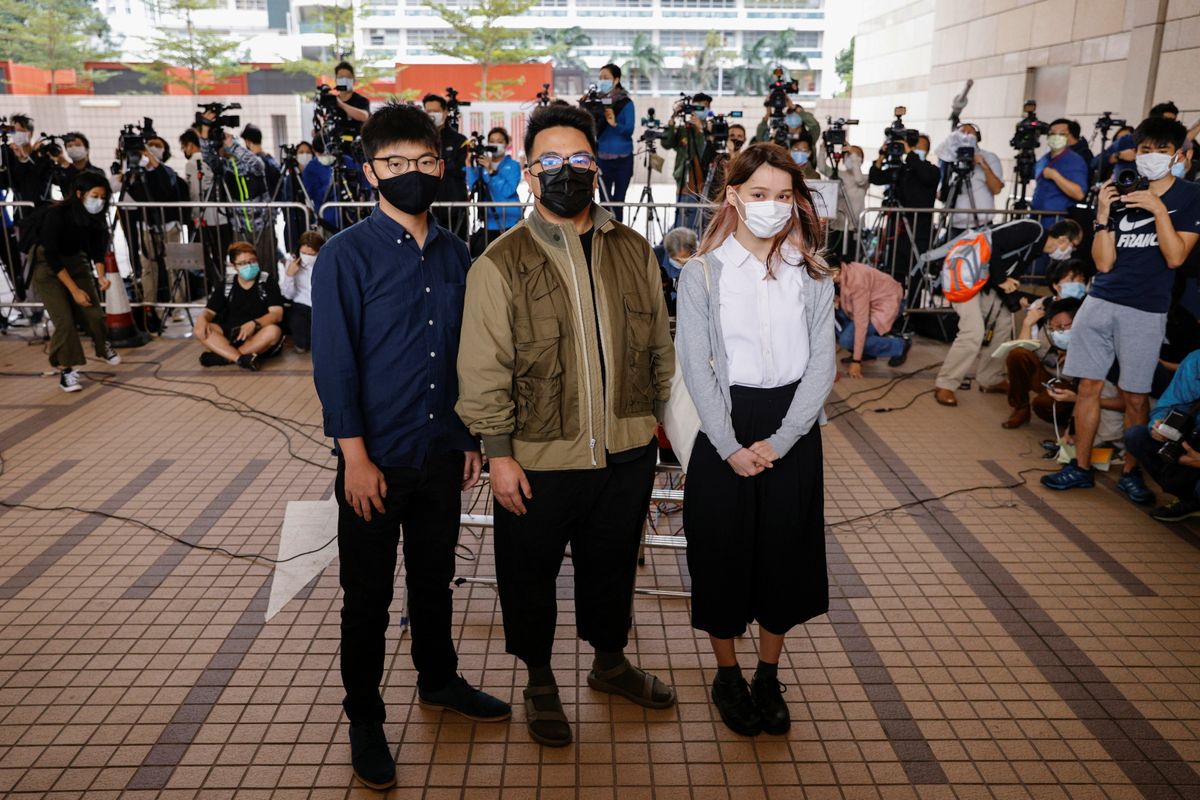 Hong Kong pro-democracy activists plead guilty: The name Joshua Wong has become synonymous with Hong Kong's once-dynamic pro-democracy movement. But the democrats' momentum has all but fizzled since Beijing imposed a draconian national security law back in May, outlawing secessionist activity and criminalizing foreign influence in Hong Kong. Now Wong, who was instrumental in the 2014 pro-democracy "Umbrella Movement," is pleading guilty in a Hong Kong court to organizing and taking part in pro-democracy protests that gripped the semi-autonomous city for much of 2019. He and his two co defendants — all of them in their 20's — have been remanded until sentencing, scheduled for December 2, and are likely to face prison terms of various lengths. Wong, for his part, said he decided to switch his plea to "guilty" after consulting with his lawyer. (Knowing that the trial would mostly be a sham, the trio decided to plead guilty in order to speed up the process, according to reports.) This internationally watched court case comes as Beijing has increasingly cracked down on Hong Kong's pro-democracy camp in recent months, prompting the US to impose sanctions on Hong Kong's leader Carrie Lam, and several Western governments to terminate special economic relationship with the city. To date, there have been more than 2,000 prosecutions linked to last year's protests.
---
EU-Turkey tensions on the high seas: Turkish officials were furious after German forces belonging to an EU military mission boarded a Turkish vessel off the Greek Peloponnese peninsula on Monday without Ankara's consent. Germany said that it believed Turkey was transporting weapons to war-torn Libya in contravention of a UN arms embargo, and that after a request to conduct a search was ignored by the Turks, they made the call to jump aboard. Turkey, for its part, says it was simply carrying international aid to an undisclosed location, accusing Berlin of breaching international law by not waiting for permission to board the ship. Ankara has since summoned several European ambassadors to air its grievances. This maritime dispute comes amid deteriorating relations between Turkey and Europe, in part because of Turkey's continued drilling for oil in waters claimed by Greece and Cyprus in the eastern Mediterranean. The EU says it could impose sanctions on Ankara as soon as next month, which would surely up the ante in this intensifying stalemate.

What We're Ignoring
Clooney vs Orban: In an interview promoting his upcoming post-apocalyptic science-fiction film, The Midnight Sky, perennial heartthrob George Clooney cited the illiberal regimes of Brazilian President Jair Bolsonaro and Hungarian Prime Minister Viktor Orban as examples of "anger and hate" that could one day give rise to the dystopia depicted in the movie. But Orban's camp was not happy about the callout, hitting back by calling Clooney "foolish," and claiming that the liberal American philanthropist George Soros was in fact behind the slander — Soros and other conspirators were "whispering in his [Clooney's] ears," a government spokesperson said. We're ignoring this for two reasons: First, Soros, a Jewish philanthropist, Holocaust survivor, and backer of progressive causes has long been a target of the anti-Semitic tropes touted by Orban and his government. And second, if it comes down to Orban vs Clooney, we choose Clooney every time — obviously.