What We're Watching: Poles to the Polls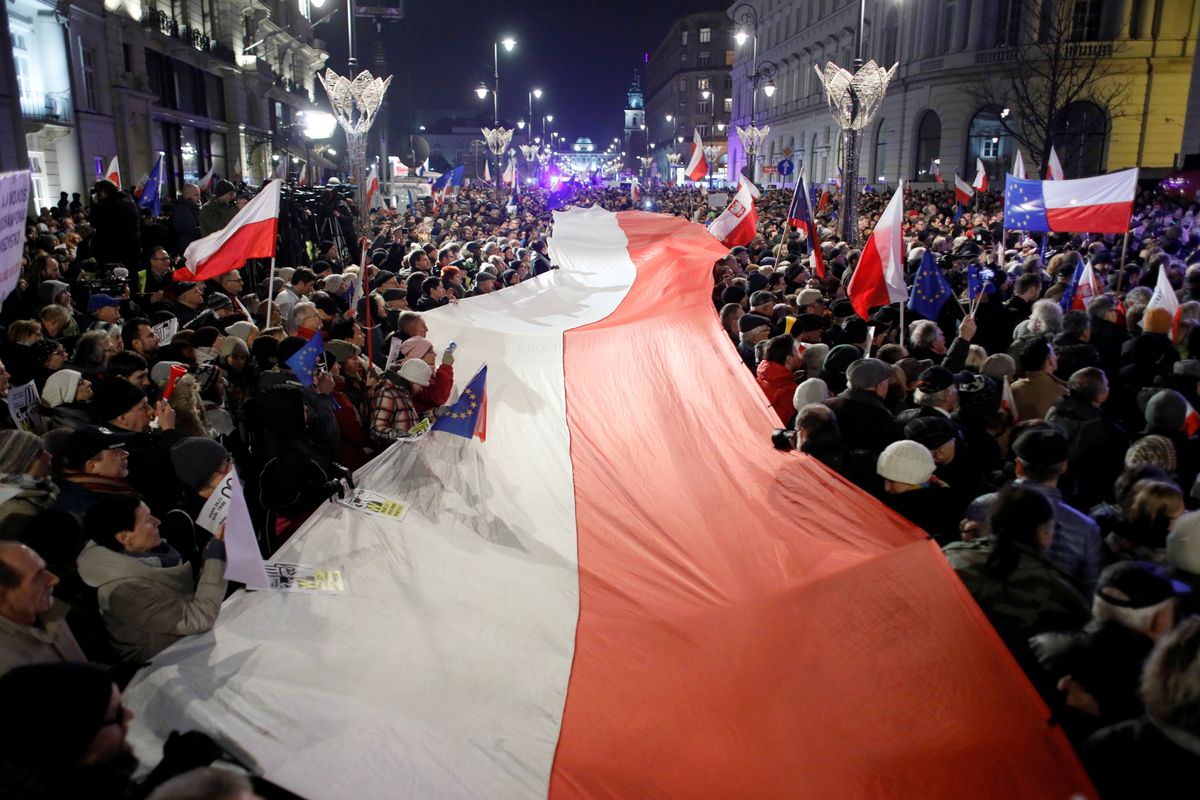 Poland's Choice – The past 30 years have been good to Poland. Its trade unionists helped advance the fall of Communism in the late 1980s. Its newly capitalist economy began to grow in 1992. The country joined NATO in 1999 and the European Union in 2004. Poland hasn't suffered a recession in 27 years. Yet, the country's politics have shifted toward anti-EU populism. The current government, led by the Justice and Development Party, has brought the judiciary and media under its thumb, and has condemned resulting criticism from Brussels. On Sunday, Poles go to the polls for an election that will determine whether Poland continues in this direction. A strong economy is widely expected to lift the governing party to victory.

---
A Gulf Attack? Earlier today, there was a large explosion aboard an Iranian tanker in the Persian Gulf. Early reports suggest the vessel was struck by two missiles, but that's not yet clear this morning. Oil from the tanker has spilled but the crew is reportedly safe. The hit comes just weeks after tensions in the region soared following an attack on Saudi Arabia's main oil production facility. That attack was claimed by Iran-backed Houthi rebels in Yemen, but both the US and Saudi blamed Iran. At the time, President Trump decided not to strike back at Iran on Saudi Arabia's behalf, instead sending a small contingent of US troops to Saudi Arabia to bolster the kingdom's defenses.
Beijing and Apple's Core Business – A day after China's state media took aim at Apple Inc. for serving as an "escort" for Hong Kong "rioters," the tech giant pulled an app – known as HKmap.life – from its iPhone app store. Beijing's beef? The app was helping protesters coordinate their movements by tracking the location of Hong Kong police through crowdsourced data. Apple's cost-benefit calculation isn't hard to grasp: The greater China region, Apple's third largest market, accounts for about $44 billion per year. This particular app has entangled the Silicon Valley giant in the same China-Hong Kong fight that has ensnared other large businesses, most recently the US-based National Basketball Association (NBA). As Beijing's patience with Hong Kong's protests wears thin, we're watching to see how much more aggressive it will become with companies caught in the crossfire.

Floyd Shivambu's Wedding Bills – Floyd Shivambu is a member of South Africa's Parliament and deputy to Julius Malema and his firebrand leftist political party, the Economic Freedom Fighters (EFF). A South Africa expert and good friend introduced your Friday author to Mr. Shivambu in 2013, just as the EFF was beginning to make news. During our meal, Shivambu explained that EFF's exposure of South Africa's corrupt political elite would help the upstart party become one of the most important in Africa. When I asked Shivambu how the EFF raised money, he told me that all its cash came from the sale of the party's trademark red berets. Six years later, Mr. Shivambu faces a parliamentary investigation of allegations he paid for his 2017 wedding from a political slush fund.
Drudge Vs. Trump – A new Fox News Poll released on Wednesday found that 51 percent of those surveyed want Donald Trump impeached and removed from office. The president isn't happy about it, but he may have an even more significant problem to contend with. Since 1995, the news aggregation website The Drudge Report has served as a reliable signal of opinion within US right-wing media. In recent weeks, the site has featured a surprising number of news items that include sharp criticism of President Trump. We're watching to see if this trend continues, and if other media outlets on the right begin to criticize Trump more openly as impeachment momentum gathers force.
What We're Ignoring
Russian-NK News – Worried about the impact of "fake news" on politics? We've got good news. On Tuesday, Russia's TASS news agency signed a cooperation agreement with the North Korean state news agency KCNA, that commits these two venerable news organizations to fight back against the "misrepresentation of information in the news environment" and to "counter the dissemination of such fake news." Problem solved. Take the rest of Friday off.