What We're Watching: Robocop calls Tunisian referendum, Boris on the ropes, gloomy Iran nuclear talks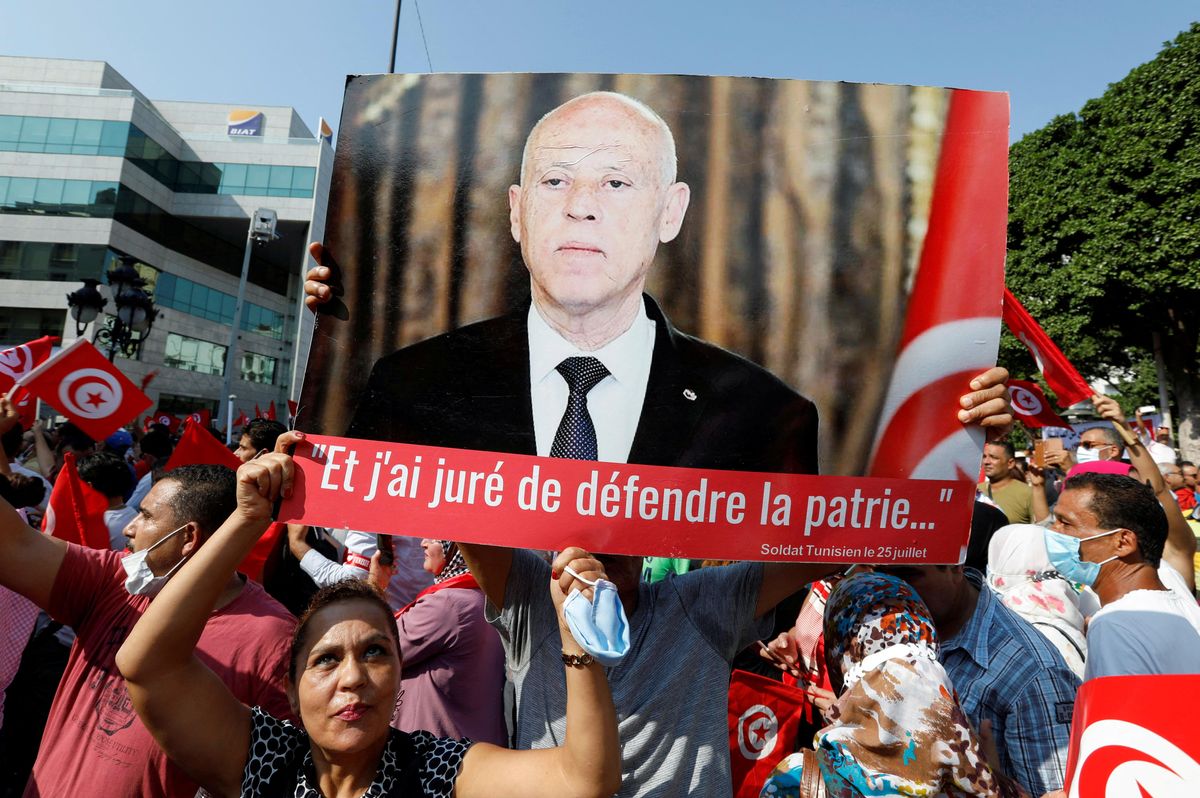 Tunisian constitutional referendum. Tunisia's President Kais Saied has called a constitutional referendum for July 25, 2022 — the one-year anniversary of when he seized almost all executive power in the only country that emerged a democracy from the Arab Spring. Saied says his intervention was necessary to put an end to political corruption and economic stagnation, while critics say it was a coup. The president — a former constitutional law professor known as "Robocop" for his monotone speech delivery — will appoint a committee of experts to draft a new charter ahead of the plebiscite, and then hold legislative elections by the end of next year, but parliament will remain suspended until then. Saied knows he needs to make democratic reforms in order to gain access to badly-needed international credit. Tunisia's ailing economy faces a perfect storm of sluggish growth, a huge budget deficit, a pile of IMF debt, and rising inflation. Although his takeover was welcomed by many Tunisians tired of corruption and mismanagement, things could get very dicey for Robocop if he's not able to fix the economy soon.
---
Why does Boris Johnson care about North Shropshire? The UK's prime minister could be readying for yet another blow this week when Britons vote in a crucial by-election in North Shropshire. But why, you might ask, would anyone pay attention to a county of 70,000 in the West Midlands? Well, the British political establishment cares a lot. For one thing, the seat, which has been reliably held by the Tories for almost 200 years, is predicted to be won by the Liberal Democrats. For another, the race is seen as a bellwether of public sentiment towards the Johnson government after months of chaos. Indeed, a series of recent scandals – including a controversy over funds used to spruce up the PM's personal residence and a leaked tape showing top Downing Street aides tastelessly joking about flouting lockdown rules last Christmas – has added to already-declining public confidence in the PM. What's more, local Tories in North Shropshire have reportedly told Johnson not to campaign with them. With a current net approval rating of -35, rumors are swirling that he could be booted out by his own party in the near term.
Has the West given up on the Iran nuclear deal?
Iran nuclear talks resumed in Vienna last week, and things aren't going so well. European diplomats
say
"time was running out" to salvage the battered 2015 deal, while US Secretary of State Antony Blinken says the US prefers to continue on the diplomatic track but is exploring other options to contain Iran's burgeoning nuclear program. Last week, the Europeans told Tehran to come back with "realistic proposals" after reps from the hardline government of President
Ebrahim Raisi
doubled down on
demands
to lift economic sanctions without scaling back Iranian nuclear enrichment (which is
growing
by leaps and bounds). Meanwhile, French President Emmanuel Macron thinks the the two sides should take time to cool off before the next round of talks. The longer things linger, however, the more progress the Iranians can make on their enrichment program, and the further apart the two sides might drift.