What We're Watching: Salvadorans protest Bitcoin, meet Aukus, no COVID pass no job in Italy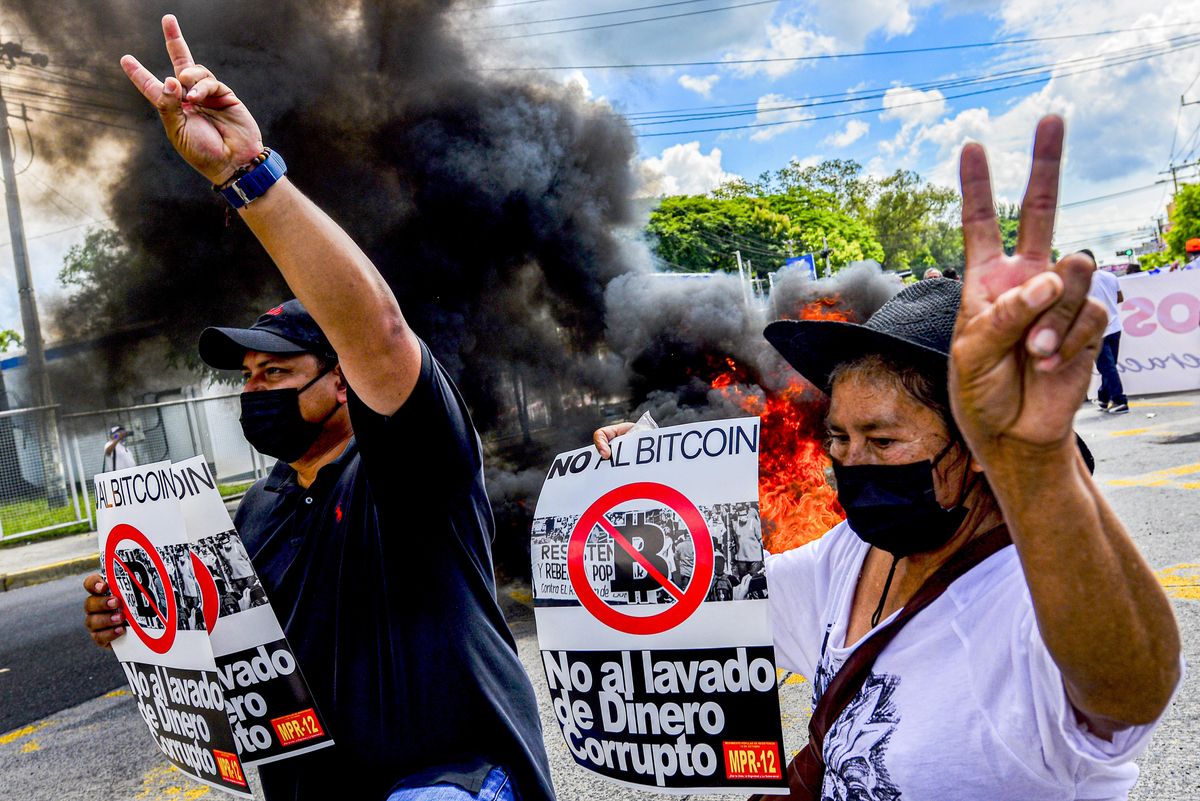 Camilo Freedman / SOPA Images/Sipa USA
Salvadorans protest Bukele, Bitcoin: Thousands of people took to the streets of El Salvador's capital on Wednesday, the 200th anniversary of the country's independence, to protest against President Nayib Bukele's increasingly authoritarian streak and his embrace of risky cryptocurrency. Last May, Bukele ended the Supreme Court's independence; perhaps unsurprisingly, the court then decided to lift the constitutional ban on presidential term limits — presumably so Bukele can run for reelection in 2024. Meanwhile, last week El Salvador became the first country in the world to accept Bitcoin as legal tender, but the rollout was, to put it mildly, messy. The protesters resent Bukele's dictator vibes and warn that Bitcoin could spur inflation and financial instability. The tech-savvy president, for his part, insists that crypto will bring in more cash from remittances and foreign investment, and remains immensely popular among most Salvadorans. Still, Bukele's Bitcoin gamble could erode his support if the experiment fails.
---
Aukus vs China: The newly announced US-UK-Australia Asia-Pacific security partnership doesn't mention China by name, but everyone with eyes can see: it's about China. With Aukus — as this new alliance is now informally known until someone comes up with a better acronym — the Biden administration wants to do two things. First, boost Australia's naval defense capability — in particular by giving the Aussies the tech to build nuclear-powered attack submarines that can withstand Chinese anti-ship missiles. Second, work with the Aussies and the Brits to jointly develop more advanced weapons that'll be a better match for China's increasingly high-tech military. Beijing says Aukus is the latest example of Western powers stuck in "Cold War mentality," while France, which was about to sell Australia a bunch of its own conventional subs, is fuming at the Aussies backing out of the deal, and at all three Aukus partners for being kept out of the loop. However there are limits to Anglophone affection: New Zealand has already said please no Aussie nuclear subs in our waters, thanks mate.
Italy mandates COVID passes for all workers:
Italy will soon become the first EU country to make the bloc's COVID "Green Pass"
mandatory
for
all
workers, not just healthcare personnel. Although the goal of the
digital certificate
— which shows whether someone has been vaccinated, tested negative, or recently recovered from the virus — was to facilitate travel between EU member states, the unity government led by PM Mario Draghi now wants to use it to force
skeptical Italians
to get the jab. Italian unions have pushed back a bit, upset at the 1,000 euro ($1,175) fines for non-compliance and having to pay 15 euros for tests, but the mandate is backed by most employers and political parties. Italy's move comes amid an ongoing debate over
vaccine mandates
in Europe, and a week after President Joe Biden
ordered
vaccination or weekly COVID testing for most US workers.