What We're Watching: The world ignoring Brazil, El Salvador's strongman, the US' vaccine stash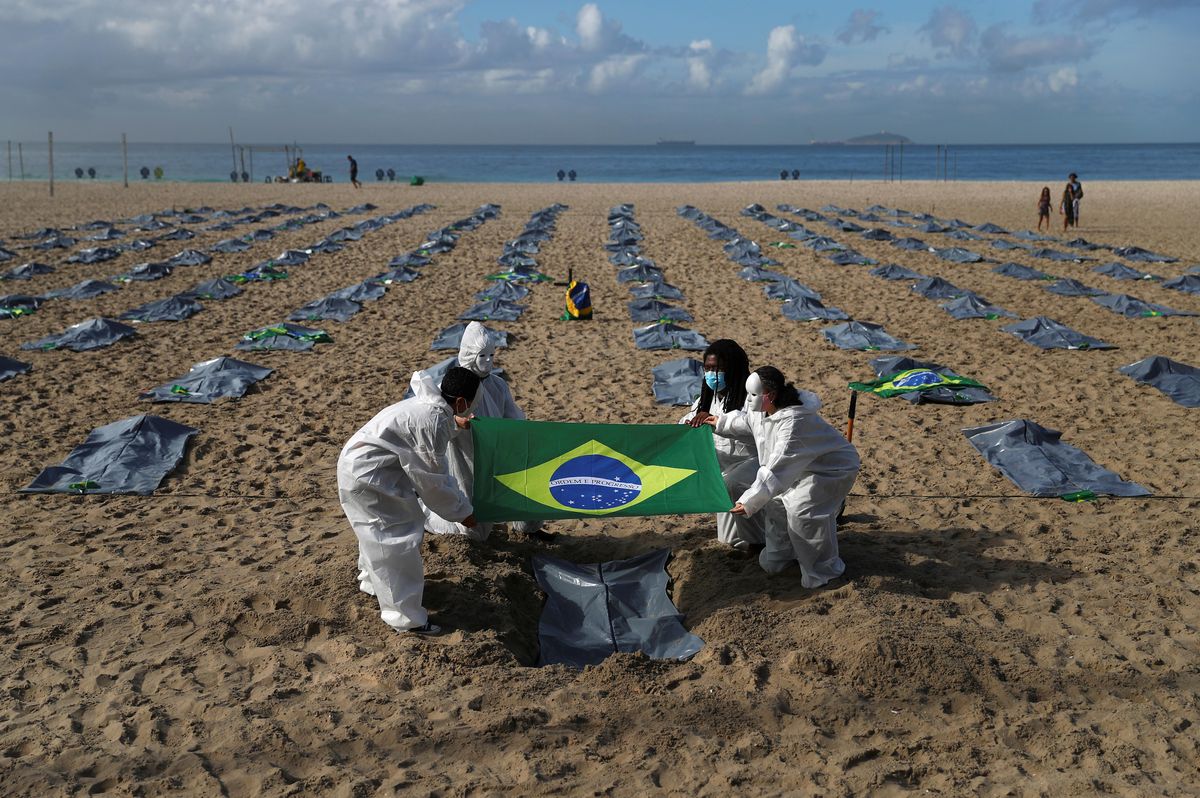 Why is the world ignoring hard-hit Brazil? In response to the COVID crisis pummeling India, foreign governments quickly mobilized: the US, the UK, Singapore, Thailand, and the EU have all sent much-needed oxygen tanks, medical supplies, and materials to make vaccines. But now many analysts — and Brazilians — are questioning why the same goodwill hasn't reached Brazil, where the death tally of 410,000 (the world's second highest) is a much larger percentage of the population. Brasilia's pleas for help have, they say, often fallen on deaf ears. One explanation is that Brazilian President Jair Bolsonaro has simply made himself too many enemies: he has not only dismissed the severity of the pandemic but has also insulted much of the international community whose help Brazil, which relies heavily on medical imports, needs. Who could forget that Bolsonaro called French president Emmanuel Macron's wife "truly ugly," and questioned US President Joe Biden's electoral win? But in recent months, Bolsonaro's administration has also chided China (his economy minister recently said China had "invented the virus" and others have mocked Chinese-made vaccines), endangering ties with Brasilia's main supplier of vaccines. India's Prime Minister Narendra Modi, by contrast, has certainly been a divisive and confrontational figure at home, but he has maintained warm relations with governments whose help his country desperately needs.

---
Salvadoran strongman confirms worst fears: When president Nayib Bukele's New Ideas party won a decisive victory in legislative polls in February to secure a two-thirds supermajority, many feared it would embolden the 39-year-old Bukele, who has already shown strong anti-democratic tendencies, to tighten his grip on power. And that's precisely what happened this past weekend when Bukele's party voted to fire five top supreme court judges and replace them with party loyalists. Bukele then proceeded to dismiss the attorney general after the judiciary deemed the congressional vote "unconstitutional." Shortly after, the very online Bukele, who has clashed with the nascent Biden administration over El Salvador's increasing authoritarian drift, tweeted that the judges had been "FIRED," by the people, when in fact, the events resembled what some analysts have described as a "Coup d'état." This development is likely to deepen tensions with Washington, which needs Bukele's cooperation to manage surging immigration from the Northern Triangle countries, but which has also made the defense of democracy a foreign policy priority.
Will the US share vaccines? The Biden administration faces intense criticism that the US is hoarding vaccines at a moment when COVID is ravaging India, Brazil, and many other countries, threatening Africa, and forcing new restrictions in Europe. In response, White House Chief of Staff Ron Klain announced on Sunday that the US would enter talks with the World Trade Organization on how to "get this vaccine more widely distributed, more widely licensed, more widely shared." But the process isn't as easy as it might appear. Officials at vaccine-maker Pfizer say the company applied for approval in India "months ago," and that the work of Indian regulators needs to be expedited. Plus, even if intellectual property rightsare waived in response to this deadly emergency, there are shortages of material and formidable logistical problems that would still have to be solved.