What We're Watching: United States of Guns, Ukrainian strategy, Iran censured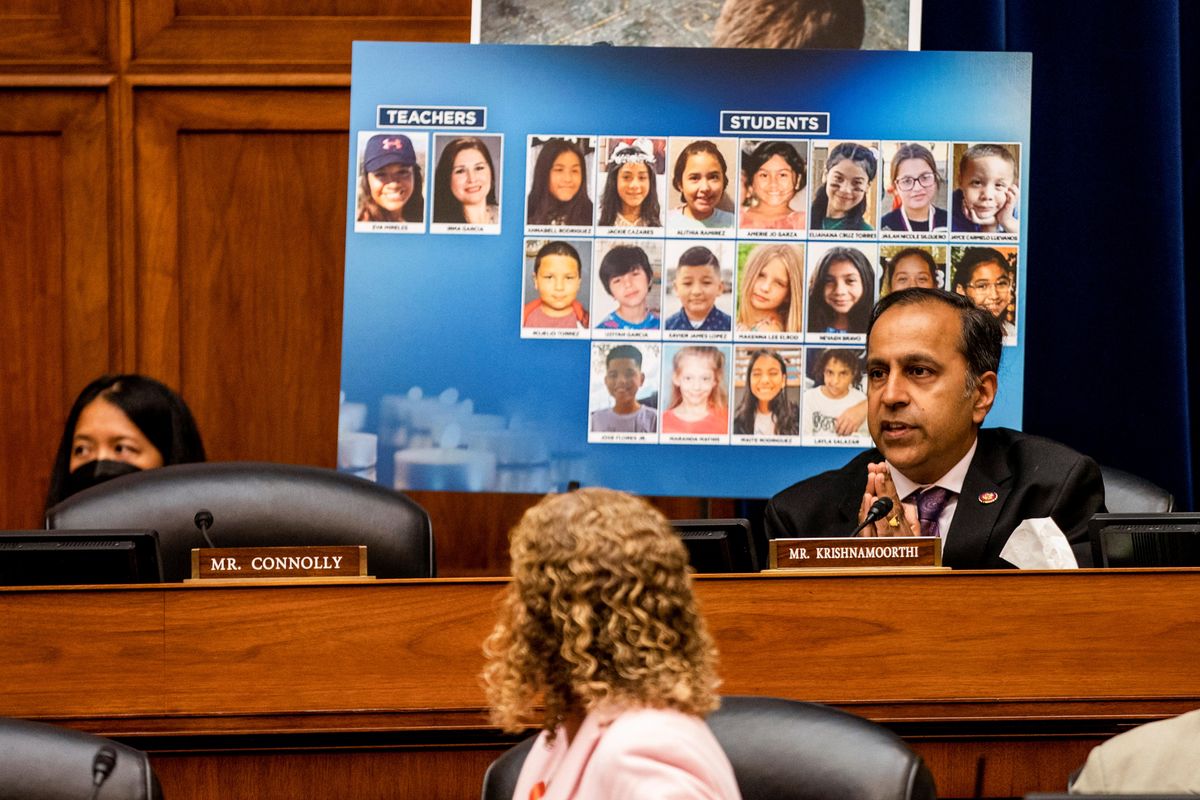 Jason Andrew/ Reuters
The United States of Guns
The US House of Representatives kicked off a grueling two-day hearing on gun violence in America on Wednesday, just two weeks after a school shooting in Uvalde, Texas, claimed the lives of 19 children and two teachers. Miah Cerrillo, 11, whose classroom was attacked, recounted how she painted herself with a classmate's blood and played dead. Kimberly Rubio, whose daughter Lexi was killed, recalled how she ran miles barefoot looking for her daughter that fateful day. The hearing is part of the Congressional debate on how to respond to a spate of recent deadly shootings, most notably in Uvalde, as well as at a supermarket in Buffalo, New York, where Black Americans were targeted by a white supremacist. Senate Democrats, in coordination with the White House, are working on narrow legislation that could get the support of at least 10 Republicans needed to pass. Proposals center on addressing mental health issues in young males and incentivizing states to introduce their own "red-flag laws" to remove guns from dangerous owners. The Democrat-controlled House, meanwhile, has advanced a bill with eight gun-control measures – including banning large-capacity magazines – but it's unlikely to pass the Senate, where Dems hold a razor-thin majority. It's a busy week for the House, which will also launch hearings on the Jan. 6 riots on Thursday. Check out what Eurasia Group's lead US analyst, Jon Lieber, has to say about how the Dems hope to use these hearings to gain an edge in the midterms here.
---
What are the Ukrainians up to?
Western media coverage of Russia's war in Ukraine has focused mainly on the Russian side of the fight. We see plenty of estimates of Russian casualties and reports on Russian tactics. Invaluable coverage from the Institute for the Study of War more often quotes Russian military bloggers, aka "milbloggers," on Russia's wins and losses than analysts who can estimate Ukraine's strengths, losses, and changes of plan. The New York Times reports that even the Pentagon remains partially in the dark on what the Ukrainians are doing and how well they're doing it. Why the secrecy? Ukraine's leaders want to control the war's narrative for multiple audiences. The news shared by President Volodymyr Zelensky and others is sometimes designed to persuade both Ukrainian and foreign audiences that Ukraine can win the war, and at other times to emphasize the need for immediate help. Ukraine's US and European backers, who want their help to have maximum impact, also have an interest in keeping Ukraine's secrets, and Russian sources on the war are tightly controlled by a government that doesn't produce credible info. We must keep these realities and limitations in mind as daily updates inform our understanding of this war and where it's headed.
📸 Iran turns off nuclear surveillance cameras 📸
Iranian authorities
turned off
two cameras monitoring one of its nuclear sites, obstructing the International Atomic Energy Agency, a UN body, from surveilling some of its ongoing uranium-enrichment activities. Tehran removed the cameras on Wednesday in response to a group of Western IAEA member states
calling for
Iran to be censured for failing to comply with the ongoing investigation into its nuclear program – a core condition to getting the now-stalled Iran nuclear deal back on track. The vote passed with 30 voting in favor, two against and three abstentions. The IAEA could now technically refer the matter to the UN Security Council which could enforce more hard-hitting measures against Iran. (That's unlikely, however, because two permanent UNSC members, China and Russia, both voted against the resolution and would never go for it.) Indeed, the latest tit-for-tat is a sign of how much the Iran-US relationship, in particular, has deteriorated under
both
former President Donald Trump as well as the Biden administration. This game of brinkmanship is particularly dangerous right now because, as the IAEA chief
warned
this week, it could be "a matter of just a few weeks" before Iran gets sufficient material needed for a nuclear weapon if it continues nuclear enrichment at its current clip. Iran, for its part, said it might respond to the censure by taking new nuclear steps.
This comes to you from the Signal newsletter team of GZERO Media. Subscribe for your free daily Signal today.