Will Biden be the Grinch this year?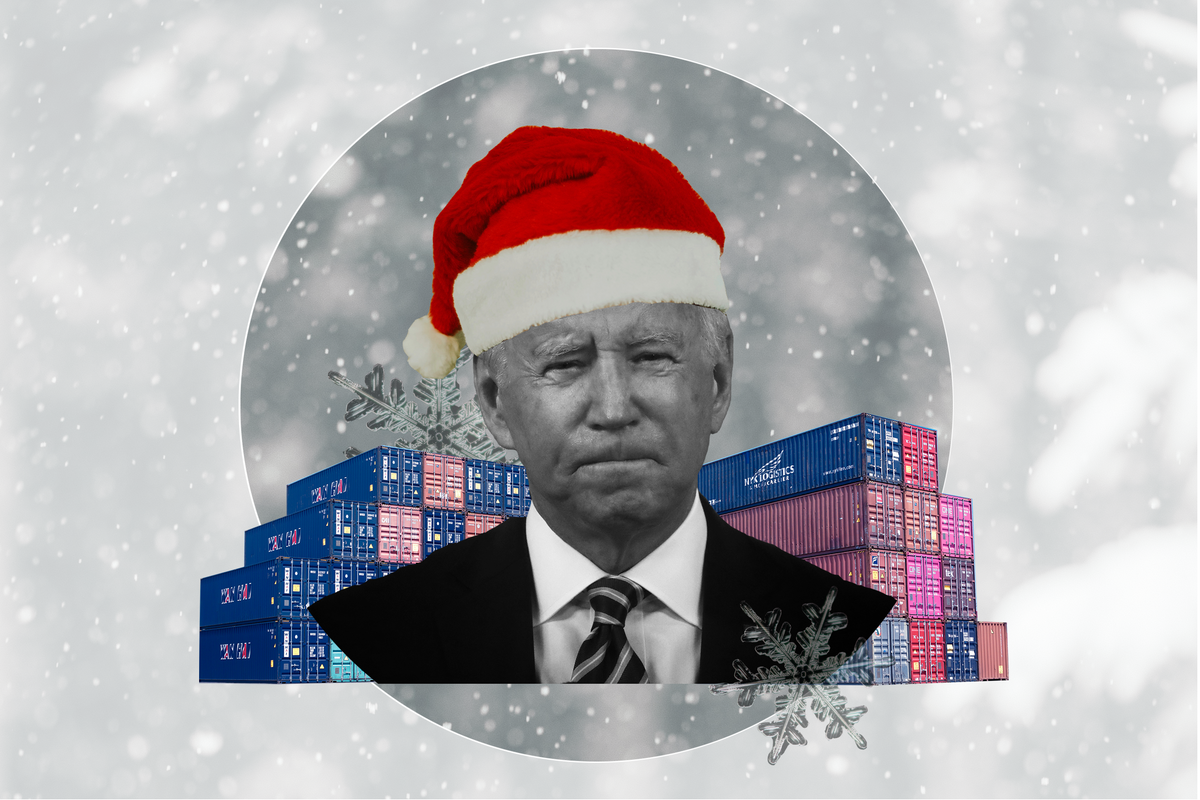 The minutiae of supply chains makes for boring dinner table talk, but it's increasingly becoming a hot topic of conversation now that packages are taking much longer to arrive in the consumer-oriented US, while prices of goods soar.

With the issue unlikely to be resolved anytime soon, right-wing media have dubbed President Biden the Grinch Who Stole Christmas, conjuring images of sad Christmas trees surrounded by distraught children whose holiday gifts are stuck somewhere in the Pacific Ocean.
It hasn't been a good run for Uncle Joe in recent months. What issues are tripping him up?
---
Global shipping systems are in complete disarray. Many shipping containers are caught in traffic jams at the entrance to US ports, and even when they unload, truck driver shortages have meant massive delays in transporting goods to stores and warehouses.
The underlying condition is the pandemic, which has upended consumption patterns. Consider that older people, who are usually tech averse, started shopping online, while the laptop cohort has gone crazy gobbling up office supplies. This combined with panic buying – where manufacturers and retailers are now over-ordering across the board – has sent global supply chains into a tizzy. Scarcity of staples like diapers, coffee and toilet paper has also worsened the pandemic-fueled inflation problem.
Supply chains are now the most acute crisis facing the Biden administration. As a result, the White House recently stepped in to help boost capacity at the Port of Los Angeles – the busiest one in the Western Hemisphere, which is now operating 24/7. Backlogs there are crucial to the health of the US economy, but since the entire world is feeling the supply chain crunch, Biden has limited options to fix the multi-layered problem.
Congress: not the family you choose. For weeks, the White House has been embroiled in political wrangling with Congress to ensure the passage of Biden's signature Build Back Better plan – a two-part bill that includes investment in traditional infrastructure like roads, bridges, and yes, ports, as well as funding for child care and climate-change mitigation schemes.
But infighting between progressive and moderate Democrats on the price tag has led to a weeks-long stalemate, and will ultimately result in Biden significantly watering down things like his clean electricity agenda and free community college. While Republicans oppose many of the bill's provisions, recent surveys found that voters blame divisiveness within the Democrats for the legislative impasse, and the president's abrupt popular decline.
COVID: the messy house guest that won't leave. Biden's perceived successes – and failures – were always going to be linked to his ability to get the pandemic in check. While in the spring Biden saw a boost in the polls linked to a speedy vaccine rollout, that honeymoon period is now over, with half the American electorate disapproving of the president's handling of the pandemic.
A big part of the problem comes from the politicization of COVID and polarization in America more broadly, which means that pandemic containment means vastly different things to different people.
For many, pandemic success means having kids back in schools and bodies in offices without further disruption. It also means the power to choose whether to get vaccinated or to mask up. For others, it means minimizing the number of COVID cases nationwide at all costs, and boosting vaccination rates – including through mandates. Reconciling these world-views would be almost impossible for any president, both Republican and Democrat, in the post-Trump era.
Virginia: a sign of what's to come? Democrats and Republicans will be closely watching the November 2 race for governor in Virginia – a purple state where Democrats have an advantage. But the race, broadly seen as a temperature check for President Biden one year into the job, is very close. It's also seen as a bellwether one year out from midterm elections, when Republicans will contend to take control of the US Congress. Though it's still early days for Biden, the outcome in Virginia will illuminate the national mood at a crucial point in time.
Looking ahead: Biden's approval rating has dropped 10 points since June, including among Democratic voters and independents. But he could save face if he manages to save Christmas.