Can Macron unite a divided France?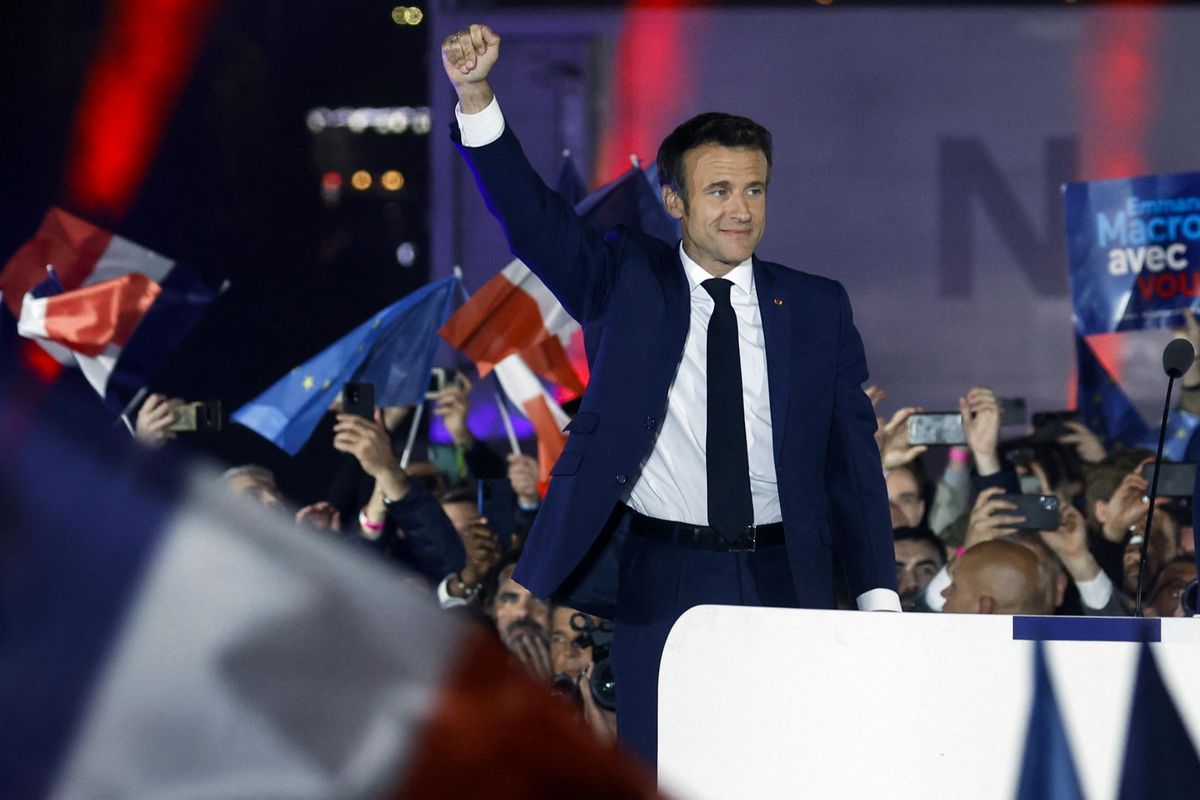 REUTERS/Gonzalo Fuentes
Reflecting on Emmanuel Macron's victory in France's presidential runoff, Tom McTague, writing for The Atlantic, referred to British PM Winston Churchill's disdain for another French leader: Charles de Gaulle. Churchill was asked if de Gaulle was a great man. "He is selfish, he is arrogant, he believes he is the center of the world," Churchill replied. "You are quite right. He is a great man."

"Something similar might be true of Emmanuel Macron," wrote McTague.
Macron can afford to be smug about some of his achievements. After all, he is the first French president to win a second term in some 20 years – the French are famous for rejecting incumbents. The 44-year-old centrist, a former banker, has only run for elected office twice – for the presidency in 2017 and 2022 – and he clinched the top job both times.
---
Still, Macron embarks on another five-year term while facing a host of domestic challenges, chief among them being collective public loathing. So what will be the main impediments for Macron during his second term at the Élysée?
French society is deeply divided. This speaks to the main challenge plaguing the Macron presidency: many French simply don't like him. In the first round of voting on April 10, some 52% of voters opted for three anti-establishment candidates, while Macron reaped 27% of the vote.
Public disillusionment with the incumbent was also reflected in the fact that over a quarter of eligible voters opted to stay home this past Sunday rather than cast a vote for Macron or for Marine Le Pen, his provocative far-right rival. And when all is done and dusted, with abstentions and spoiled ballots taken into account, Macron will have triumphed with just 38.5% of the vote.
Macron knows that bitter divisions make it very hard to govern. In 2018, a year after the political novice came to power, he was forced to scrap a fuel tax – a key part of his ambitious climate agenda – after the widespread Yellow Vest protests against economic injustice brought Paris to a standstill.
Macron's recent victory is notable for having kept France's anti-establishment tide at bay. But the ideological chameleon still has the daunting task of convincing large swaths of the French population that he's not a bad guy.
President of France … or Europe?
Macron has long been viewed by the French as aloof, arrogant, and detached from the plight of ordinary people. This has been reinforced by his unabashed attempt to assert himself as an international statesman and Europe's distinguished leader, a brand he's tried to further burnish since Angela Merkel left office and Vladimir Putin invaded Ukraine.
But with cost of living pressures intensifying, French voters have made it clear they want a president who puts their distinct interests first. That's why Le Pen's bread-and-butter message resonated with voters, particularly in the French rust belt, where incomes have dried up along with the once-lucrative coal basins.
These voters are neither impressed by Macron posing as the leader of a unified Europe nor by his claims that the uber-regulated European Union is the solution to their problems. Macron's government says its pro-EU advocacy is helping put France at the center of Europe's "industrial transformation" by rehabilitating France's ailing industry. But it's unclear whether voters outside of major cities are buying it.
Avoiding "cohabitation." Macron's La République en Marche Party is vying to win a parliamentary majority in June's legislative elections. Things look good for the president, according to early polls. But if he and his allies fail to win an absolute majority – he needs 289 seats to avoid "cohabitation" (meaning avoiding having to appoint an opposition member as prime minister) – Macron's legislative powers will be significantly diluted.
That's exactly what Jean-Luc Mélenchon, the far-left candidate who reaped 22% of the first-round vote, wants to ensure. He's trying to unify France's fractured left-wing and is lobbying hard to be voted in as prime minister, which would make him the head of government and allow him to largely steer France's legislative agenda. Le Pen, meanwhile, also wants to garner enough votes for her party to help form a strong parliamentary opposition to Macron.
Macron's gift.
Most French voters backed candidates who vowed to upend the status quo. Macron says the system can – and should – solve ordinary people's problems. He still has a lot of people to convince, and that's a mammoth task at a difficult time for the country and for the continent. But if anyone can pull off the near unthinkable in French politics, it's Emmanuel Macron.