Register to join: two-day event on health beyond the pandemic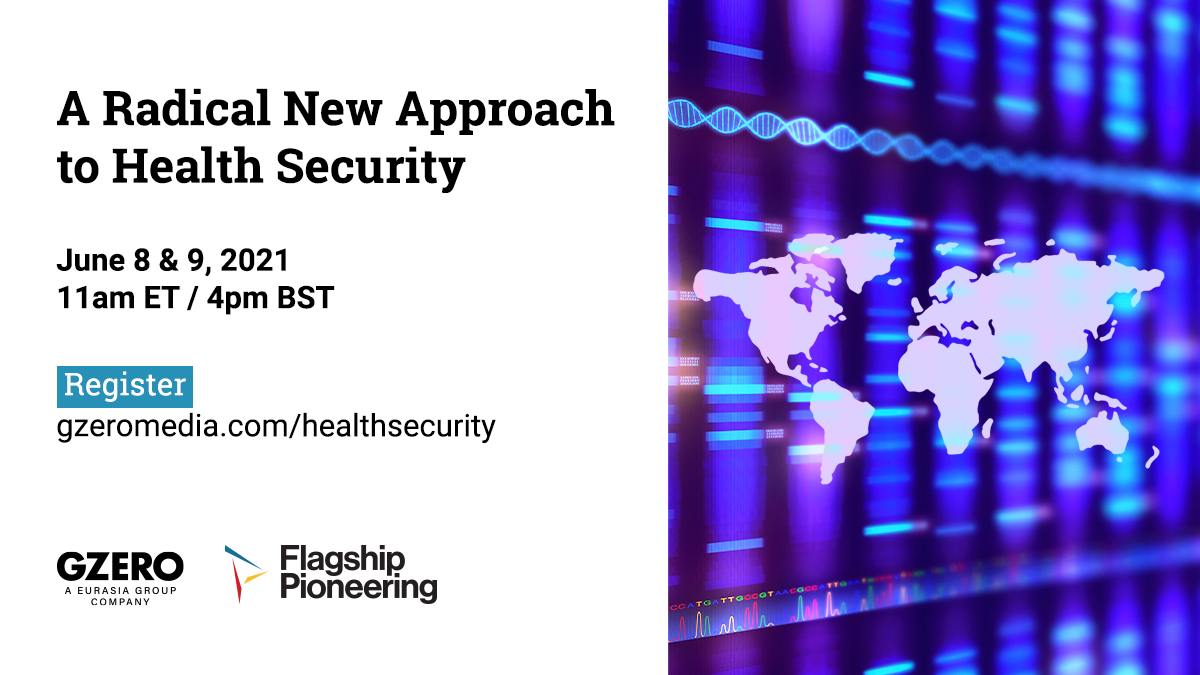 As the world works toward a post-pandemic state, join GZERO Media on June 8 and 9 for a two-part live event on health security, in partnership with Flagship Pioneering (which founded Moderna).
Days before this year's G7 meeting, we will bring political leaders and policy makers together with health experts and scientists to discuss lessons learned from and the latest innovations to preempt both COVID-19 variants and future infectious disease pandemics. The virtual event will be hosted by Noubar Afeyan, founder & CEO of Flagship Pioneering, and Ian Bremmer, president and founder of Eurasia Group and GZERO Media.
Attendance is free and open to the public. Please register to attend.
---
Tuesday, June 8, 2021 | 11 AM - 12:30 PM ET

Beyond the Pandemic: A Radical New Approach to Health Security: As the world emerges from the COVID-19 pandemic, what are the lessons learned and how can we use them to not only prepare for, but also preempt the next pandemic? On day one, speakers will discuss new and powerful ways to combat the wide range of threats to our health, including preventing variants and future infectious disease pandemics, and tackling 'slow-burn' pandemics such as obesity and chronic disease. CNBC's Meg Tirrell will moderate the conversation.
Wednesday, June 9, 2021 | 11 AM - 12:30 PM ET

Stronger Partnerships for a Healthier World: Mutually Assured Protection: On day two, we'll focus on the need for greater collaboration between governments, international institutions, and the private sector in order to get beyond sick care and create a world where we secure and protect people's health by postponing if not preventing disease, and by promoting good health and wellbeing. Bloomberg TV anchor Shery Ahn will moderate the conversation.
Additional speakers include:
Kyriakos Mitsotakis, Prime Minister of Greece
Kristalina Georgieva, Managing Director, International Monetary Fund
Stéphane Bancel, CEO, Moderna Therapeutics
Albert Bourla, CEO, Pfizer
Geoff Martha, Chairman & CEO, Medtronic
Nancy Roman, President and CEO, Partnership for a Healthier America
Paul Farmer, Professor, Harvard Medical School; Co-founder, Partners In Health
Agnes Binagwaho, Vice Chancellor, University of Global Health Equity
Sally Davies, GCB DBE, Master of Trinity College
Junaid Bajwa, Chief Medical Scientist, Microsoft
Gargee Ghosh, President, Global Policy & Advocacy, Gates Foundation
Laurie Garrett, Pulitzer Prize-winning journalist
Amitabh Chandra, Professor, Director of Health Policy Research at the Harvard Kennedy School
Matt Hancock, UK Health Secretary
James Stavridis, Admiral, USN (Ret), former Supreme Allied Commander at NATO
Jeh Johnson, Partner, Paul, Weiss, Rifkind, Wharton & Garrison LLP; former Secretary of Homeland Security (2013 - 2017)
Sundar Raman, President, Global Home Care and P&G Professional, Procter & Gamble
Greg Behar, CEO, Nestle Health Sciences
This event is produced by GZERO Media in partnership with Flagship Pioneering. We thank our event partners, Partnership for a Healthier America and Medtronic.