GZERO Daily: the newsletter for people who love global politics
Sign up for our free newsletter to keep up with what's going on around the world - and why it matters.
Subscribe
GZERO Daily: the newsletter for people who love global politics
Subscribe Now

We have updated our Privacy Policy and Terms of Use for Eurasia Group and its affiliates, including GZERO Media, to clarify the types of data we collect, how we collect it, how we use data and with whom we share data. By using our website you consent to our Terms and Conditions and Privacy Policy, including the transfer of your personal data to the United States from your country of residence, and our use of cookies described in our Cookie Policy.
China's threats as Mr Chong goes to Washington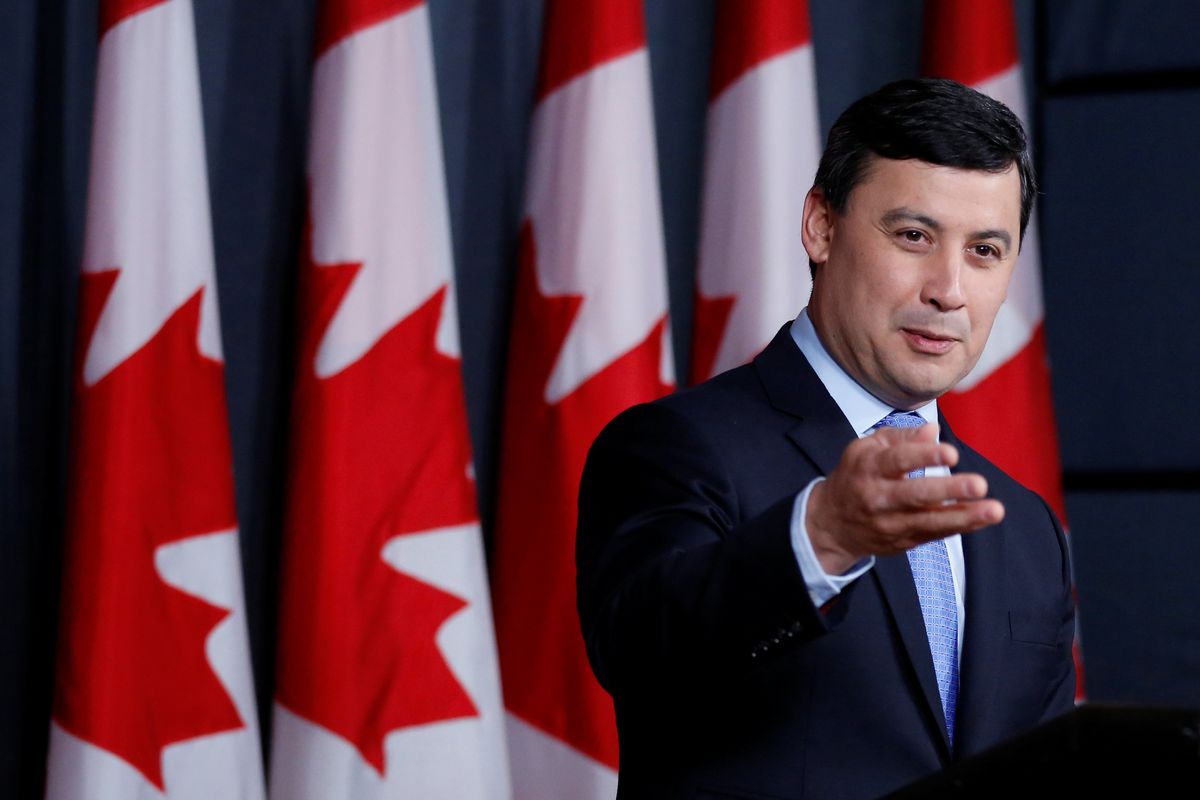 Reuters
National security threats have a way of uniting politicians from across the aisle and that was on full display this week when the US Congress, investigating Chinese foreign interference, asked a Canadian politician named Michael Chong to testify. Not your average Tuesday on Capitol Hill, but Chong has a compelling story to tell.

In 2021, after he tabled a motion in the Canadian Parliament to declare the Chinese repression of the Uyghur population a genocide, he and his extended family in Hong Kong were actively targeted by agents of the People's Republic of China. China has denied the allegation, but there is plenty of evidence to support Chong's claims about Chinese interference. With a US election in just over a year and Russian and Chinese disinformation campaigns ratcheting up, US politicians are looking to learn from his experience to develop their own countermeasures.
Chong, now the Conservative Party's chief foreign affairs critic, was elected in 2004, which is when I first met him as I covered his campaign. Born in Canada, Chong has relatives in Hong Kong, who he now fears will experience ongoing reprisals by Beijing.
---
I spoke to Chong after he testified in Washington, where US politicians wanted to find out why he thinks the US and Canada need to work more closely to combat Chinese threats to the national security of both countries. During the hearing, they praised his "courage" for standing up to China.
Our conversation has been edited for length and clarity.
Solomon: Thanks for speaking to me Michael. Can you describe what you told US lawmakers when you testified before the Congressional committee that is looking into foreign interference in democracies?
Chong: I delivered two clear messages to US senators and lawmakers. The PRC's interference is also affecting many Canadians coast to coast whose stories remain untold and they suffer in silence. The message I delivered is that we need to deliver a suite of measures, a range of tools, to help governments combat this menace, including closer cooperation among allied democracies.
Can you remind people what happened to you?
Essentially the PRC initially sanctioned me for a decision the government of Canada took to sanction individuals in Xinjiang province, but what happened next crossed the line. Which is that they had a diplomat in the PRC consulate in Toronto named Zhao Wei actively gather information about me and my family back in Hong Kong to further target me using clandestine and coercive measures, that was the first line that was crossed. [Editor's note: Canada eventually expelled the Chinese diplomat.]
The second line crossed was this past May when they actively spread disinformation on Canadian social media platforms about me. Global Affairs Canada concluded that this disinformation emanated from PRC state accounts. So those are just two examples of the kinds of threats that many Canadians are facing every day.
Is China alone in doing this or are other countries also engaging in similar behavior?
That is a good question. China is not alone in doing this but according to our intelligence services, China is by far the number one threat actor based on the intelligence gathered. We believe that over 90% of the foreign interference threat activity in Canada come from the PRC. So, it is by far the main foreign threat operating inside Canada and why the focus has been on countering this threat.
What kind of measures should be deployed to stop this?
A foreign agent registry is one measure that needs to be implemented. The Canadian government has committed to introducing one in the future. Another measure is using sunlight and transparency to publicly tell citizens about intelligence gathering and foreign interference threat activity so citizens can insulate themselves from these kinds of threats.
Another example is exchanging best practices on evidentiary standards and translating intelligence into evidence. Other measures include resources to law enforcement to prosecute individuals from breaking the law and threatening Canadians. So, there are a range of measures but there is no one magic bullet that is going to fix this problem.
China denies all this. They say they did not engage in any interference and certainly not against you. Are these lies?
That is false. Some of these activities have been proven in court and some of this has been submitted as evidence in court. It has risen to evidentiary standards. For example, last October, the US Justice Department revealed in an unsealed indictment that a Canadian in Vancouver had been coerced by PRC agents to go back to the PRC. We have plenty of evidence that PRC has engaged in this activity on a broad level. The high-profile unlawful detentions of Michael Kovrig and Michael Spavor are just some of the literally hundreds of examples of PRC oppression in Canada and abroad.
Why did the US Congress want to hear from you and what was the takeaway?
They are interested in understanding what kind of PRC repression is taking place in other allied democracies and I think they are interested in what solutions are being used abroad to counter these threats. We talked at length about threats on university campuses. The PRC has been targeting universities across democracies and has used tactics such as coaching Chinese international students into threatening and coercing other students who are advocating for Tibet, human rights in Hong Kong or for the Uyghurs.
We also talked about how to insulate universities from intellectual property theft that is taking place at universities in sensitive areas of research.
How does this impact US/Canada relations with China?
I think that Canada-PRC relations are broad and multi-faceted. We have some CAD$100 billion in two-way trade with China and the US has a commensurate amount of two-way trade [Editor's note: it is closer to $700 billion], so obliviously we are going to have to engage with the PRC, but we should do so by being clear with PRC officials of what is acceptable and what is not, and be clear that we will stand up for our interests and in defense of the security of our citizens when they interfere with our democracy.
Do you now feel you or your family in Hong Kong are under threat from the PRC?
I feel emboldened. The targeting of me has convinced me that what I and other outspoken critics are doing is effective. I don't think they would be targeting us in this way if it wasn't effective. I feel emboldened to speak up, to give voice to the voiceless and defend Canadian sovereignty.
What is at stake here is what CSIS, our national security intelligence service has told us, is our very democracy. CSIS has said this is a serious national security threat, they said explicitly it threatens our economy, long term prosperity, social cohesion, our Parliament and elections. That is not a small thing. So, I think it is important to continue to educate Canadians about this threat and to stand up and make it clear to the PRC that we will not be cowed and that we will stand with other allied democracies and defend ourselves.
You were critical of the Canadian government's actions on this file for a long time and thought they were asleep at the switch. Has the Canadian and US posture on this changed? And with both a US election coming up and possibly a Canadian one soon, is this situation now more urgent?
I think the Canadian government has been slowly coming to react to this threat. They recently announced an independent public inquiry, something that we long called for. This past spring, they announced that they would introduce a foreign agents registry at some point, something we had called for over three years.
But people will understand that I am a little skeptical. Because at each and every step along the way they have only done something in reaction to the public outcry and pressure that we have brought to bear, so I will wait to see if they continue to step up to meet this threat.
I think the next election is particularly important. In the last election there was evidence that CCP accounts were spreading disinformation about a [Conservative candidate] colleague of mine who was running for reelection. So, what happens in the next election -- what measures the government puts in place to inform Canadians about intelligence that is pointing to PRC disinformation operations -- is something I will be looking for.
Interview conducted by Evan Solomon.