GZERO Daily: the newsletter for people who love global politics
Sign up for our free newsletter to keep up with what's going on around the world - and why it matters.
Subscribe
GZERO Daily: the newsletter for people who love global politics
Subscribe Now

We have updated our Privacy Policy and Terms of Use for Eurasia Group and its affiliates, including GZERO Media, to clarify the types of data we collect, how we collect it, how we use data and with whom we share data. By using our website you consent to our Terms and Conditions and Privacy Policy, including the transfer of your personal data to the United States from your country of residence, and our use of cookies described in our Cookie Policy.
Are high food prices here to stay?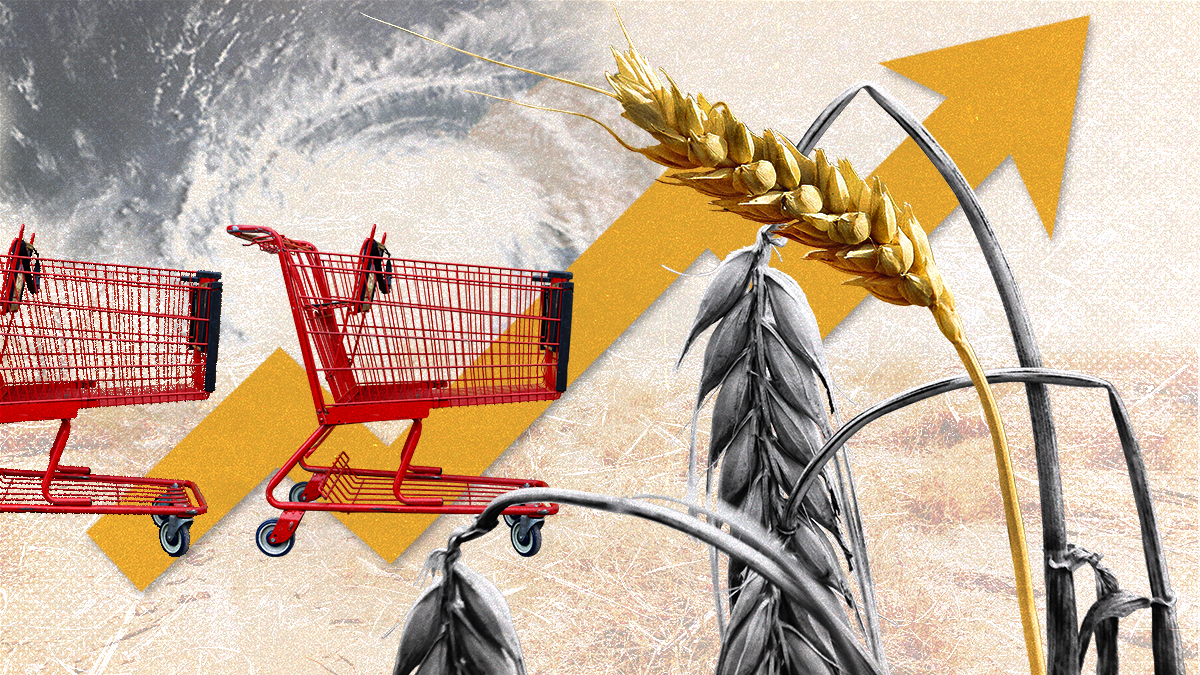 Annie Gugliotta/GZERO Media
A perfect storm of pandemic shortages, Russia's invasion of Ukraine, and extreme weather events have driven up food prices and threatened food security globally. Now, a strong El Niño event stretching into 2024 could exacerbate this food crisis, but not for everyone.
A 2023 report by the UN Food and Agriculture Organization found that as many as 783 million people worldwide faced food insecurity in 2022 – 122 million more than in 2019. The pandemic brought supply chain challenges that have been slow to abate. Extreme weather and global conflict further drove up hunger by limiting access to food. The problem is acute in the developing world, but it's hitting people hard in North America, too.
---
Faint hope but gathering despair
Recent weeks have brought better news about food inflation in the US and Canada, with signs that it's beginning to cool. In June, the Biden administration's Council of Economic Advisers pointed out that it was slowing after a long period of elevated growth, driven largely by declining egg and fruit prices. They cautioned, however, that prices would remain above pre-pandemic levels throughout 2023.
North of the border, the Royal Bank of Canada found the same: Prices rose 18% in two years, and the rate of growth is slowing though prices are unlikely to come down. A fifth of Canadians, nearly 7 million people, lived in a food-insecure household in 2022. In the US, a study by the Urban Institute found that in 2022, a quarter of Americans reported being food insecure – a whopping 83 million people.
Peter Ceretti, director of Global Macro Geo Strategy at Eurasia Group, echoes the numbers from the Biden administration and RBC. "Consumers are seeing food price inflation begin to cool in the US and Canada, which is a good thing, but I don't think that food price levels are likely to fall economy-wide in the near future," he says.
Experts in the United States and Canada are already warning that changing weather will continue to drive up food prices as it delays or kills crops. And that's not all. "In addition to putting upward pressure on prices," Ceretti notes, "climate change introduces more uncertainty into weather patterns and growing conditions, which can increase volatility in food costs, too."
The El Niño factor
What exactly do climate change and El Niño, the warming in the Pacific that impacts weather worldwide, bring to the table? Writing in The Conversation, David Ubilava, associate professor of economics at the University of Sydney, argues that El Niño will not have a significant aggregate effect on food prices at the global level. Instead, while the aberrant weather induces some crop failures (palm oil in Indonesia and Malaysia), it could lead to better harvests for others (in the Horn of Africa). The effects, however, will not be borne equally and could produce famine and conflict.
US Special Envoy for Global Food Security Cary Fowler has highlighted Southeast Asia, Central America, and southern Africa as particularly at-risk areas from El Niño. Meanwhile, Peru's higher-than-normal water temperatures threaten its fishing industry.
With El Niño arriving and climate change threatening food security, the US and Canada are being asked to do more to support food aid. The Biden administration has launched the Vision for Adapted Crops and Soils. With an initial pledge of $100 million, the program is currently focused on Africa and developing resilient crops in the face of climate change. Last year, Canada announced CA$250 million in food aid, blaming Russia for soaring prices, but cut foreign aid by 15% – a projected CA$1.3 billion – in its 2023 budget.
Climate change is the game changer – and it comes with conflict
Even if El Niño spares some, climate change combined with its attendant crises, such as geopolitical instability and conflict, threatens us all. The Russian invasion of Ukraine, Europe's breadbasket, has shown what can happen when conflict converges with extreme weather events.
Long term, the effect won't be pretty. "Global food demand will increase by more than 50% in 2050, but due to climate change, agriculture yields of major crops could decrease over that same period," according to Secretary of State Anthony Blinken.
Global food producers are already producing relatively smaller yields than in recent decades, says Canada's largest farmland owner Robert Andjelic. This won't be helped by the weather this summer, with the hottest month in recorded history – July – and wildfires that ravaged Canada and the US. In recent days, sea temperatures in Florida broke records – hitting 101 degrees Fahrenheit. El Niño or no El Niño, extreme temperatures, and weather events are going to hurt crops and affect food prices and security.
Andjelic issued a stark warning that he expects high food prices to become the new normal when he spoke recently with The Toronto Star. "What I'm going to say is not going to be very well received by the consumer, because I see prices going much higher. This is not just in Canada. It is a worldwide supply and demand issue."
Trade under pressure
Crop failures could also shape trade and international relations. Canada, for instance, relies on the US and Mexico for much of its produce imports. Last year, the USDA said the US was on track to become a net food importer. Canada became a net exporter in 2019 – but remains a top importer of US agricultural exports, while the US scoops up nearly 60% of Canadian agricultural exports.
Both countries, however, can feed themselves and have plenty of arable land to do so. Ceretti says deep integration and interdependence and (mostly) tariff-free exchange between the US and Canada means that while "there may be disruptions or trade imbalances that emerge in certain food products, generally, I think that trade relations will remain strong."
But both Canada and the US rely on Caribbean, Central American, and South American states for certain commodities. Consumers may soon face higher prices for coffee and chocolate as futures in sugar, cocoa, and robusta coffee are through the roof, with the latter hitting an all-time high.
Ceretti warns that food security concerns can lead to potential export restrictions, "which can shock global food prices and make it difficult for net food importing countries to buy sufficient supplies at prices they can afford."
Political risks abound, too
High food prices and insecurity also pose a political risk to incumbents. The 2024 US presidential race is taking shape, and in Canada, PM Justin Trudeau is due to face the electorate by October 2025.
The cost of food and other goods will factor into the US and Canadian elections, putting pressure on Biden and Trudeau to act. But with climate change running unchecked, persistent global geopolitical instability, and potentially greater and more unpredictable El Niño and other weather events in the future, just about every politician is going to face these pressures for the foreseeable future.