It's populist vs. populist in Colombia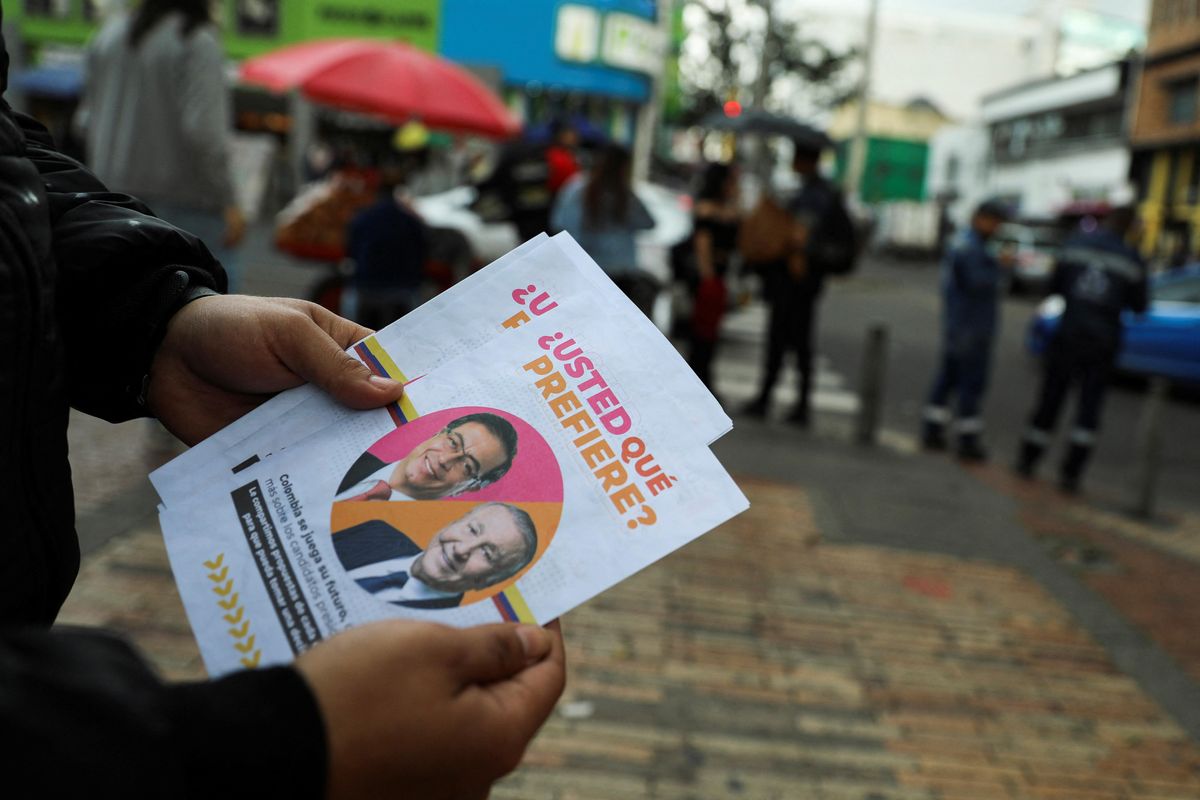 Reuters
Voters around the world often say they want change — but rarely are they presented with no choice but to elect a radically different political outsider. That's what's happening this weekend in Colombia's presidential runoff that's unlike any other in recent memory: the contest pits a populist against … another populist.

The context: Colombians are fed up. And why not? The past several years have seen two separate explosions of popular protest over inequality and taxes. The pandemic, meanwhile, pushed 3.5 million more Colombians into poverty, and inflation is at its highest level in more than 20 years. Cocaine production has recently touched all-time highs, and violence and petty crime are rising again after years of decline. Small wonder that a recent poll by Invamer, a Colombian agency, found that nearly 75% of Colombians think their country is headed in the wrong direction.
---
"This is an important election regardless of who wins," says Elizabeth Dickinson, a Colombia analyst at International Crisis Group. "The two candidates have pitched to voters the idea that they are able to surmount and undercut a ruling political elite who have monopolized the politics and the economic advantages of the state for more than half a century."
But their visions for how to do that are starkly different.

Left-wing opposition leader and former Bogotá Mayor Gustavo Petro is a lifelong critic of the conservative, monied elites in business and politics. He wants to radically overhaul the system to redistribute wealth, expand the safety net, and wean the country off of fossil fuel extraction. His running mate, Francia Márquez, is an outspoken Afro-Colombian activist on behalf of the country's severely marginalized Black population.

Critics worry that Petro, who was a Marxist guerrilla in his youth, could be the next Hugo Chávez. But he says he is merely trying to build a more equitable and democratic society in a country with one of the world's largest gaps between rich and poor.
Populist real estate tycoonRodolfo Hernández has focused more on the country's corrupt political class. The outspoken, impulsive 77-year-old — whose permanent tan and disdain for political correctness have won him comparisons to Donald Trump — surged to second place in the first round with a bold anti-corruption message and a superb TikTok account. His ideology is hard to pin down. Hernández says he wants to slash taxes, fire a third of the bureaucracy, raise tariffs, shame corrupt officials publicly, and invest more in Colombia's rural communities.

Hernández's opponents say he is inexperienced – his only political job was mayor of a mid-sized city – and worry about his respect for institutions. He once slapped a councilman in the face, and he is under indictment for an alleged kickback scheme. But his supporters say he's a breath of fresh air in a country suffocated by career politicians. Polls show that 80 percent of Colombians think government corruption is "widespread."
Both candidates want to re-establish ties with Venezuela, explore drug legalization, and revise the current free-trade and strategic relationships with Washington, potentially rankling ties with Bogotá's most important military and economic partner.
Polls say it's a dead heat. Both men are polling at about 46-47%, according to the last pre-election aggregation of polls. In the event of a close result, the risk of one candidate or the other claiming fraud is high, and the police are already on alert for potential violence.
But how much will really change? It's difficult to tell. "This doesn't depend only on one person," says Yann Bassett, a political scientist at Bogotá's Rosario University, "but on the ability to build a strong coalition in Congress."

And neither man has a majority there. Petro's party has the largest share of seats, and he is a seasoned politician with a clear agenda. But he would face immense pushback from the country's elites.

Hernández's fledgling party, meanwhile, has almost no representation in Congress, and his broadsides against career politicians might make it hard for him to build bridges. His policies and convictions are also more of a black box, according to Brian Winter, editor in chief of Americas Quarterly. "I just don't see how he's going to get his agenda across," he says, "or even how consistent his agenda will be over time."

The limitations on both of the "change" candidates could mean things aren't upended as much as voters seem to want.

"The risk of disappointment," says Bassett, "is just enormous, no matter who wins."
For more, check out these two Q+A profiles of
Gustavo Petro
and
Rodolfo Hernández
, by Eurasia Group analyst Sara Torres Raisbeck.




This comes to you from the Signal newsletter team of GZERO Media. Subscribe for your free daily Signal today.