Liz Truss' unenviable new gig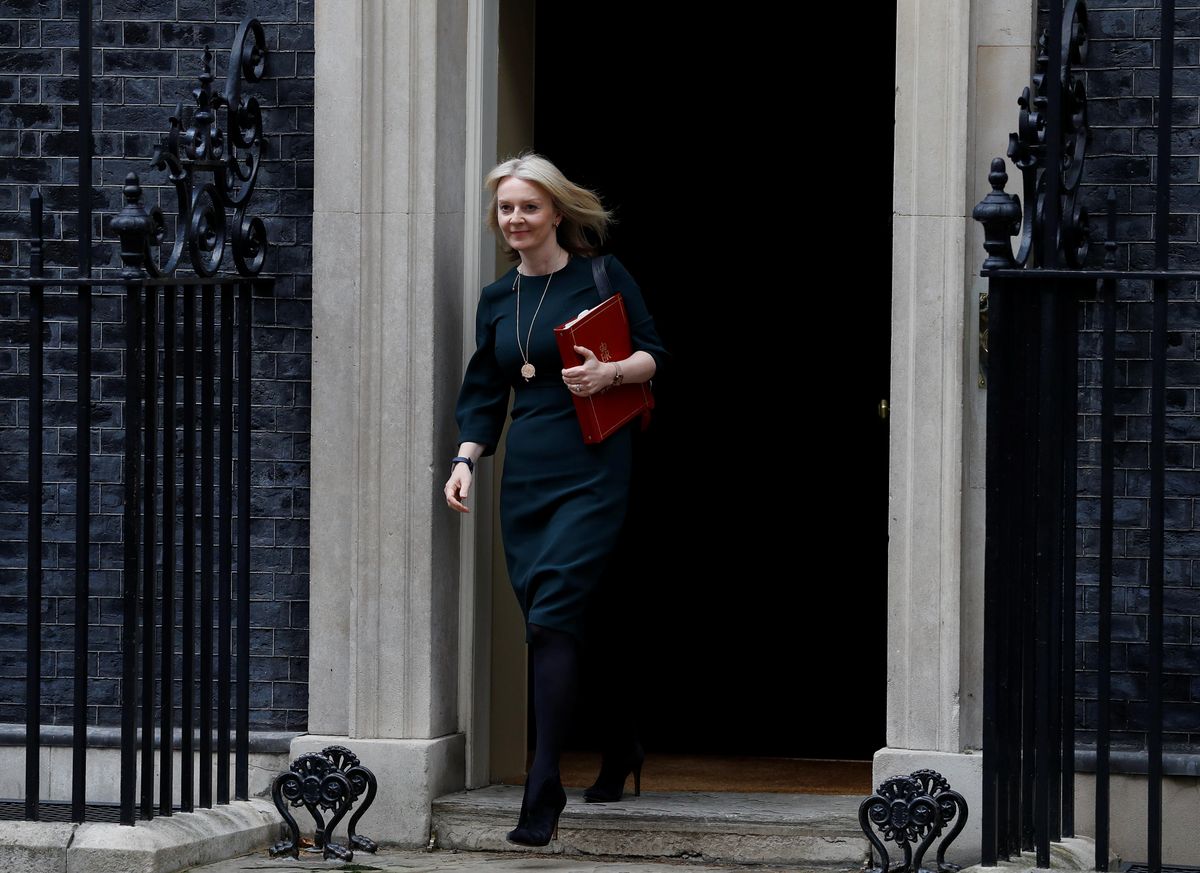 REUTERS/Peter Nicholls
The UK will have a new prime minister on Sept. 6. Foreign Secretary Liz Truss, who is all but assured to move into Downing Street next week, beat a crowded Tory field vying to replace outgoing party boy Boris Johnson.
Truss takes over at one of the most perilous times in recent British history. What will be the major challenges at home and abroad — and which of these problems are of Truss' own making?
---
Challenges at home. The UK is currently mired in its worst cost-of-living crisis in decades, in large part because of soaring energy and rent prices. The Bank of England recently warned that the UK will likely face its longest recession since the global financial crisis in 2007, and inflation is slated to hit a staggering 18.6% early next year. Indeed, sky-high energy costs and post-Brexit shortages have fueled inflation rates that top the EU and the US.
Truss, for her part, fashions herself as unabashedly pro-business and has rejected any new taxes to raise government revenue, including a windfall tax on oil and gas companies that have made a mint in recent months.
Indeed, as Europe braces for an energy crunch this winter due to Russian gas cuts – with EU member states agreeing to slash gas use by 15% until at least April 2023 – the UK is emerging as one of the biggest crisis hotspots. Why?
While the UK is less reliant on Russian gas than many countries – importing more than 75% of its natural gas supply from Norway – it is facing an even more brutal winter than many of its European counterparts.
There are several technical reasons for this. Minimal storage capacity after the Tory government closed in 2018 a massive energy storage facility to save upkeep costs has meant that the UK has limited ability to stockpile ahead of the cold winter months. The UK's facilities hold enough gas to meet demand of four to five winter days. Germany's capacity is 16 times that.
What's more, gas accounts for 40% of UK energy consumption. This leaves Brits even more vulnerable to energy shortages, with two-thirds of households at risk of experiencing fuel poverty by 2023.
Challenges abroad. The UK and EU are on a collision course. Two and half years since Brexit, relations between the UK and the EU are still extremely strained. In her bid to win the Conservative Party's top job, Truss sought to appeal to the populist-right flank of the Conservative Party, rallying hard against the post-Brexit deal negotiated – and agreed to – with Brussels.
The largest remaining sticking point is the Northern Ireland Protocol, which sought to avoid creating a hard border between Northern Ireland, which is part of the UK, and the Republic of Ireland, an EU member state. The Tories have since reversed course and seek to change some terms, a move that some observers say breaches international law.
Why does this matter so much? "The way the EU structured the negotiating process," explains Mujtaba Rahman, managing director of the Europe desk at Eurasia Group, was that "the trade deal between the two rests on the UK respecting and implementing the core elements of the withdrawal agreements," primarily the Irish border.
If the UK continues on its current course and does not respect the protocol, Rahman says the "Europeans are going to say in response … we're not going to respect the future trade agreement. The two things are linked." This would be catastrophic for the UK, which is desperately seeking to maintain robust trade ties with EU economies.
A bill amending parts of the protocol has already passed the House of Commons and is now headed to the upper chamber, where things could get ugly.
If the bill continues to pass through parliament, Rahman says, the EU won't feel it can continue to engage in serious discussion with the UK. "How do you negotiate in good faith while you've got what you believe to be a very hostile piece of legislation working its way through parliament?"
Looking ahead. So is it possible that Truss, who won the Conservative Party's leadership with only a slim mandate, is simply engaging in anti-European bluster to rally her base? That's not necessarily relevant now, explains Rahman.
"Truss is constrained by the fact that she made a deal with the right to gain the keys to No. 10, and the cabinet she's putting together is going to be made up of many right-wing eurosceptics. The space she has to make a political deal [with the EU] is very constrained."