GZERO Daily: the newsletter for people who love global politics
Sign up for our free newsletter to keep up with what's going on around the world - and why it matters.
Subscribe
GZERO Daily: the newsletter for people who love global politics
Subscribe Now

We have updated our Privacy Policy and Terms of Use for Eurasia Group and its affiliates, including GZERO Media, to clarify the types of data we collect, how we collect it, how we use data and with whom we share data. By using our website you consent to our Terms and Conditions and Privacy Policy, including the transfer of your personal data to the United States from your country of residence, and our use of cookies described in our Cookie Policy.
How will the far right run Italy?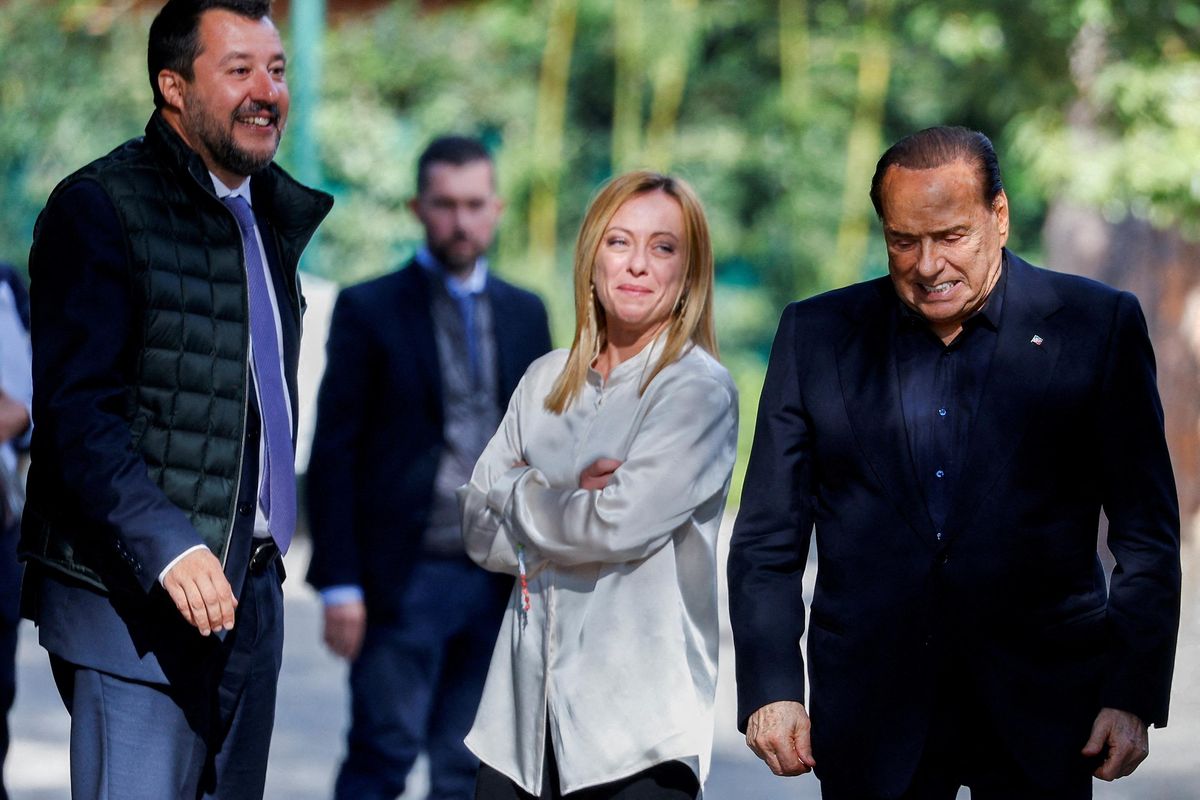 REUTERS/Guglielmo Mangiapane
On Sept. 25, Italians head to the polls to vote in a snap parliamentary election triggered by the collapse of PM Mario Draghi's fragile coalition government in late July. Political instability and short-lived governments are nothing new in Italy, which has churned through 18 of them in the past 34 years. Now, though, an alliance of far-right parties is widely favored to win power for the first time since the end of World War II in a country with bitter memories of fascist rule. What will that government look like, and what can we expect from it? We asked Eurasia Group analyst Federico Santi.
---
What would a far-right government look like?
It'll probably be a coalition led by the far-far-right Brothers (Fratelli d'Italia) Party, with the far-right Lega and the center-right Forza Italia parties as junior partners. If the Brothers and Lega do extremely well, there's a chance they could do without Forza Italia (probably the smaller of the three), but this is unlikely, and they sort of come as a package.
Who would lead it?
The smart money is on Giorgia Meloni, Brothers' shrewd leader, since the deal is that whichever party wins the most votes gets to pick the prime minister. Brothers will most likely win the most votes (and seats) of the three, and probably of any party in fact. The next PM need not be the leader of the party; in fact, looking at the last few years, prime ministers come and go every 1-2 years on average, but party leaders tend to be more durable. So it's possible that Meloni could select another high-profile figure for the post, contenting herself to run the show from the sidelines. But she has recently dispelled this, signaling very clearly that she has her eye on the top job.
What would it mean for migration?
Given the structural drivers of migration (population growth, climate change, drought, food prices, food insecurity), the problem is only going to get worse. With chronic instability in Libya, and an unpoliceable border at sea, Italy cannot rely on Europe's time-tested methods of co-opting autocrats to police migration flows from Algeria, Egypt, or Turkey.
Lega boss Matteo Salvini was Italy's interior minister from 2018 to 2019, when his party briefly ruled the country in a coalition with the populist 5-Star movement after the 2018 election. So we have an idea of what that looks like: generate as much noise as possible while shifting as much of the blame as possible to the EU for what is in fact a largely intractable problem. In practice, this may involve denying safe harbor and rescue rights for migrants in waters under Italian jurisdiction, while clamoring for a more equitable distribution of asylum-seekers in the EU, and more EU funding to deal with the issue – neither of which is likely.
The other option, to which Italy has resorted with some success in the past, is paying off Libyan militias to police flows — effectively holding tens of thousands of migrants in jails and internment camps, usually in appalling conditions.
What about relations with the EU?
Meloni has so far been careful to come across as moderate and as a credible partner, including vis-à-vis Brussels and Washington. None of the three parties wants to ditch the euro, let alone the EU. Having seen what the Eurozone debt crisis meant for Greece, they are not keen to go down that road, and probably won't openly antagonize the EU initially.
However, Brothers and Lega remain fundamentally populist nationalist parties. Their basic instinct will be to reject unpopular demands from Brussels if they go counter to their electoral interests, or to foster and leverage anti-EU sentiment to shore up support for their cause in the face of a faltering economy.
Despite the leadership's moderate turn, Brothers' base remains rooted in the far-right, as do its rank-and-file lawmakers. Competition within the coalition also has the potential to lead to a dangerous race to the bottom, notably between Lega and Brothers — who are competing for the same electorate to some extent. Indeed, this was arguably one of the main structural factors leading to Draghi's downfall.
Also, the fringe Italexit party — which does want Italy out of the EU — will probably meet the 3% of the vote threshold to enter parliament. Although it'll likely remain out of the coalition, Lega and Brothers will have a new competitor to contend with outside government as well.
Lastly, the broader macroeconomic context is also unhelpful. Rising inflation will prompt greater demands for fiscal stimulus and salary increases across the board, which the government will struggle to manage.
What would it do with Draghi's stalled reforms to get EU pandemic recovery cash?
Many of the reforms required for the December review have already been legislated, so in a sense, the hard work is done. However, in most cases, the government still has to issue the legislation necessary to actually implement the reforms, which will be difficult to do by the end of the year. So the December tranche (just under 1% of GDP) of EU money will at the very least be delayed well into 2023, with direct repercussions for Italy's economic growth outlook.
Going forward, the reforms calendar will suffer, and further disbursements will also be at risk. There is also a chance the new government might want to renegotiate parts of the Recovery Plan, which could lead to further delays.
Do these far-right parties stand a better or worse chance of getting along compared to previous coalition governments?
Italy's complex electoral system gives electoral coalitions a big advantage over parties running individually. Lega and Forza Italia formed part of Draghi's national unity coalition. Meanwhile, Brothers had been leading the opposition and climbed steadily in the polls as a result, mainly at Lega's expense. Yet, true to form, the three quickly closed ranks once elections were triggered, and announced they would run as a bloc.
Going forward, they also have strong incentives to keep the coalition together, though competition between them could have important implications for the policy outlook. Only a significant decline in support for any of the three parties could increase the risk of another snap election.