Nigeria bungled the chance to lead a global conversation on social media regulation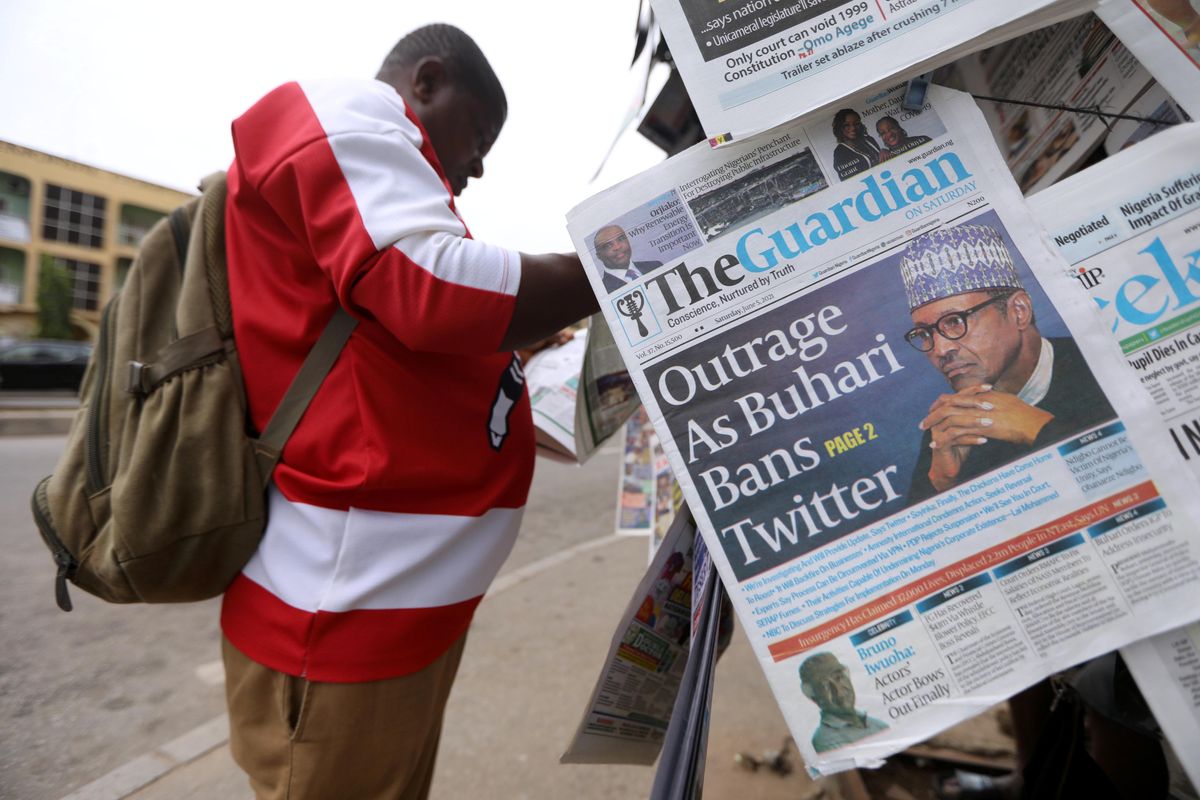 REUTERS/Afolabi Sotunde
Nigeria's federal government earlier this month blocked Twitter from the country's mobile networks, after the social media company deleted a controversial post from President Muhammadu Buhari's account. The move by Africa's largest and most populous economy comes as many governments around the world are putting increased pressure on social media companies, with serious implications for free speech.
So what actually happened in Nigeria, and how does it fit in with broader trends on censorship and social media regulation? Eurasia Group analysts Amaka Anku and Tochi Eni-Kalu explain.
---
Why did Nigeria restrict access to Twitter?
Buhari's tweet contained a threat to use force against a secessionist group in Nigeria's southeastern region. After a big backlash on social media, Twitter deleted the tweet on the grounds that it was an incitement to violence. The Nigerian government then banned Twitter over concerns that, as Information Minister Lai Mohammed explained, the social media platform is "capable of undermining Nigeria's corporate existence." Nigerian officials were irked at the power of social media influencers to shape Twitter's policy toward official government speech, and they also claim double standards in content moderation on the platform. For instance, they point out that Twitter has done little to silence Nnamdi Kanu, leader of the secessionist Indigenous People of Biafra movement, who has repeatedly tweeted hate speech and incited violence against the state. For these reasons, the Buhari government feels that Twitter has begun to constitute a threat to Nigeria's national security. But in banning the platform, they also stoked concerns about the right of Nigerians to free speech.
Has there been backlash over that?
Opposition to the ban has been swift in the diaspora and the international community, where the move is seen as a sign of the Buhari administration's authoritarian drift. While there has also been backlash domestically — a legal challenge has been mounted while some Nigerians are openly circumventing the ban using VPNs — it is unlikely to grow disruptive. Only a small proportion of Nigerians use Twitter regularly. Simply put, most Nigerians will not be affected by the ban, limiting the scope for political blowback.
How does this compare to efforts by other governments to pressure Twitter?
Nigeria's standoff with Twitter bears some parallels with India's escalating feud with the social media giant. Authorities in both countries view Twitter's content moderation practices as an affront to their sovereignty. Nigerian officials have frequently said that Twitter poses a threat to the security of the state, while their Indian counterparts have labelled companies that resist their restrictions "digital colonizers".
That said, the two governments are upset about different things. The Nigerian authorities are unhappy with what they perceive to be inconsistent, and perhaps even anti-government, content moderation. The Indian government, meanwhile, are actively trying to influence Twitter's moderation practices in order to silence dissenting voices and curb the firm's labeling of tweets from officials, and are unhappy that Twitter is refusing to comply.
Might the Nigerian government start to move toward greater regulation?
Nigerian authorities are now using the Twitter spat as an excuse to impose tighter content moderation guidelines on social media firms. On June 10, authorities directed all social media platforms in the country to apply for a broadcast license pursuant to domestic broadcasting laws. It is not yet clear what such regulation would entail.
What aspect of this story has been lost in the mainstream coverage?
There has been almost no discussion of the broader context of Buhari's tweet, which was an attempt to summarize remarks the president made in response to a series of attacks on the offices of electoral authorities across the country's south. In a video excerpt which was included in one of the deleted tweets, Buhari can be heard lamenting the human toll of the civil war while expressing incredulity over the perceived lack of awareness of the loss associated with the war among the current separatists.
This context, and the fact that Twitter deleted the speech of the commander-in-chief of a country's armed forces threatening force against an armed rebel group, without first consulting that government, raises serious questions about the appropriate duty of care that social media companies owe to sovereigns on issues of national security. The episode also highlights how "working the refs" — or applying pressure to companies that moderate political speech, similar to the way players on a basketball court may try to gain sympathy from referees in calling fouls — is becoming a fixture of 21st century politics.
That reality should ordinarily raise eyebrows around the world — the EU and the UK, for example, are working on legislation for content on social media platforms, also the subject of intense partisan debate in the US after the January 6 Capitol insurrection. The Nigerian government had an opportunity to lead an important global conversation about those issues. Instead, the government's overreach and apparent restriction of Nigerians' right to free self-expression is now the story.