What's the verdict on Biden's first 100 days?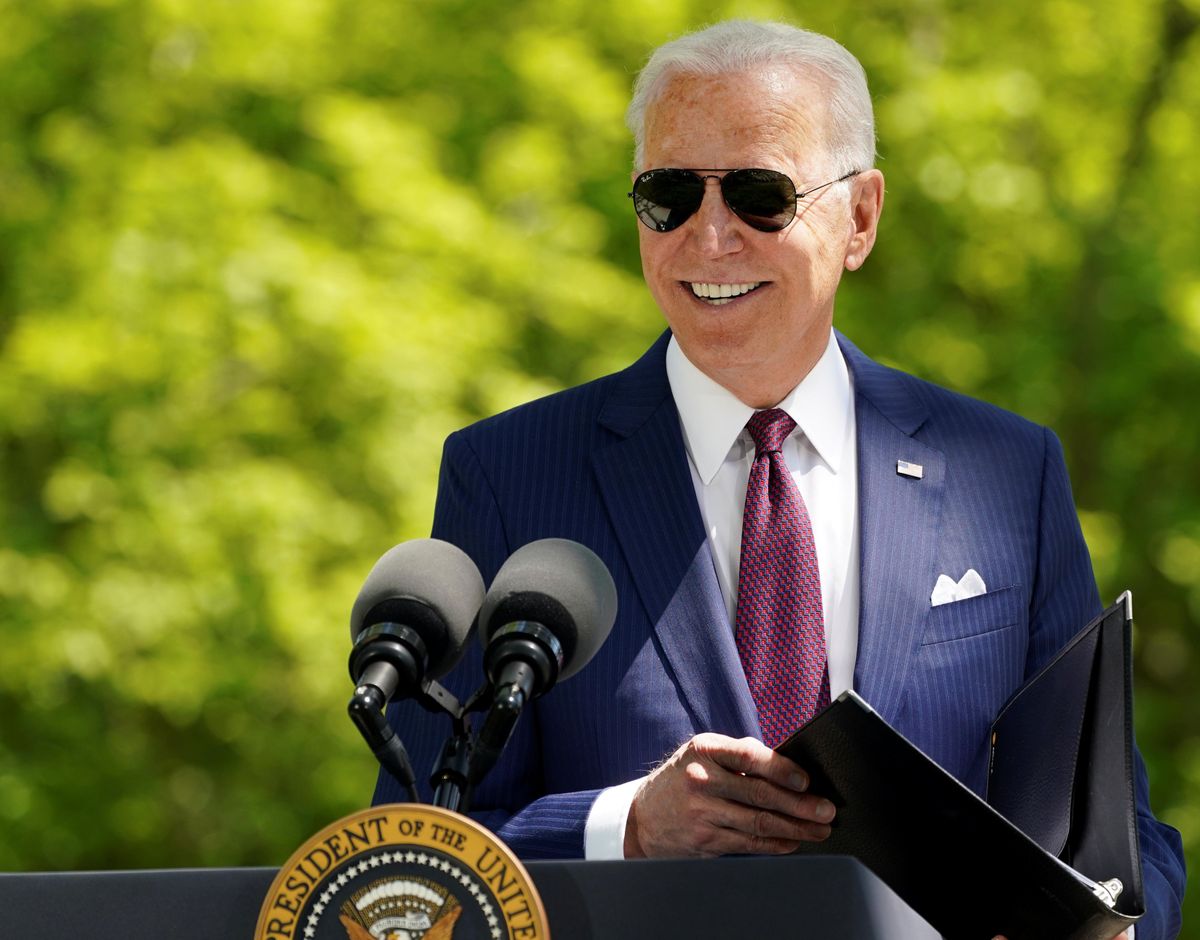 Kevin Lamarque/REUTERS
Ever since Franklin Delano Roosevelt promised to rescue the country from the Great Depression during his first 100 days in office, that timeframe has become a customary early benchmark to assess the performance of US presidents.

When Joe Biden took office on January 20, the country was mired in a Depression-like crisis caused by the COVID pandemic and associated economic fallout. So how well has he done during his first 100 days in office? Eurasia Group analyst Clayton Allen explains where Biden has performed best and where he's missed a few shots already.
---
What key goals has Biden accomplished?
Biden has delivered on his two biggest priorities: passing additional COVID relief measures and accelerating vaccine delivery in the US. He passed a $1.9 trillion package that included $1,400 direct payments to most Americans and has delivered over 200 million vaccine doses so far, twice the amount initially targeted in this first 100 days. Those are unqualified successes. After all, he ran on the promise of bringing America out of the COVID crisis and he's doing it.
At the same time, Biden has moved to reestablish US leadership on climate change issues, end the 20-year war in Afghanistan, and establish a new detente with old adversary Iran. Here the results have been more mixed.
The White House's Earth Day climate summit succeeded in bringing global rivals to the table and producing a new round of emissions reductions commitments — but without a clear plan to deliver on these goals. Biden's Afghanistan withdrawal plan will finally end the country's longest war, but he's drawn bipartisan criticism for leaving the country without a plan in place to ensure stability thereafter. The president's efforts to re-engage Iran and revive the 2015 nuclear deal are still in their early days, but they do have a feasible pathway to a deal late this year or in 2022. Let's see.
What goals has he not met?
During the campaign, Biden made big promises about reversing Donald Trump's restrictive immigration policies, including moving the cap on refugees admitted to the country from 15,000, the level set by Trump, back to its historic level of about 65,000. But Biden has in fact decided to temporarily hold the cap on refugees at Trump-era levels — because of the challenges involved in quickly ramping up these numbers. That got him a lot of flak from the progressive wing of his own party. Relatedly, the president has made little progress devising a more humane system for processing asylum seekers at the border, though given the deep divisions on immigration policy in Congress, that seems nearly impossible to achieve not only in the first 100 days but in the next 1,359 as well.
Biden also seems to have underestimated the difficulty of achieving his stated goal of restoring the US's global influence after the retrenchment of the Trump years. This was never going to be possible in 100 days, but the administration seems to have stumbled out of the starting blocks, drawing international criticism for its reluctance to export coronavirus vaccines. The White House also seemed somewhat taken aback at increased Chinese assertiveness as it sought to reset the dialogue with the US's chief global rival. US diplomats have found themselves playing defense instead of relaunching the dialogue on their own terms.
What unexpected issues have arisen and how has Biden dealt with them?
No one would have been shocked in late 2020 to hear that Russia would ramp up aggression toward Ukraine, but few might have guessed it would mobilize more than 100,000 Russian troops plus tanks, planes, and ships at the Ukrainian border at the start of April. A few days later, Biden reasserted US willingness to push back with an executive order that ramps up sanctions on Russian debt, specific officials, and certain other entities, while leaving open a clear lane for further escalations. The order sent a clear signal that sanctions policy under the new administration will be more forceful than under Trump, though Biden's subsequent offer of a summit with Putin suggests that the administration will also use diplomacy to manage the increasingly fraught relationship. For now, the situation at the Ukrainian border seems to have deescalated after Russia pulled back from its buildup.
How has the public responded to Biden?
With approval ratings in the mid-50s, Biden is outpacing Trump at the 100-day mark and is trailing or roughly even with the four presidents before that. This performance is not great, but not bad either considering the high levels of polarization in the country. It is underpinned by Biden's success delivering more stimulus: Polls showed that some 80 percent of voters were ready for more aid when Biden took office, even after the trillions doled out in 2020.
Biden is less popular at this point in his presidency than the last Democratic president, Barack Obama. But unlike Obama, Biden doesn't seem likely to face a substantial backlash anytime soon that erases public goodwill; by this point in his first year in office, Obama was faced with the early stages of the "Tea Party" movement that would lead to his party's loss of control of Congress and largely create the current GOP. Biden, thanks in part to his relatively popular agenda and extremely low public profile, has avoided the type of swift public backlash that mired Obama, though the now somewhat stale criticisms that Republicans have used to demonize Democratic presidents have lost some of their potency.
How has Biden changed US politics?
One hundred days is not enough time to truly judge this, but Biden stands out in a couple ways. First, after the success of his coronavirus relief bill and in the absence of effective Republican opposition, the president is unabashedly embracing tax-and-spend policies that Democrats have been shy about for thirty years.
Though low interest rates and the pandemic emergency made possible the record levels of borrowing that financed the COVID relief, Biden is now proposing sharp tax increases as he cues up his next spending plans. These include a $2.3 trillion bill to modernize the country's infrastructure and mitigate the threat of global warming, as well as another $1.5 trillion for childcare, paid family leave, and universal preschool.
Second, to many people's surprise, Biden is continuing some of the protectionist, populist trade policies championed by Trump in his "America First" approach. With his "foreign policy for the middle class," Biden is signaling a more permanent break with the pro-trade, business-friendly, and small government consensus that dominated Washington for a generation. Tariffs on China, increased skepticism toward trade generally, and a more expansive role for government are here to stay.
Clayton Allen is a Director in the United States practice at Eurasia Group.