GZERO Daily: the newsletter for people who love global politics
Sign up for our free newsletter to keep up with what's going on around the world - and why it matters.
Subscribe
GZERO Daily: the newsletter for people who love global politics
Subscribe Now

We have updated our Privacy Policy and Terms of Use for Eurasia Group and its affiliates, including GZERO Media, to clarify the types of data we collect, how we collect it, how we use data and with whom we share data. By using our website you consent to our Terms and Conditions and Privacy Policy, including the transfer of your personal data to the United States from your country of residence, and our use of cookies described in our Cookie Policy.
Why food prices remain high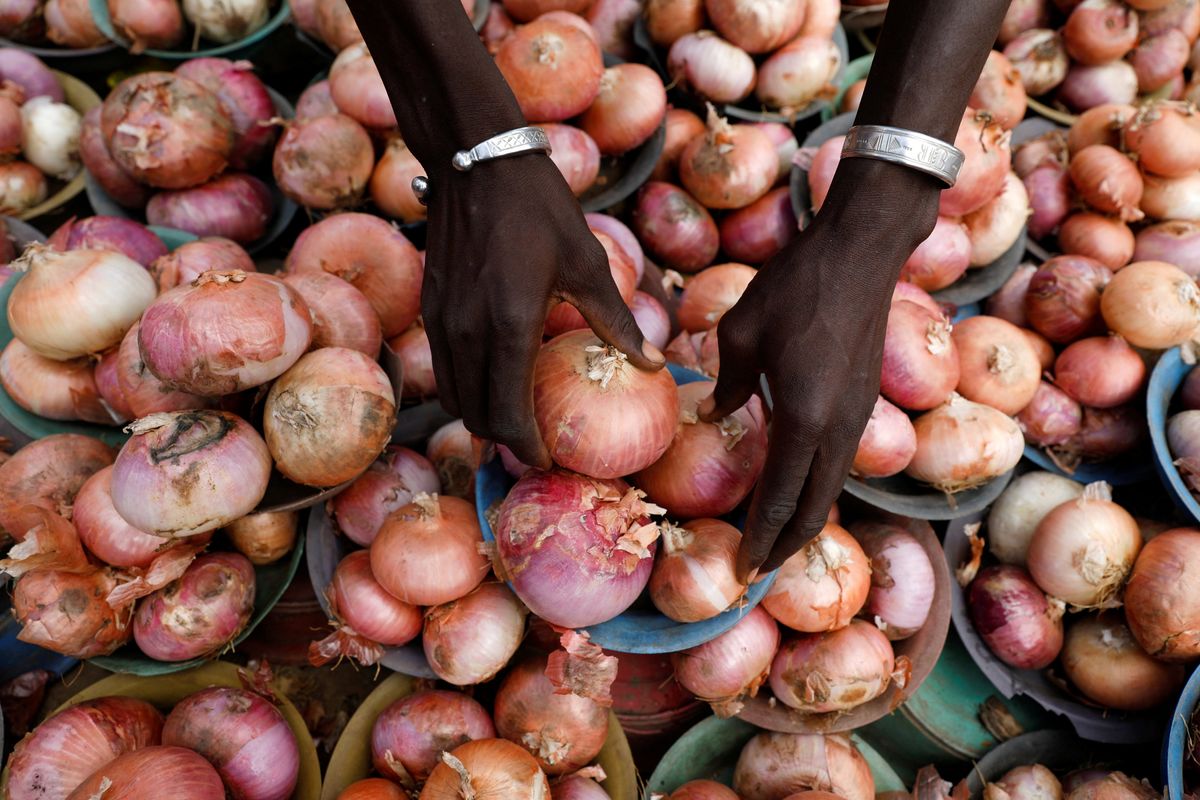 REUTERS/Temilade Adelaja
Thanks to the war in Ukraine and the pandemic before it, food inflation remains sky-high throughout much of the world. With the Black Sea grain deal set to expire on March 18, we take a look at global food security in 2023 with Eurasia Group expert Peter Ceretti.
---
Is the food security crisis over?
Unfortunately, not yet. International prices have moderated for staple grains — like wheat, and corn — since early- to mid-2022, but they've stabilized at a high level.
When Russia invaded Ukraine, food prices had already been disrupted by COVID-19. The war led to a blockade of Ukraine's ports, higher energy and shipping costs, and Western sanctions and self-sanctioning targeting Russia, all of which caused prices for wheat, corn, and other grains to spike.
As the world learned, Ukraine and Russia are major exporters of wheat, maize, barley, and sunflower seeds and oils, and prior to the war, Ukraine used to ship most of its food exports through the Black Sea. Russia and Belarus are also major fertilizer exporters, especially to the MENA region and sub-Saharan Africa.
Over time, Ukrainian producers adjusted, shipping more of their crops westward over land and by river. Then, in July 2022, Russia and Ukraine reached a deal brokered by Turkey and the UN to reopen some of Ukraine's ports for food shipments, helping to restore Black Sea shipments to Turkey, Europe, the Levant, and North Africa, among other destinations.
This helped to relieve concerns over shortages. Coupled with the Federal Reserve's tightening cycle, and eventually a moderation in oil and gas prices, the improved outlook brought food prices down.
"Down" is a relative term though. Using the FAO's Food Price Index as a benchmark, food prices are about 8% lower now than they were a year ago, but they're also about 11% higher than they were in early 2021 and around 30% higher than in early 2020.
So availability is now less of a concern, but basic foodstuffs are still very expensive.
Why are food prices still so high?
Good old supply and demand are a part of the story. The USDA forecasts that global production will fall for rice and corn this year and that consumption will outstrip production for wheat, rice, and corn. There should be enough to go around in the aggregate, but this will mean that global stocks will fall compared to last year's levels. A tight market keeps a floor on prices.
Inputs are another factor. Oil and gas prices are still relatively high, driving up prices for fuel used for farm equipment as well as for transportation and refrigeration. Natural gas is also used as a feedstock for nitrogenous fertilizers, and even though prices have come down in recent months, this year's harvests could be affected by under-application in 2022.
Weather is a third consideration. We've had an exceptionally long "triple-dip" La Niña, which can lead to extreme weather events that are also becoming more frequent due to climate change. La Niña is expected to recede, but there's a good chance that El Niño conditions will set in by late 2023, which could bring more disruptive weather.
What consumers pay for food does not correspond one-to-one to international price developments, either. Many food products are consumed in the country where they are produced. Most countries subsidize agriculture and enact some degree of protective trade policies. In wealthy countries, a large share of food spending goes to marketing and distribution, and only a small share of food prices — around 15% in the US — are determined by the actual cost of food. Finally, other factors like exchange rates and regional discrepancies in food costs can also distort the relationship between domestic and international food prices.
In practice, this means that the pass-through from changes in international prices to domestic food costs is partial and occurs with variable lags. There's even some recent evidence to suggest that more of price rises on international markets is passed through to consumers than price falls. So even though international food prices are falling year on year, about 90% of countries are seeing consumer price inflation on food of 5% or more. In January, the median food inflation rate was about 14%.
What is the outlook for staple foods for the rest of 2023?
At present, the outlook is mixed. Barring any major, unexpected developments, I think prices are likely to continue to fall on a year-on-year basis through mid-2023, though there are some important uncertainties. Weather and the possible onset of El Niño later in the year is one factor.
Oil and gas prices are another consideration. My colleagues think that it's likely oil and gas prices will rise again in the second half of 2023, as China's economy gains steam, Europe recovers, and supply-side conditions remain tight — especially given Europe's energy decoupling from Russia. This would help to drive food and fertilizer prices upward again.
What about the Black Sea Grain Initiative?
The continuation of the grain deal is a major wildcard. Our view is that the deal will be renewed. Russia has structural incentives not to let it lapse, as it nearly did last November. Among other things, Moscow is seeking to maintain ties with developing countries, which have been hit hardest by higher food costs and are disinterested both in the war and in Western sanctions. China, for instance, has purchased over 20% of the grains and oilseeds shipped through the grain deal and has sought to interject itself into diplomatic efforts to end the war. Turkey and Iran are also major beneficiaries of the deal.
On the other hand, killing the deal would bring the Kremlin closer to crippling the Ukrainian economy. About 11% of Ukrainian GDP came from agriculture prior to the war, and Putin aims to do long-term damage to Ukraine's economic structure.
Are there any other factors to watch?
Rice is another watchpoint. Rice prices have been decoupled from other staple grains throughout the conflict, and they fell for much of last year. But international prices are now rising by around 17% year on year, and given the number of countries in Asia that depend on rice as a staple, this should be a point of concern. Most East, South, and Southeast Asian countries have support programs in place to shield the population from major rice price movements, and much of the rice that is consumed in the region is produced domestically. But a knee-jerk restriction on exports from a major rice exporting country, like India, has the potential to spike prices internationally.