War, reforms & bureaucracy will decide Ukraine's EU bid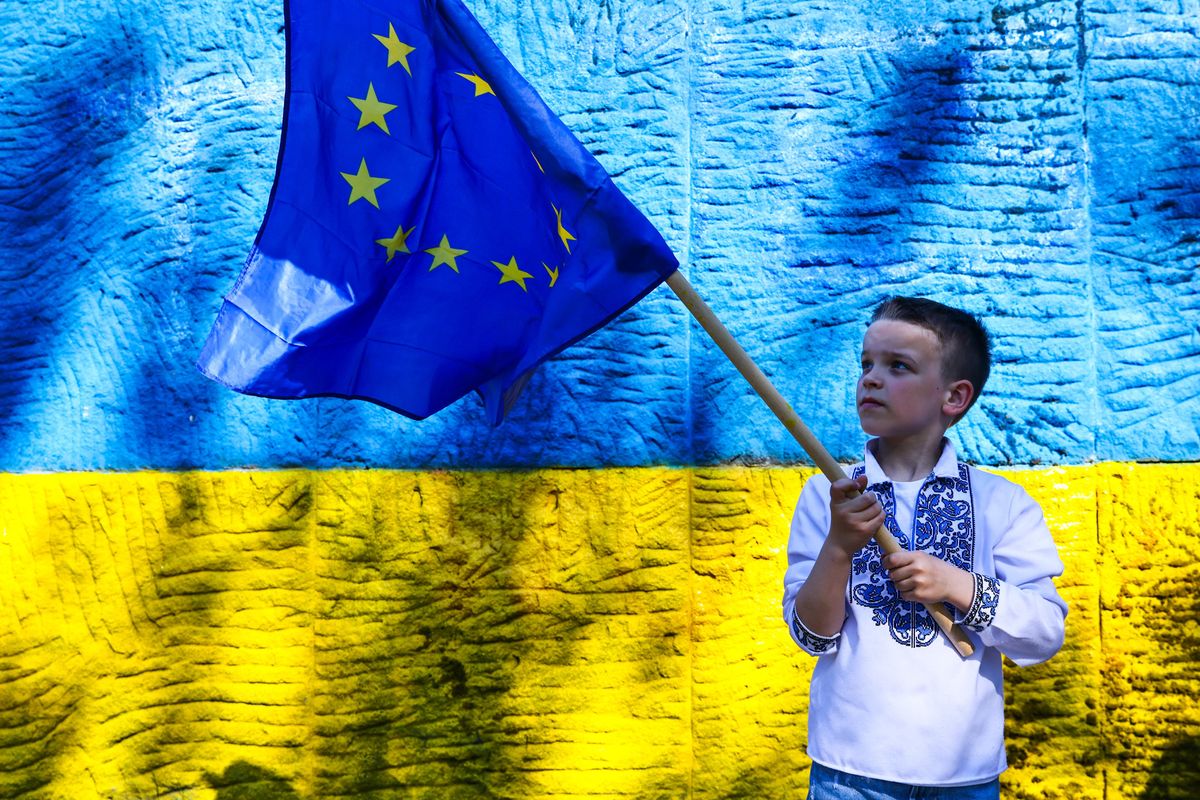 Beata Zawrzel via Reuters Connect
It's at war for its survival, yet Ukraine's candidacy for European Union membership has just been endorsed. While success would be a game-changer for Kyiv, getting there won't be easy, given the required internal reforms, international bureaucracy, and shifting geopolitics.
The European Commission is clear that Ukraine must carry out serious reforms to join the bloc, but some tough questions need to be answered. Does Ukraine deserve to be an EU member? What about the stringent process and requirements? Is there a natural tie-in to NATO membership? And what are the politics at play, given that Moldova, another former Soviet republic Russia considers to be in its sphere of influence, has been approved, while Georgia has not.
---
Does Ukraine deserve EU membership? Ukrainian President Volodymyr Zelensky welcomed the announcement from Brussels, tweeting that it's "the 1st step on the EU membership path that'll certainly bring our Victory closer."
But connecting Kyiv's bid for membership to the war isn't just a Zelensky-era policy; Ukrainians have long noted that they have paid with their lives for their European aspirations, which helped trigger Russia's intervention in Ukrainian-controlled territory in 2014. Even European Commission President Ursula von der Leyen has acknowledged that Ukrainians are "ready to die" for their pan-European objectives.
What are the processes and requirements? Candidacy is the first seal of approval for membership, but certainly not the last, and it's no guarantee of success. What is guaranteed, however, is a lot of bureaucracy. In a process that may take a decade — Finland was the quickest to get EU membership in under three years, while Cyprus was the slowest at almost 14 years — final approval must be agreed to unanimously by all 27 member states.
Negotiations involve some serious heavy lifting. Brussels premises membership on several conditions that will require massive judicial and governance overhauls in Kyiv. The big ones are:
An independent judiciary
An effective anti-corruption campaign
Free media laws
Curbing influential oligarchs
Laws against money-laundering
Protection of minorities
These conditions are further split into specific "chapters" of reform — and every chapter will have its own monitoring and assessment phase, the completion of which will also require unanimous approval.
"Successful applicants generally have to deal with issues like corruption and the rule of law, media freedom, and oligarchism," says Jason Bush, a senior analyst at Eurasia Group. "And although, of course, there's a lot of international sympathy with Ukraine at the moment, these problems are endemic in Ukraine."
Ukraine's post-Soviet-era systemic flaws — premised mostly on the oversized and often corrupt links between political and business interests in government and the judiciary, are not easily corrected. The country is currently under martial law, which means no elections or free media, while the war is ongoing.
"It's not a perfect democracy either," says Bush, claiming that there are issues with political competition, and Zelensky, as a wartime president, can easily, for example, issue a decree against a pro-Russia party, which would create the question of political competition — a crucial yardstick for EU membership,
There is also the thorny issue of migration, which doesn't resonate well in many parts of the EU.
"Do people really want to give free movement of labor to, you know, 50 million Ukrainians? Migration from Eastern Europe has been a source of political tension in many European countries. It's one of the factors that Brexit brings up," says Bush. Considering Ukraine's huge population and relative poverty compared to the other parts of the continent, opening up Europe's borders is a "serious political obstacle" because of the economic cost of integration.
As for reforms, although it's unrealistic for Kyiv to implement reforms before hostilities cease, Ukraine has already managed to adopt and implement almost 70% of the EU's laws — aka the acquis — since signing a bevy of political and trade agreements with Brussels in 2014.
Is EU membership tied to NATO? Remember, Russia's red line is Ukraine joining NATO. Twenty-one of the EU's 27 member states are in NATO (with new aspirants Finland and Sweden, that'll be 23). Put simply, some NATO members are EU members, but most EU members are in NATO.
While Zelensky has walked back its intentions of joining NATO, NATO leaders met on the same day the European Commission announced Kyiv's EU candidacy to discuss further integrating Ukraine into NATO's ambit. They announced a comprehensive assistance package to improve Ukraine's interoperability with NATO forces by transitioning it from Soviet-era to modern NATO weaponry. Ukraine may not be a member but is surely being armed like one.
Moreover, the EU now openly coordinates with NATO for tackling threats, from cybersecurity to disinformation, but pursues cooperation on military mobility so that "NATO forces can cross borders faster and more easily when needed." Importantly, even discounting the all-for-one-and-one-for-all joint defense agreement in NATO's Article 5, the latest EU and NATO agreements mean that Ukraine doesn't have to be a NATO member to enjoy NATO benefits, especially if it becomes an EU member.
On Friday, Russian President Vladimir Putin said that Moscow didn't have a problem with Ukraine's economic integration with Europe, but that it's concerned about its territory being used for military purposes by Europe.
"The Russians are obsessed with NATO's expansion and NATO membership [for Ukraine]," says Bush. "Right now, It doesn't look like they are regarding joining the EU in the same way … But, you know, what else can Russia do? It's already invaded."
Continental politics. The fact that the EU's big three — Germany, France, and Italy — were in Kyiv a day before the EU announced Kyiv's candidacy, with the oft-skeptical Dutch also making encouraging noises, means that the EU's naysayers and the expansionists are getting over their differences.
But Moldova and Georgia — two former Soviet states that applied for EU membership soon after Russia invaded Ukraine, fearing they might be Putin's next targets — saw mixed results. Moldova was granted candidacy — "a direct shot across Russia's bow," according to Ian Bremmer — but not Georgia. How were these decisions made?
According to Bush, Moldova's closer connection to the war in Ukraine — some believe the Russians plan to advance and link up with the breakaway region of Transnistria — makes it a more likely EU candidate, compared to Georgia.
"The fear that Moldova is potentially a Russian target is making the EU more, not less, determined to publicly offer this support," says Bush. Thus, the ongoing geopolitical shifts in Eastern Europe clearly weigh into the EU's calculus, in addition to domestic politics in those countries. The fact that Georgia's democratic record is more tarnished than Moldova's doesn't help its case either, he added.
Ukraine's bid for candidacy needs a unanimous vote by the European Council on June 23-24 to move forward. Given the current sympathies for the country, it will probably go through. But the larger question is how long it'll take.
In the unwieldy structure of the EU, fates linger and issues simmer. Albania, North Macedonia, Montenegro, Serbia, and Turkey are all membership candidates but have everything from bilateral disputes (such as North Macedonia vs. EU member state Bulgaria) to autocratic leadership (like Turkey) slowing their applications.
Turkey's membership complications are a yardstick for the political hurdles to come. Granted candidacy in 1999, Ankara began accession talks in 2005. But since President Recep Tayyip Erdoğan's estrangement from the West, the process has been dead in the water.
Naturally, the path is going to be different for Ukraine, a contemporary darling of the West. But with its complicated and corrupt internal dynamics, compounded by the ongoing war, Europe's attitude towards immigration and an incoming recession, the road between Kyiv and Brussels looks long and arduous.
Additional reporting by Beatrice Catena.