What We're Watching: Contentious SCOTUS decisions, Russia's Snake Island retreat, Israel's new PM, G7's topless fantasies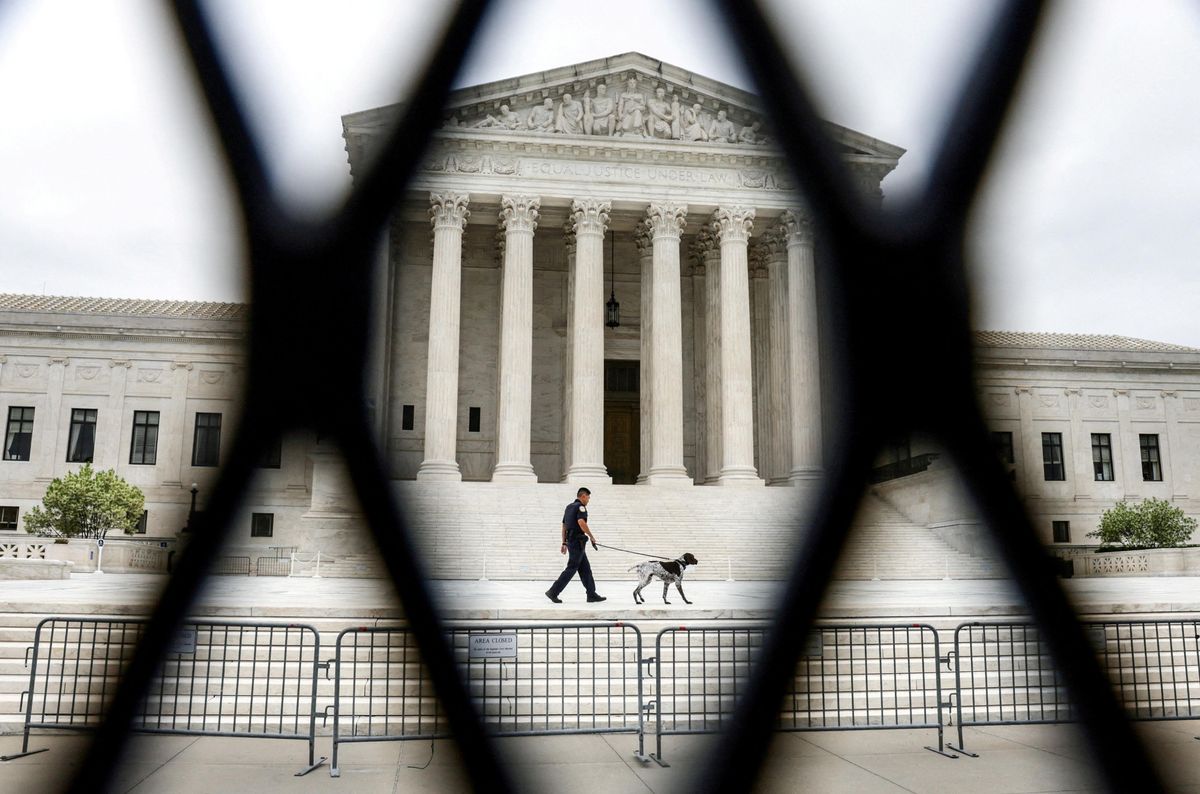 REUTERS/Evelyn Hockstein
SCOTUS hands Biden a win and a loss

The US Supreme Court on Thursday handed down decisions in two closely watched cases. First, the court ruled that the Environmental Protection Agency can't enforce rules limiting carbon emissions at existing power plants. The six conservative justices who backed the majority opinion said only Congress should regulate climate policy. The long-running case – which made its way through the courts during the Obama, Trump, and Biden presidencies – is emblematic of the broader fight between coal-loving Republican states and Democrats pushing for more action on climate change. The decision will also complicate Biden's pledge to switch the power grid to clean energy by 2035 – and to reach net-zero emissions by 2050. Crucially, the US is the world's second-largest carbon emitter after China. SCOTUS's subsequent ruling, however, went in Biden's favor: two conservative justices joined the court's progressive wing to scrap the "Remain in Mexico" policy, a Trump-era immigration law requiring some migrants to wait in Mexico while their asylum claims are processed. Still, a federal judge has blocked Biden from lifting another Trump-era immigration restriction, so this ruling is unlikely to have a significant impact on the immigration landscape ahead of November's midterms.
---
Kyiv scores as Russia flees Snake Island
On Thursday, Russia retreated from Snake Island, the Black Sea outcrop it invaded on the first day of its war against Ukraine. Russia claims it was a "gesture of goodwill" to prove it wasn't blocking Ukraine's food exports, but Ukrainians say that's a lie and that their missile strikes drove the Russians out. Prior to the war, Ukraine exported five million metric tons of grain per month, and the blockade has caused global food prices to soar, and created fear of famine in some African countries. Zmiinyi Island — as it is known in Ukraine — is 22 miles off the coast of Ukraine and offers several strategic advantages. While hard to defend, the island in Russian hands had crippled Kyiv's ability to defend the entire southwestern coast of the country, including its largest port, Odesa. Russia was also using it to support a naval blockade and to control crucial shipping lanes in the Black Sea. While clearly a win for Ukraine – and a much-needed morale boost – it doesn't change the Kremlin's focus on claiming the Donbas region in southeastern Ukraine. And without a strong navy to defend it, Ukrainian ships will likely still be unable to resume movement of food exports in the Black Sea — at least for now.
What's on the agenda for Israel's new PM?
Israel again has a new prime minister after the Knesset, Israel's parliament, voted to dissolve itself after a series of political crises. Yair Lapid, head of the centrist Yesh Atid Party, will serve as interim PM until elections on November 1 – the country's fifth since 2019. Meanwhile, outgoing PM Naftali Bennett, who partnered with Lapid to form the unwieldy coalition that ousted longtime PM Benjamin "Bibi" Netanyahu in 2021, says he won't run in the next election. At home, Lapid will mainly be focused on ensuring that right-wing parties in his coalition don't jump ship to the opposition headed by Netanyahu. Such a move could return Bibi to power (he is 3-4 seats short of a parliamentary majority, according to polls). Lapid, meanwhile, hopes to bolster his image as an elder statesman. Next week, he heads to the Élysée to meet with French President Emmanuel Macron before hosting President Joe Biden in Israel. There are also rumors that the Saudis will sign onto the Abraham Accords when Biden tours the region next month. Indeed, a three-way handshake between Lapid, Biden, and Saudi Crown Prince Mohammed bin Salman would surely be a boon for the interim Israeli PM ahead of the nail-biter November polls.
What We're Ignoring: Topless fantasies
We hate to say it, but it's hard to disagree with Vladimir Putin on this one. Responding to G7 leaders' jokes earlier this week about whether they
should meet topless
to mock the
famously bare-chested
Putin, the Russian president showed zero mercy: "above or below the waist," he
said
, "it would be a disgusting sight." Doubtless that's true of Biden, to say nothing of the bloated and debauched Boris Johnson — but maybe we'd give Justin Trudeau a pass? Regardless, we believe the world would be a better place if all leaders kept their shirts on and their armies at home.