WATCH : Global Stage @ the UN: Reimagining Tomorrow: Breakthroughs in Data and AI
WATCH
GZERO Daily: the newsletter for people who love global politics
Sign up for our free newsletter to keep up with what's going on around the world - and why it matters.
Subscribe
GZERO Daily: the newsletter for people who love global politics
Subscribe Now

We have updated our Privacy Policy and Terms of Use for Eurasia Group and its affiliates, including GZERO Media, to clarify the types of data we collect, how we collect it, how we use data and with whom we share data. By using our website you consent to our Terms and Conditions and Privacy Policy, including the transfer of your personal data to the United States from your country of residence, and our use of cookies described in our Cookie Policy.
Despite unpopularity, Biden remains the overwhelming favorite for the Democratic nomination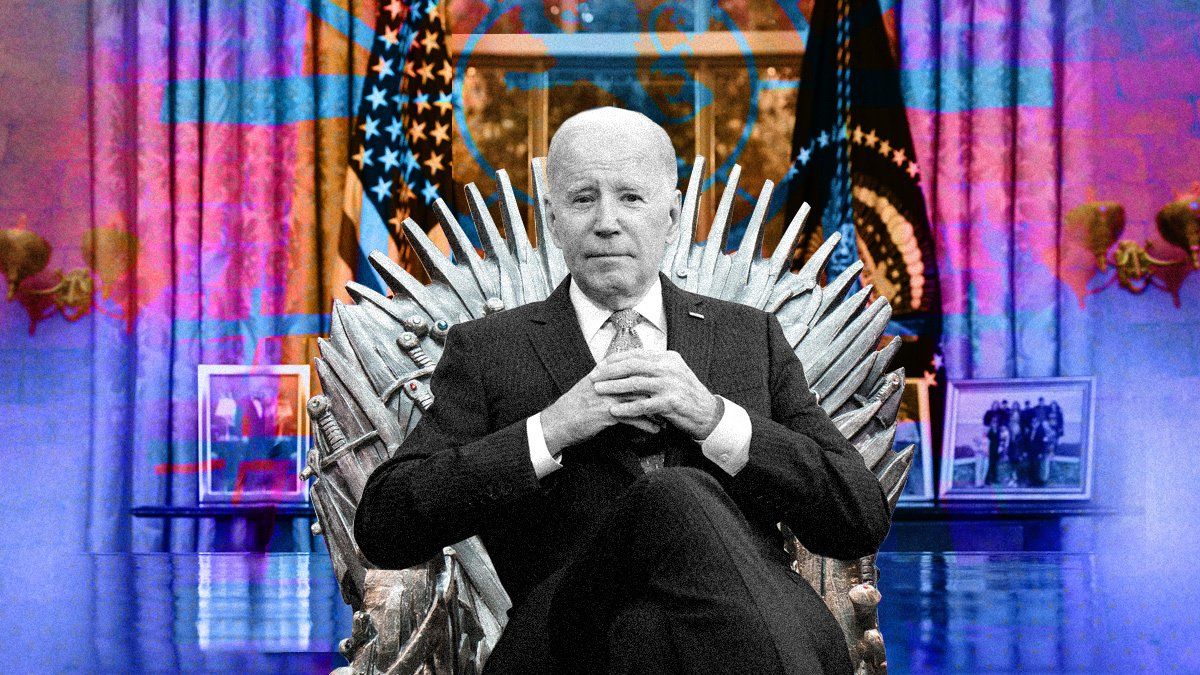 Jess Frampton
Joe Biden is a historically unpopular president.
Two and a half years into his term, Biden's average job-approval rating is a dismal 39.1%. His net approval – the difference between his approval and disapproval ratings – is -16.3%, the second lowest of any modern US president at this point in their term (the top spot goes to Jimmy Carter). Even former president and current Republican frontrunner Donald Trump was more popular than Biden.
Biden is struggling not just with Republicans (duh) and independents (whom he won by double digits in 2020), but he's also unusually weak among Democrats and Democratic-leaning constituencies. More than two-thirds of Americans – including a majority of Democrats – say they don't want the president to seek a second term. About half of these cite Biden's age and mental fitness as major reasons why. Already the oldest president in history at 80 years old, Biden would be 82 on Election Day and 86 at the end of a second presidential term.
Biden's unpopularity threatens to hurt his reelection bid. While he's still the narrow favorite against Trump and Florida Gov. Ron DeSantis – the top GOP contenders –Biden's lead seems to be shrinking, and Democratic elites are increasingly worried that the president's age, deteriorating health, and weak public standing will lose them the White House.
It follows that Democrats will nominate someone else to replace Biden at the head of the Democratic ticket and maximize their chances of winning in 2024. Right?
Wrong.
---
There are three possible pathways for Democrats to get a non-Biden nominee (well, technically four if you count a sudden serious health incident): Either he exits the race willingly, he's forced to drop out, or he's defeated in a contested primary. None of these scenarios is remotely likely to happen.
As long as he remains (broadly) healthy, Biden will lead his party next November. Here's why.
Biden won't exit the race willingly
While a growing number of Democratic leaders privately tell me they wish Biden would voluntarily step aside, their hopes will almost certainly be dashed.
The president officially launched his reelection campaign on April 25; his ongoing push to sell Americans on "Bidenomics" and the strength of the US economy signals that he has not changed his mind. Indeed, First Lady Jill Biden spoke of his motivation to run earlier this year, telling an interviewer: "He's not finished what he's started, and that's what's important."
Barring a major health setback that forces him out of the race, Biden will remain fully committed to being the Democratic nominee.
Forcing Biden to drop out would be challenging and could backfire
Getting Biden to exit the race would require a coordinated pressure campaign among Democratic elites that leans on the president to make room for a candidate more likely to beat Trump. This campaign couldn't be kept under wraps; to succeed, prominent Democrats would have to make their worries about Biden's reelection prospects known in public and pledge considerable money to the effort, threatening Biden's primary campaign by forcing him to compete for a limited pool of donor dollars.
There's zero upside and big downside for any individual Democrat to go out on a limb like this.
If too few others join and the "coup" fails, the "plotters" would not only get frozen out of positions in a second Biden administration but also risk losing their jobs as party officials. Quoting Omar Little, "You come at the king, you best not miss." At the same time, the attempt itself would risk causing a deep schism in the party that hurts the Democrats' performance in the general election (like Sen. Ted Kennedy's challenge hurt Carter in 1980 and Pat Buchanan's challenge hurt George H.W. Bush in 1992).
Even if the "coup" against Biden were to succeed, the natural choice to replace him would be Vice President Kamala Harris, who is even less popular among the voting public and would be more likely to lose to the Republican nominee. Yet as the first woman, Asian American, and African American to serve as vice president, she would be a difficult candidate for prospective primary challengers to dislodge.
Replacing both Biden and Harris would require unprecedented behind-the-scenes coordination from a two-person ticket sometime in the next six months to provide sufficient time to qualify for the ballot in early primary states. But this strategy would risk alienating Black voters and progressives, both key elements of the Democratic base, which would put Harris's challengers on the back foot from the outset.
The difficulty of replacing both Biden and Harris at the top of the ticket disincentivizes Democratic elites from trying to force Biden out in the first place.
Defeating Biden in a contested primary would be an uphill battle
The two current challengers to Biden – wackos Robert F. Kennedy Jr. and Marianne Williamson – have little chance of winning even a single primary. And while Democrats don't lack for other good options to nominate, including California Gov. Gavin Newsom, Michigan Gov. Gretchen Whitmer, Illinois Gov. J.B. Pritzker, and Colorado Gov. Jared Polis, none of them can boast the national profile or broad appeal across the Democratic Party that Biden does.
The fact is that though Biden is unpopular, he has already defeated Trump once and is the only Democrat with the national profile to match the former president. Always strong with Black voters – he won 61% of Black voters in the crucial South Carolina primary in 2020 – and moderate Democrats, Biden has also done enough on the policy front to get progressives to endorse him (including $2 trillion in pandemic relief and billions' worth of generational investments in manufacturing, infrastructure, climate, clean energy, and health care), as Squad talisman Rep. Alexandria Ocasio-Cortez (D-NY) did earlier this month.
A new Democratic candidate would need to develop a national profile, gain nationwide name recognition, and win the trust of key constituencies like Black and moderate voters – all in a relatively short period of time. With state-by-state ballot-filing deadlines starting in the early fall, challengers would have to enter the race in the next two months. Even if they were ready to do that, Biden has rigged the primary calendar in his favor by moving key states that swung heavily for him in the 2020 primaries – including South Carolina and Michigan – to earlier in the season. This built-in advantage deters would-be challengers from entering at all.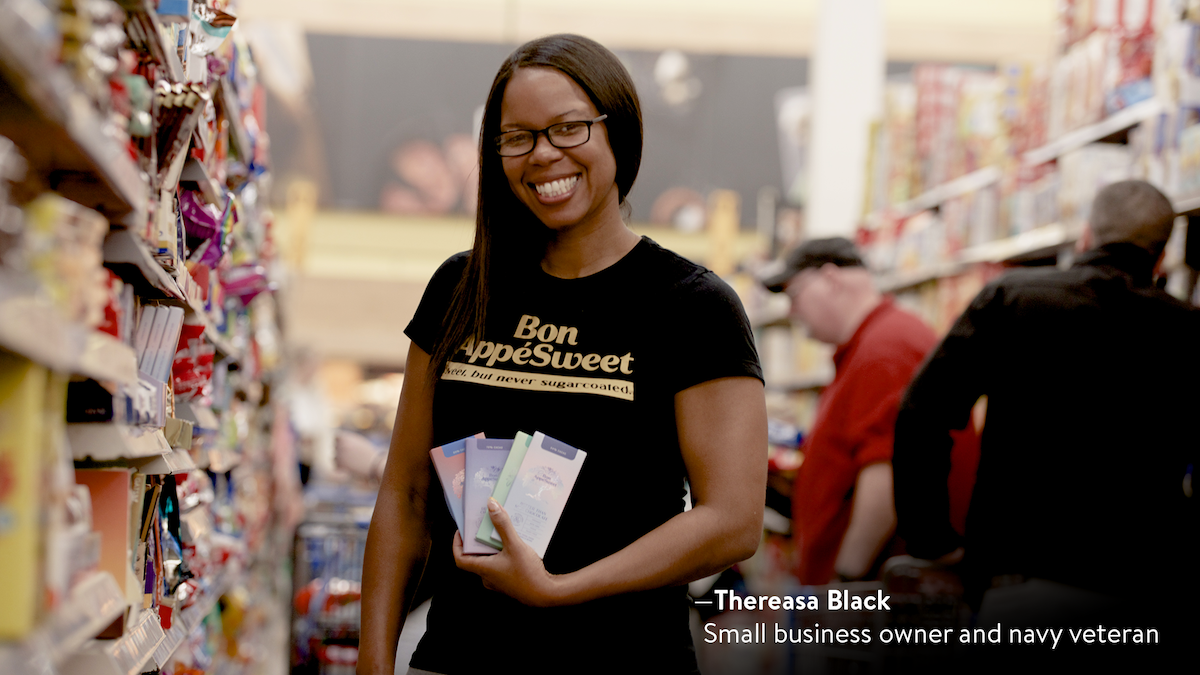 Walmart is creating more American jobs by strengthening their commitment to local communities, investing in US manufacturing and supporting veteran-owned businesses like Bon AppéSweet. America's largest company has spent $1 billion with veteran-owned businesses, helping Navy veteran Thereasa Black and her small business gain nationwide success.