GZERO Daily: the newsletter for people who love global politics
Sign up for our free newsletter to keep up with what's going on around the world - and why it matters.
Subscribe
GZERO Daily: the newsletter for people who love global politics
Subscribe Now

We have updated our Privacy Policy and Terms of Use for Eurasia Group and its affiliates, including GZERO Media, to clarify the types of data we collect, how we collect it, how we use data and with whom we share data. By using our website you consent to our Terms and Conditions and Privacy Policy, including the transfer of your personal data to the United States from your country of residence, and our use of cookies described in our Cookie Policy.
How Iran beats Russia at sanctions game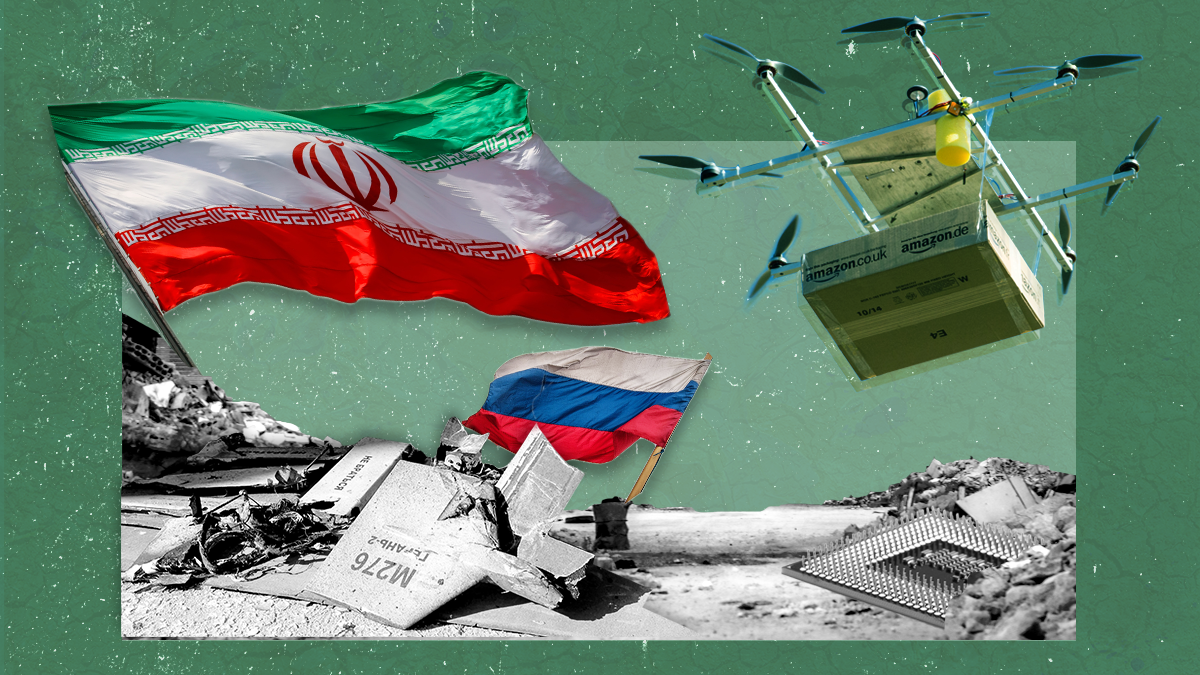 A recent attack on a weapons manufacturing compound in the Iranian city of Isfahan, presumably by Israel, has again highlighted the Islamic Republic's position as a global arms powerhouse.
While it's hard to know exactly what projects are in the works at the Isfahan facility, there are reports that the site is used to produce "suicide drones." These are the same cheap and dirty contraptions Vladimir Putin's military is using to pummel Ukrainian cities.
With attention yet again on Iran's drone-making prowess, a big question emerges: How has heavily sanctioned Iran managed to become a one-stop shop for Russia's advanced weapons needs, while Moscow, largely cut off from Western supply chains, is desperately searching for weapons and parts?
---
What are some of the biggest pain points for Russia in procuring weapons and parts? Moscow has long relied heavily on Western components for making advanced weaponry. Before the war, the bulk of its stash came from US firms. But access to semiconductors, the nearly invisible microchips essential for running modern military hardware, changed after the outset of the war when more than 30 countries – like Japan, the Netherlands, and the EU – joined US-driven bans on exports to Russia.
What's more, Russia has struggled to bulk up its domestic semiconductor industry. Some firms have gone bust, and private companies have refused to use domestically made chips, citing quality concerns – again reinforcing Russia's reliance on foreign manufacturers. But global supply kinks have made procuring chips harder for everyone.
Still, Moscow has found ways to access these and other parts through third parties – including China and Turkey, a NATO member! Russia also imported $777 million worth of products from Western tech firms between April and October 2022 despite export bans. But Putin needs to get his hands on way more components to fuel his war machine.
Iran to the rescue, but how? Tehran, meanwhile, has developed a knack for skirting Western sanctions and finding gaps in international arms control agreements to procure Western-made components.
"Iran has been living under sanctions for more than 40 years, so they've developed elaborate processes to do it [evade sanctions]," says Dr. Jon B. Alterman, director of the Middle East Program at the Center for Strategic and International Studies. "The smuggling operations in Iran are run by people close to the government. They've gotten good at it, and they've gotten wealthy doing it. They have the infrastructure."
One part of their solution is quite relatable: Like you and me, the mullahs turn to the World Wide Web to shop.
"Some of the stuff [needed to make drones], they can buy on eBay and Amazon," says Alterman. "In a world of a huge amount of commerce, a lot of things are obtainable."
It's also a matter of proactive preparedness. Iran has for decades invested heavily in its arms industry, launching a modernization program that's allowed it to make major advancements in ballistic and cruise missile production.
Iranian officials have also been known to scour conflict zones for American and Israeli debris for research purposes, including reverse-engineering. In fact, President Joe Biden recently tapped a task force to establish why a whopping 82% of components found in downed Iranian drones in Ukraine were reportedly made in … America. (Not exactly the Made in America promo Biden wanted).
Why would Iran help Russia? Like so many things in geopolitics, it's a case of I'll scratch your back if you scratch mine, but Iran is also playing the long game.
"The war in Ukraine has reshuffled the deck of alliances, and Iran now has access to modern weaponry," says Pierre Boussel, a Middle East expert at the Liechtenstein-based Geopolitical Intelligence Service. So Iran is arming the Russians and, in return, the Russians are giving Tehran some advanced hardware. Case in point: Moscow recently sent Tehran the US Javelin anti-tank missile and Stinger anti-aircraft missile, as well as British anti-tank missiles.
While Iran's rustic approach can't compete with the West's, it has helped Tehran carve out a nice space for itself in the arms-making world: "US sanctions have forced Tehran to position itself in a low-cost arms market," Boussel says, adding that "Iranian drones may be slow and inaccurate … but they are numerous enough to overwhelm enemy defenses."
Plagued by crises at home and abroad, Iran has enough on its plate. So what's its game plan? "The Iranians have an interest in having at least one of the great powers being indebted to them," says Alterman, adding "they see an opportunity to lock in some gains."
"Iran has no partners, so the fact that somebody might owe it is kind of a big deal in Iran."