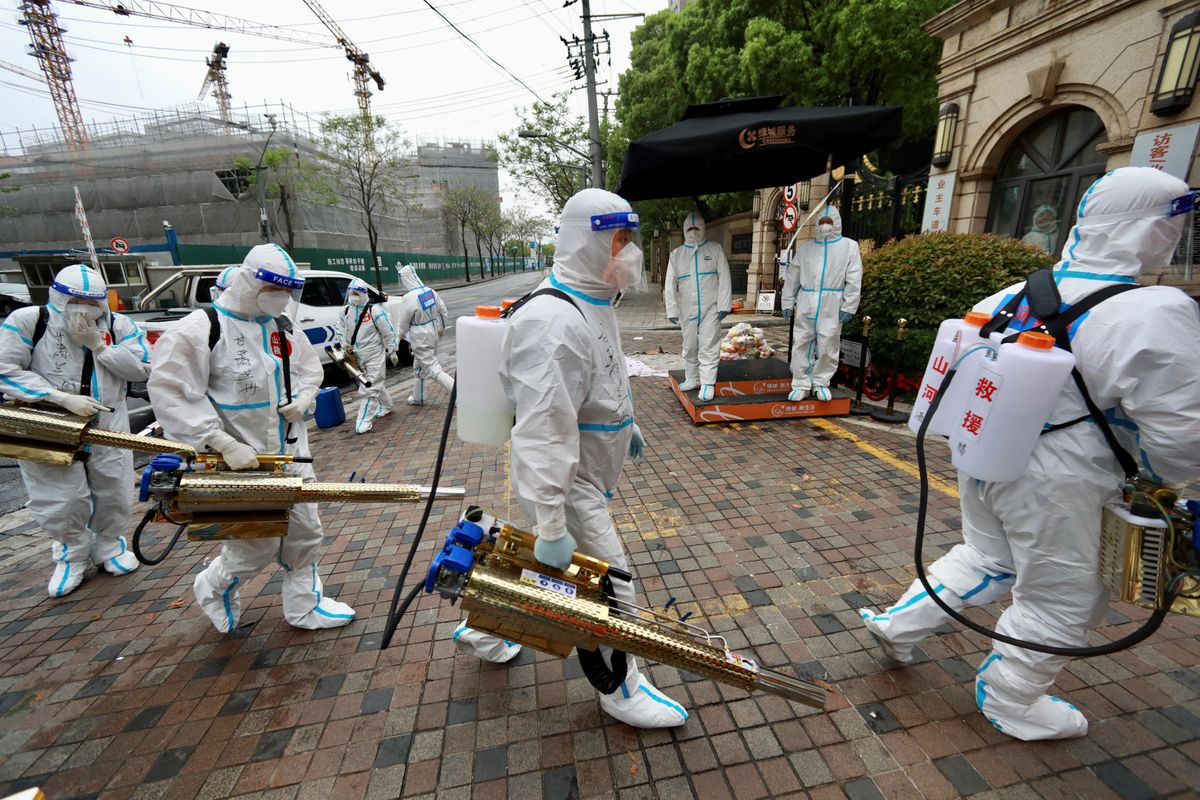 REUTERS
Since Shanghai's 26 million residents started a grueling lockdown on March 28, I have been checking social media more often. On April 13, I opened Weibo, aka China's Twitter, and browsed to see what was happening in Shanghai, and I came across a piece of news that was going viral.

A Chinese health official named Wenxiong Qian had killed himself in his office.
---
Shanghai authorities confirmed Qian's death a day later but didn't respond to the widespread rumor that his death was related to the burden and pressure of work during Shanghai's rigorous lockdown. And the full reason for his death will probably remain unknown to the public, as I've seen so many times with incidents in China. "The answer is blowing in the wind" – that's what we always say to comfort each other.
But Qian was not the only one who died prematurely in Shanghai this past month.
On the night of March 23, when Shanghai was still partially locked down, a nurse named Zhou Shengni died after being turned away from the hospital where she worked. That night, she suffered from acute asthma and didn't feel better after taking medicine. Her family drove her to Shanghai East Hospital, her workplace and the closest hospital – the one she trusted most – to get her immediate help. But she was refused entrance. Zhou died in another hospital four hours after leaving home to seek treatment. Shanghai East Hospital published a memorial after her death, noting that the hospital's ER had been closed that night for a COVID disinfection and containment process.
On the night of April 4, a cancer patient made his way to the ER but was refused treatment because he didn't have a PCR test, according to his family. They waited a long time, and he felt short of breath and had chest pain but could not get help. His heart stopped while awaiting his results, and his last words were, "Mom, could you ask the doctor, did they get my PCR result?" He left behind his five-year daughter, his elderly mother, and his beloved wife, who shared this story with the public on Weibo.
Hsien Ping Lang, an influential economist in China, lost his 98-year-old mother. She had a kidney condition and waited in the ER for a nucleic acid test in order to be treated. She died during her four-hour wait, and Lang was unable to see her one last time owing to Shanghai's lockdown.
They did not die of COVID but because of the Chinese government's firmly practiced zero-COVID policy.
Shanghai, China's main economic hub, has been under lockdown for three weeks. I lived in Shanghai for four years during college, and every time people ask me about China, I tell them, "You should go to Shanghai. It is the best city in China."
The Pu Dong District on the eastern bank of Huangpu River represents the development of China after the economic reforms of the 1980s. Pu Xi, the western bank, represents the old glory days when China was revolutionizing and finding its own way in the early 20th century. Importantly, in 1921, the Chinese Communist Party was founded in Shanghai.
The city was once a source of great pride for many Chinese people, including me. But that all fell apart this month when the city was shut down and people began to really suffer.
There's been news of a dog being killed by a health worker in the street. Kids who tested positive were forcibly separated from their parents. The elderly can't access enough food and medication. Patients are struggling to get access to cancer treatment and dialysis. And some are being forced to leave home and go to quarantine facilities even if they receive a negative test result.
Is this still the Shanghai I once loved? Is this still the Shanghai I once firmly believed would be the frontier of positive change in China?
Chinese people have long known they don't have the same amount of freedom as the rest of the world, but many accepted the notion of "sacrificing many rights for a greater common good." But now more people are realizing that even if they are sacrificing their freedom, it does not necessarily help them or society end up in a good place.
To this day, Chinese society is divided over the right thing to do, and many people outside Shanghai are still supporting the zero-COVID policy. They believe the lockdowns are worth it to keep the elderly and immunocompromised safe – and yet it is those very people who are suffering the most during the current lockdown.
China had only around 100,000 COVID cases before the omicron variant spread this past month, and its economic growth outperformed other major economies in 2021. I would argue that the zero-COVID policy helped buy China two years of near-normalcy. But is it anymore?
"April is the cruellest month, breeding
Lilacs out of the dead land, mixing
Memory and desire, stirring
Dull roots with spring rain.
Winter kept us warm, covering
Earth in forgetful snow, feeding
A little life with dried tubers."
- T.S. Eliot
To stick with zero-COVID or not, that's now a question for every Chinese person – if only they had the choice.