US midterms: Did Democrats blow it?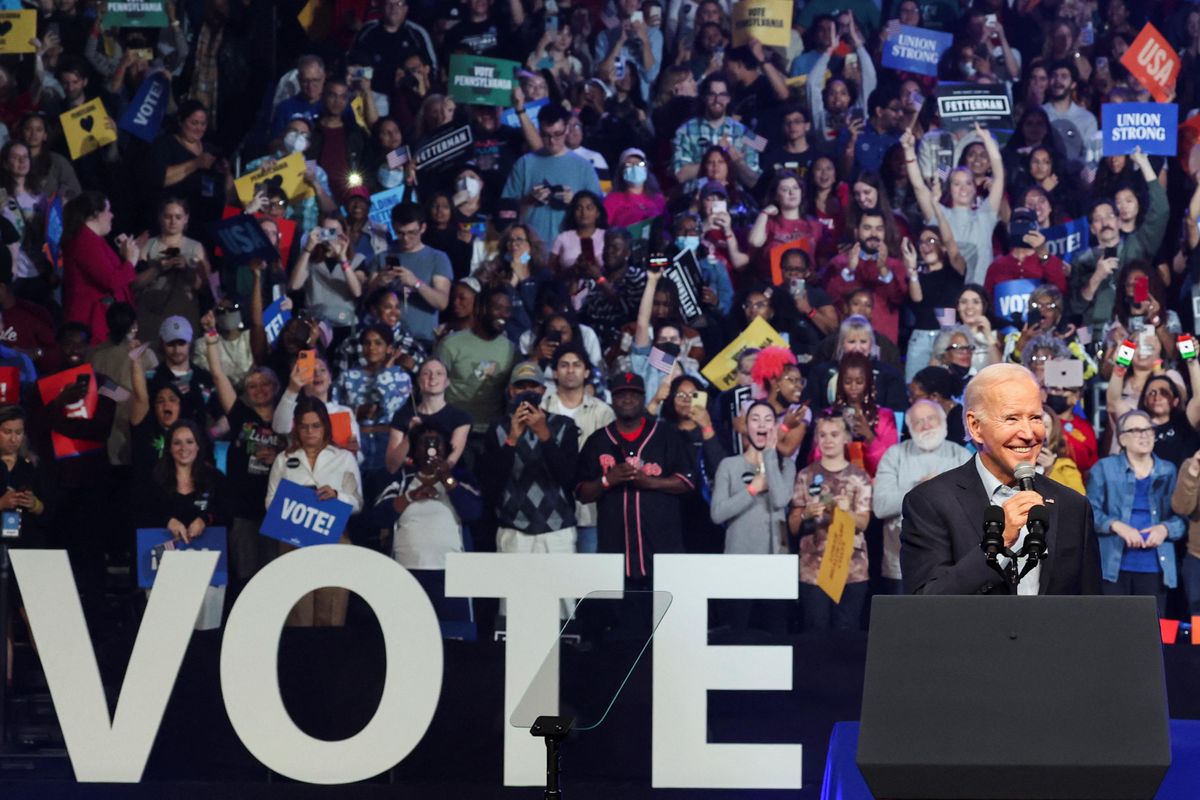 Reuters
Bracing for some big losses in midterm elections on Tuesday, many Democrats are expressing disbelief at their impending doom. House Speaker Nancy Pelosi recently told the New YorkTimes, "I cannot believe anybody would vote for these people," referring to Republicans on the ballot.

With Democrats fighting to retain control of Congress and with some formerly safe blue seats now up for grabs, many analysts are asking whether the Dems' poor electoral prospects were inevitable – the curse of incumbency – or if the party shot itself in the foot with out-of-touch electioneering.
---
Why are things looking so bleak for Dems?
Midterm elections are always a referendum on incumbency, as demonstrated by the fact that the party in control of the White House has lost Congressional seats in 36 out of 39 midterm races since the Civil War. It's almost impossible to satisfy voters – particularly those caught in a painful spiral of inflation and recession fears – by advocating for the status quo. That's the current challenge for Democrats: trying to defend their own track record while simultaneously pushing for change.
Making matters worse is that Dems have virtually no margin for error. Defending a 50-50 split in the Senate, and with only a five-seat shift needed to give the GOP control of the House, it was always going to be an uphill battle for team blue.
Americans are deeply divided, but many are united by a shared sense that the country is in free-fall. This time, however, the Dems – in control of the White House and Congress – are most vulnerable to electoral backlash. What's most surprising is that this dynamic is also playing out in matchups like gubernatorial races in New York and Oregon that should be slam dunks for Dems regardless of the broader political climate.
But were the 2022 midterms always going to be a fait accompli or do current trends reflect a Democratic faux pas? The answer is … a little of both.
Voters have been direct about their concerns, telling politicians for months that they are worried about gas prices, mortgage repayments, and feeding their kids amid 40-year high inflation rates. They're also focused on rising crime rates – particularly in big cities – something New York Gov. Kathy Hochul is learning the hard way. Those running for office have not had to engage in guesswork to identify voters' deepest insecurities.
Republicans, for their part, have talked relentlessly about the cost-of-living crunch, driving home the message that their opponents are weak on the economy. Though Democrats have addressed economic grievances here and there, their primary message to voters has been to focus first on democratic ideals – and then on their very real economic fears.
This game plan is coming directly from the top. Indeed, in his first major midterm stump speech on Sept. 1 in Philadelphia, the birthplace of American democracy, President Joe Biden claimed that "equality and democracy are under assault," imploring Americans to go out and vote. This was also his message in a final pitch to voters over the weekend, when Biden reiterated that "democracy is on the ballot for all of us."
Clayton Allen, a US analyst at Eurasia Group, says this strategy could prove to be a mistake. Playing up the threat to democracy is "an issue that seems like it performs well with focus groups and base Democratic voters, but doesn't seem like it's an especially effective measure in swaying undecided voters," Allen says.
They've also missed an opportunity with regard to the economy. "Democrats haven't been able to coalesce around a core economic message either, which limits their ability to effectively use economic urgency to appeal to voters," he adds.
Allen may be right. The Dems' approach doesn't seem to be resonating with voters who are overwhelmingly focused on bread-and-butter issues. For instance, independent women voters – a highly sought-after electorate – supported Dems by 14 points in September, but by mid-October flipped to favor Republicans by 18 points.
Jon Lieber, US managing director at Eurasia Group, says that "part of the challenge with the threat to democracy narrative is that it means different things to different people," adding that "big majorities of Republicans think the media or unsecured ballot boxes is the big threat to democracy and will vote on that."
But even some Democrats have criticized their party for failing to compensate for earlier economic missteps (the Biden administration last year called inflation "temporary") by conveying a sense of urgency about the state of the economy – now!
Something the Dems should have identified as temporary, however, was the summer boom sparked by the reversal of Roe v. Wade as well as a slate of legislative wins. Indeed, as inflation has remained stubbornly high – still topping 8% – Dems appear to have overplayed their hand, believing that the Supreme Court's move, unpopular with voters, could get them over the finish line.
Economic turmoil has always been a toxic agent that gives the underdog plenty of ammunition to oust the incumbent party. If Dems lose big on Tuesday, paving the way for a slate of GOP newbies, it will be a boon to Trump as he looks set to announce a run for the White House in 2024.
This article comes to you from the Signal newsletter team of GZERO Media. Sign up today.