What We're Watching: Bolsonaro criminal probe, Lebanon's "social explosion," Zuma defies court, Putin's definition of champagne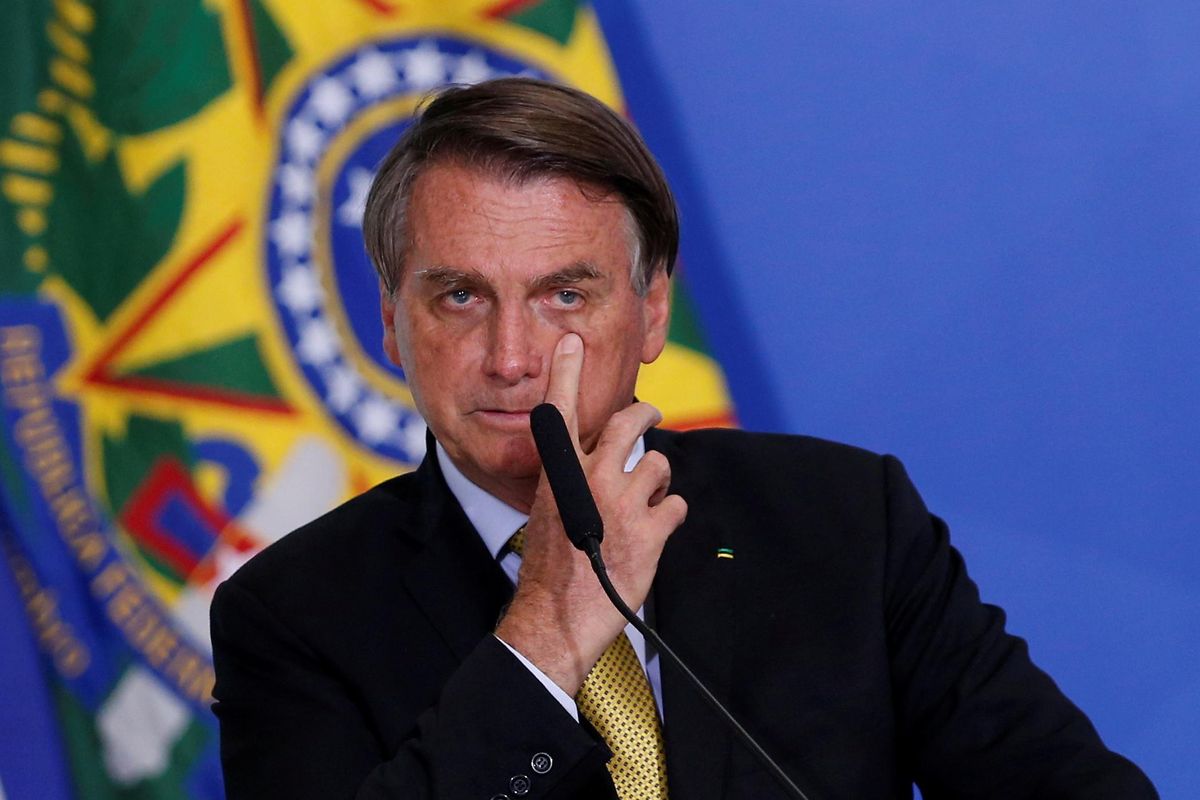 Bolsonaro probe heats up: A smattering of protests broke out in cities across Brazil this weekend after the Supreme Court gave the go-ahead for a criminal probe into President Jair Bolsonaro for "dereliction of duty" linked to procurement of COVID vaccines. What's this all about? A recent congressional inquiry into Bolsonaro's broad handling of the COVID crisis revealed that he knew — and failed to report to authorities — a shady deal negotiated by his health ministry to buy jabs from a private Indian pharmaceutical company for more than 10 times the price originally quoted. The allegations have sparked fresh calls to impeach Bolsonaro, but conviction would require support from two-thirds of the lower house of Congress, an unlikely scenario given Bolsonaro's broad web of alliances in parliament. Still, the unfolding political drama is indeed having an impact on the street cred of the populist president, who rose to power on an anti-establishment, anti-corruption platform: Bolsonaro's net approval rating now hovers at -23 percent. Brazilians, who have been pummeled by the COVID crisis, will surely be watching the probe very closely ahead of next year's presidential vote. The timing is not great for Bolsonaro, whose nemesis, leftwing former president Lula, is gaining steam in the polls.
---
Lebanon's impending "social explosion:'' Lebanon's financial and social crises have been deepening for months, but Prime Minister Hassan Diab recently warned that a "social explosion" is imminent. Gas and electricity shortages have intensified, prompting nationwide protests. Recent reports detail Lebanese lining up for hours to fill up their vehicles, with some even pushing their cars because of the dire fuel scarcity situation. For months, Lebanon's fractious transitional government has passed ad hoc measures to try and address the worsening economic crisis: Parliament recently passed a $556 million food ration program to help Lebanese buy basic goods (half of Lebanese now live below the poverty line) but it's unclear how the cash-strapped state will pay for it. As we've written before, the current mess is a direct result of a severe economic crisis that started in late 2019 as a result of decades of corruption and mismanagement. It was then turbocharged by the fallout from the August 2020 Beirut port explosion, which left Lebanon without a functioning government. Last month, the World Bank said that Lebanon's economic crisis ranks among the world's most severe since the mid-1800s.
Zuma defies court — again: Jacob Zuma, South Africa's defiant former president, has refused to turn himself in to authorities after the country's top court sentenced him to 15-months in prison for failing to appear at an inquiry into corruption that occurred during his time in office. Zuma, who is 79, has launched several court appeals in recent days, saying that sentencing him to jail during a global pandemic is the same as "sentencing me to death." A stalwart of the ruling African National Congress (ANC) party and close confidante of Nelson Mandela, Zuma served as president for nine years until 2018, when he was forced to resign amid graft allegations. But he retains an extremely loyal following: in recent days, hundreds of supporters formed a "human shield" outside his home, vowing to protect Zuma if police showed up to arrest him. Zuma, for his part, told the crowd that "a messy confrontation would've ensued if police dared to arrest me." The standoff is exacerbating tensions within the already-divided ANC, making life hard for Zuma's successor and former ally, President Cyril Ramaphosa, who has pledged to bring "ethics into politics."
What We're Ignoring:
Putin's definition of champagne: Fresh tensions are bubbling between Moscow and Europe, after Vladimir Putin signed a law that says only Russian producers of fizzy white wine can use the term "champagne" on their products in Russia. As anyone who's spent (and can remember) a new year's celebration with Russians knows, the country has long produced its own "Sovyetskoye Shampanskoye" (Soviet Champagne), a glorious, festive, splitting headache in a bottle. Much of the stuff is made in southern Russia, as well as in Crimea, the peninsula of Ukraine which Moscow annexed in 2014 and is trying to prop up as best it can now. Meanwhile, the makers of actual champagne are popping mad now, with market leader Moët Hennessy pledging to halt all exports to Russia until a solution can be found. The EU is making its usual "why I oughta!" strong statements, but will flutes go empty in Russia now? The country imports about 50 million liters of sparkling wine annually, of which about 13 percent is from the Champagne region of France, according toDrinks Business, a trade publication.