GZERO Daily: the newsletter for people who love global politics
Sign up for our free newsletter to keep up with what's going on around the world - and why it matters.
Subscribe
GZERO Daily: the newsletter for people who love global politics
Subscribe Now

We have updated our Privacy Policy and Terms of Use for Eurasia Group and its affiliates, including GZERO Media, to clarify the types of data we collect, how we collect it, how we use data and with whom we share data. By using our website you consent to our Terms and Conditions and Privacy Policy, including the transfer of your personal data to the United States from your country of residence, and our use of cookies described in our Cookie Policy .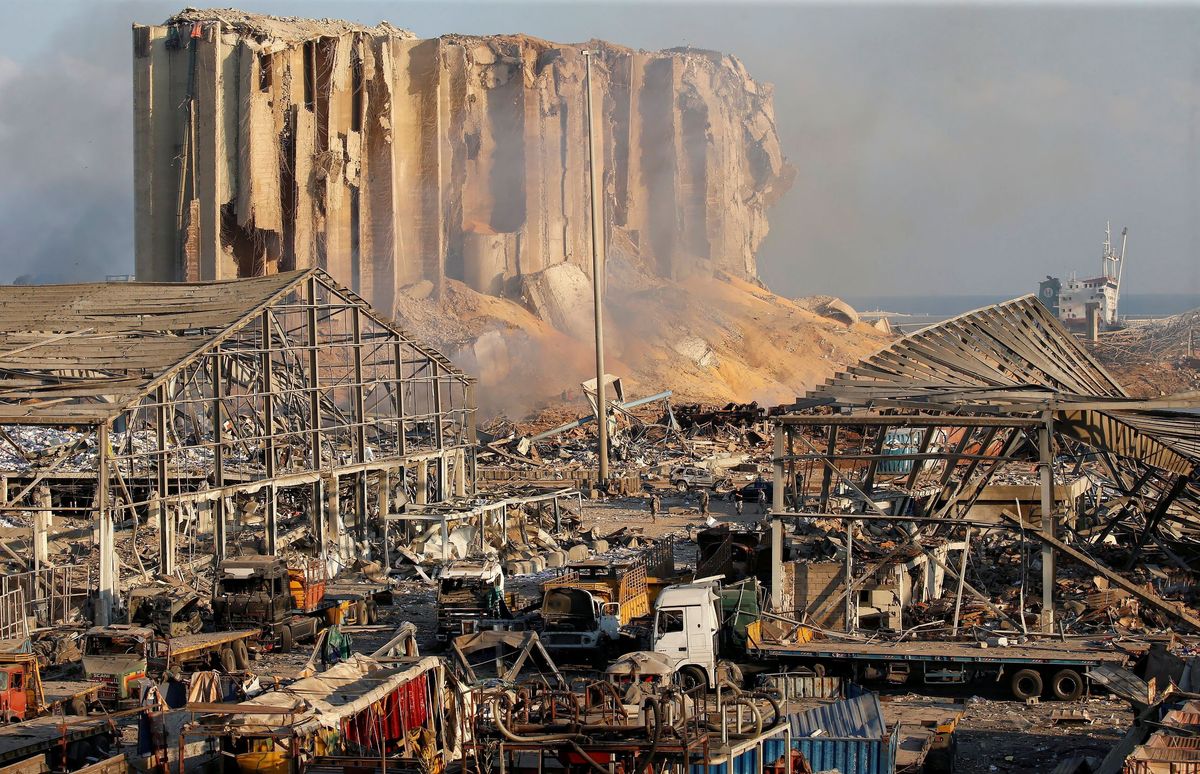 Some of the worst sectarian clashes since Lebanon's 15-year civil war (1975-1990) broke out in Beirut this week between supporters of Hezbollah and Amal, both Shiite political parties, and Christian, far-right Lebanese Forces. Shiite protesters were rallying against the state probe into the Beirut port blast, which occurred last year. They say authorities were singling out Shiite politicians for questioning and blame. Below is our original piece on the Beirut port explosions published on August 5, 2020.
The twin explosions at Beirut's port on Tuesday were so powerful that the aftershocks reverberated as far as the Eastern Mediterranean island of Cyprus, 150 miles away. The specter of fire and smoke was such that many suggested on social media that Beirut had experienced a nuclear blast.

In the days ahead, more details will come to light about why a deadly cache of materials was haphazardly stashed at a port warehouse, and why Lebanon's government failed to secure the site. So, what comes next for crisis-ridden Lebanon?
---
The timing could not be worse. In recent weeks, Lebanon, one of the world's most indebted countries, has spiraled into chaos after decades of economic mismanagement.
Crime is spiking as desperate Lebanese seek scarce basics like food and medicine, while others are turning to a swarming online barter economy to survive — clothes for baby formula? The deepening economic crisis recently pushed at least 500,000 children in Beirut into poverty , an aid group warned in July.
International observers, meanwhile, have questioned whether Lebanon has already breached the "failed state" threshold.
International support. So far, countries including Australia, Canada, France, Israel, Norway, Turkey and the Netherlands have offered Beirut urgent humanitarian aid in the form of generators, medical equipment and personnel, and even some cash. The EU, for its part, is sending search and rescue teams to search for survivors, while French President Emmanuel Macron will touch down in Beirut on Thursday to offer support to his country's former colony.
While immediate humanitarian support has been forthcoming — and encouraging — the aid itself is unlikely to pull Lebanon back from the brink. There are several reasons for this.
First, humanitarian aid is one thing, but financial lifelines are another. Even before the pandemic crippled the global economy, the World Bank predicted that 50 percent of Lebanese could be living below the poverty line if current trends continued. Hoping to stave off its worst economic crisis since the 15-year civil war ended in 1990, Beirut has since appealed to international creditors like the International Monetary Fund (IMF) for a whopping $10 billion in financial assistance, but the IMF has refused to play ball unless the Lebanese government reforms its bloated, inefficient, and corrupt public sector. So far, Beirut's power brokers have resisted.
Reformist will is key. Even if the IMF acquiesces and doles out funds to cash-strapped Lebanon, what happens when the money gets there? Lebanon's patronage-ridden public sector and corrupted politicians, many of them former warlords of sectarian groups, have mismanaged the country's economy for decades, lining their own pockets while the middle class has plunged into poverty. IMF support does not solve long-term problems such as government paralysis, poverty and social instability that, experts warn, can only be mitigated through structural reform.
The Hezbollah equation. The political clout of Hezbollah, the Iran-backed Shiite group, further complicates Lebanon's efforts to secure external funding. In 2018, the IMF pledged $11 billion to Lebanon on the condition that the government institute significant anti-corruption and economic reforms. Washington, which, along with its Gulf Arab allies, deems the group a terrorist organization, recently accused Hezbollah of obstructing reform efforts, a view tacitly supported by other international donors.
This week's tumult also comes as the country braces for a UN court's verdict on the 2005 slaying of Lebanon's former Sunni Prime Minister Rafik al-Hariri, set to be handed down on August 18. The outcome in the Hariri case, which inflamed sectarian tensions across Lebanon and the region, will likely implicate Hezbollah officials. This risks further complicating efforts to secure external aid, and threatens to ignite sectarian discord amongst already-despondent Lebanese.
As negotiations with the IMF stalled in recent months, a desperate Beirut turned to Beijing for economic support, but it's walking a fine line, wary of irking Washington, a longtime ally, as US-China tensions surge.
The ball is largely in Beirut's court. The government can start working towards comprehensive reform in the hopes of lifting its floundering population out of poverty. Alternatively, it can fall back on the excuse of international donors not coming through and continue with business as usual. Which will it choose?