What We're Watching: Trump's day in court, Turkey stuffing Sweden, Egypt buddying up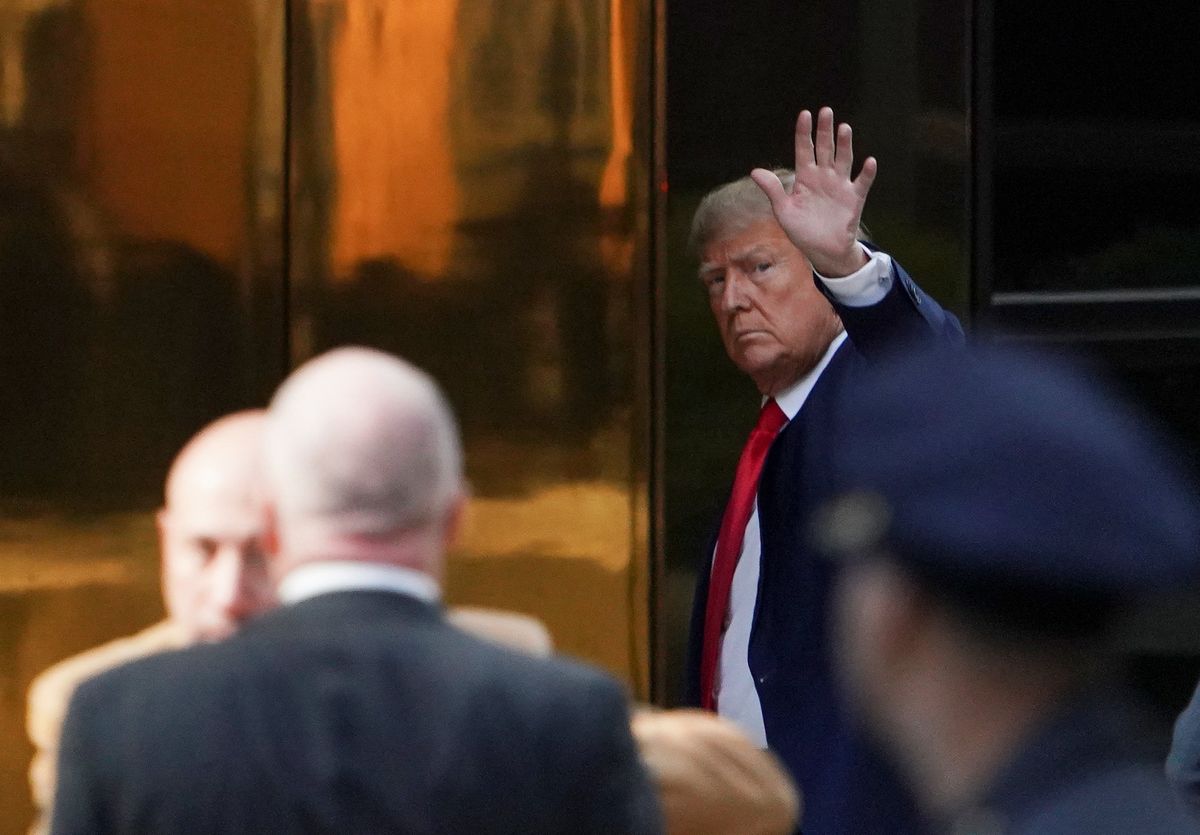 REUTERS/David Dee Delgado
Trump's arraignment
Donald Trump has a busy day ahead of him Tuesday. He returned to the Big Apple Monday night and, after getting some shut-eye in Trump Tower, the former president will head to the Manhattan courthouse on Tuesday for his indictment. After his court appearance and a quick photo-op, he'll jet back to Mar-a-Lago before an evening news conference.
Sound like an orchestrated plan? That's because Trump's team wants to capitalize on the publicity blitz around his arrest to bolster his bid for the 2024 Republican presidential nomination. There's reason to believe this is working: Since the news of his indictment dropped, his campaign claims to have raised $7 million, and his polling numbers have soared above other Republican candidates.
On March 30, Manhattan District Attorney Alvin Bragg brought the results of his investigation before a Manhattan grand jury, which voted to indict the former president. Trump is expected to plead not guilty on Tuesday.
While the charges against him have not been revealed, they likely involve Trump's reimbursement to his former attorney and "fixer," Michael Cohen, who paid adult film star Stormy Daniels $130,000 in exchange for her silence ahead of the 2016 election. The Trump Organization then filed Cohen's $420,000 reimbursement and bonus as a "legal expense."
Falsifying business records is only a misdemeanor in New York, but if it is done with the intent to commit or cover up another crime – namely, violating campaign finance laws – then Trump could be looking at a Class E felony and a minimum of one year in prison.
Trump will be the first former US president to be indicted on criminal charges. But whether his indictment will push the GOP to jump ship in favor of another candidate, or what it means for the campaign if they don't, remains unclear.
---
Turkey keeps stuffing Sweden — why?
On Tuesday, Finland finally joins NATO, lengthening the alliance's border with Russia by 800 miles and adding to its ranks some of the world's most fearsome snow snipers. Good work, Mr. Putin!

But remember who isn't joining the club? Sweden, whose accession bid remains blocked by NATO member Turkey, who says Stockholm still hasn't done enough to quash Kurdish terrorist groups that are at war with the Turkish government. Note that Turkey dropped similar objections about Finland last week but is still squeezing Sweden.
Why? For one thing, Turkey's pugnacious President Recep Tayyip Erdoğan faces a very tough election in May, and flexing against the West like this can stoke nationalist passions in his favor. He may also seek concessions from his Western partners elsewhere, say, on Washington's refusal to sell him state-of-the-art fighter jets, or its support for Kurdish militias in Syria.

For years, Erdoğan has played a shrewd game – as a NATO member but friend to Putin; a European partner on the migrant crisis but at a price. By greenlighting Finland while holding back on Sweden, he's showing he's willing to be reasonable but that he expects his pound of flesh too. Will it work?
A battered Egypt searches for friends
Times are tough – economically speaking – in Egypt, and President Abdel Fattah el-Sissi is looking to mend and shore up relations across the region. On Monday, el-Sissi traveled to Jeddah, Saudi Arabia, to meet with Crown Prince Mohammed bin Salman, aka MBS, the country's de facto leader.
El-Sissi's visit comes as the economy of import-reliant Egypt is reeling as a result of economic mismanagement and Russia's war in Ukraine. (Egypt has been forced to devalue its currency three times over the past year.)
While Riyadh has long doled out funds to help keep cash-strapped Egypt afloat, it recently said that it will no longer hand out blank checks and that Cairo should implement reforms to receive aid. El-Sissi likely wants to convince MBS that he's already making some changes as part of a deal with the International Monetary Fund.
Another big topic on the agenda? Reintegrating Syria, deemed a pariah by the West, into the Arab League. This comes just days after Egypt and Syria held high-level talks for the first time in a decade as Cairo looks to reestablish diplomatic ties with Bashar al-Assad. Indeed, Egypt is just the latest Arab country to welcome Syria back in from the cold, with reports that el-Sissi hopes to eventually win lucrative contracts to help rebuild the war-torn country.