What We're Watching: US preps Sudan embassy evacuation, Kosovo election boycott, US abortion pill decision, Ukrainian grain curbs, Schumacher's "interview"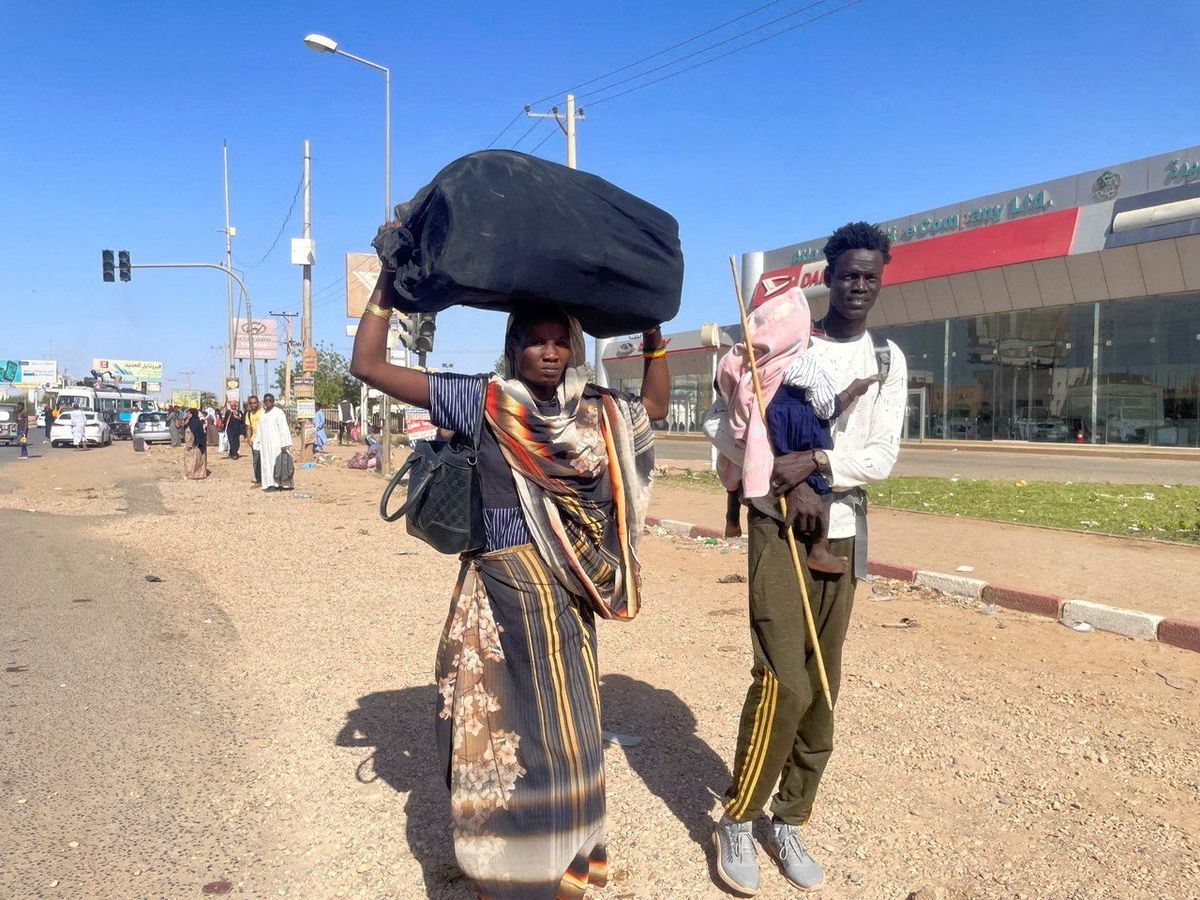 Reuters
US seeks to evacuate embassy as Sudan crisis deepens
One American has been killed amid the fighting in Sudan this week, the State Department said Thursday. With the security situation worsening, the US is preparing for a possible evacuation of roughly 70 embassy staffers by deploying troops to nearby Djibouti who could help with the operation.
But amid ongoing bombardments in Khartoum, the capital, Washington acknowledges that any evacuations will be hard to pull off – whether they involve embassy workers or the 19,000 US citizens living in Sudan.
This comes as two warring military factions, both linked to the country's former autocrat Omar al-Bashir, have been locked in a battle for almost a week that's caused Khartoum's 5 million residents to hide in their homes. Fighting has also prompted tens of thousands to flee into neighboring Chad. (For more on the causes of the conflict and regional implications, see here.)

Other states – including Japan and Germany – have already tried to evacuate their citizens but have been forced to stand down as Khartoum's airfields remain closed due to heavy shelling.
Meanwhile, the humanitarian situation is deteriorating. After a tenuous ceasefire broke down Wednesday, the World Health Organization said that the death toll had surpassed 300. What's more, Khartoum residents say they are quickly running out of food as the UN has suspended aid deliveries and many stores have run out of supplies.
---
Kosovo's ghost elections
This Sunday, Kosovo holds municipal elections in northern regions of the country where tensions have flared between the local Serb majority and the Kosovan national government. There's one big problem: The Serbs are boycotting the vote.
Local Serb leaders say they won't recognize the national government until they're permitted to form a long-promised, quasi-autonomous association of Serb municipalities. Kosovan authorities are setting up polling locations anyway.
The background? Kosovo declared independence from Serbia in 2008. Serbia never recognized the move, and northern Kosovo – where many ethnic Serbs still consider Belgrade their capital – has been a tinderbox ever since. Last year, clashes even erupted over the introduction of Kosovan license plates, and violence has already caused this Sunday's elections to be postponed once, from last December.

Kosovo and Serbia recently agreed to an EU-backed peace plan, but progress will be halting at best. Serbia's president recently said Kosovo will "remain in Serbia" during his term. We're watching the polls this Sunday, especially if no one goes to them.
See our Kosovo explainer here.
US's abortion pill litigation battle
Abortion pill access in the US is still in legal limbo after the Supreme Court extended until midnight Friday a deadline on whether to uphold a lower court's ban on the use of mifepristone, an abortion pill.
Justice Samuel Alito issued a terse statement Wednesday saying that the deadline had been extended by 48 hours. Some analysts took this as a sign that the court, which gutted the landmark Roe v. Wade decision last summer, is struggling to reach a decision, though that remains speculation.
This development comes after a federal judge in Texas recently banned the use of the drug, approved by the US Food and Drug Administration in 2000, before a federal appeals court then ruled that mifepristone can remain on the market until the Supreme Court decides. Still, the appellate judges stripped back some provisions introduced in 2016 to enhance access to abortion pills, including allowing them to be sent by mail.
Whatever happens Friday, the litigation will continue as the Justice Department, representing the FDA, and drug makers, continue to pursue legal cases to keep abortion medication – accounting for 50% of abortions nationwide – on the market.
EU steps in to rescue Eastern Europe from Ukrainian grain
The EU is implementing emergency restrictions on Ukrainian grain imports to five member states neighboring the war-torn country. The move comes after Poland and Hungary took unilateral actions to rescue their farmers from the influx of Ukraine's cheap grain.
With Black Sea ports caught up in the fighting, neighboring countries have been the sole transit routes for Ukrainian exports. But the high costs of transporting grain this way (and the relative cheapness of importing it from Latin America) trapped millions of tons of grain in Hungary, Poland, Bulgaria, and Slovakia. As local prices plummeted, countries implemented individual bans on Ukrainian imports despite warnings from Brussels.
The upcoming "preventative measures" seek to be a universal solution substituting for piecemeal bans that risk destabilizing the entire market. Brussels is also organizing convoys to transport the grain from the bloc to where it can be sent to countries in need.
The measures come along with €100 million ($109 million) worth of compensation for farmers who have been enraged by plummeting prices. But as Brussels pays to disperse the grain across the continent, farmers in Western Europe need to brace themselves for local prices to take a hit.
Fake Schumacher, real lawsuit
Ten years after suffering a severe head injury that left him incapacitated, legendary Formula One driver Michael Schumacher miraculously gave his first interview this week.
Or so it seemed. The exchange with German tabloid Die Aktuelle was actually generated by an AI program. Schumacher's family is now planning legal action.
Frankly, we're a little disappointed in Die Aktuelle. This isn't like the AI-generated Drake/Weeknd song that blew up earlier this week. In that case, a computer actually mimicked the voices of those artists so well that millions of people thought they were listening to the real thing.

But with Die Aktuelle, it's just … printed words, and flat ones like, "My wife and my children were a blessing to me and without them I would not have managed it."

We're not sure why the 'zine went to the trouble of using an AI program rather than just making up fake quotes themselves. Can't humans do anything anymore?