WATCH : Global Stage @ the UN: Reimagining Tomorrow: Breakthroughs in Data and AI
WATCH
GZERO Daily: the newsletter for people who love global politics
Sign up for our free newsletter to keep up with what's going on around the world - and why it matters.
Subscribe
GZERO Daily: the newsletter for people who love global politics
Subscribe Now

We have updated our Privacy Policy and Terms of Use for Eurasia Group and its affiliates, including GZERO Media, to clarify the types of data we collect, how we collect it, how we use data and with whom we share data. By using our website you consent to our Terms and Conditions and Privacy Policy, including the transfer of your personal data to the United States from your country of residence, and our use of cookies described in our Cookie Policy.
What's next for Russian operations in Africa?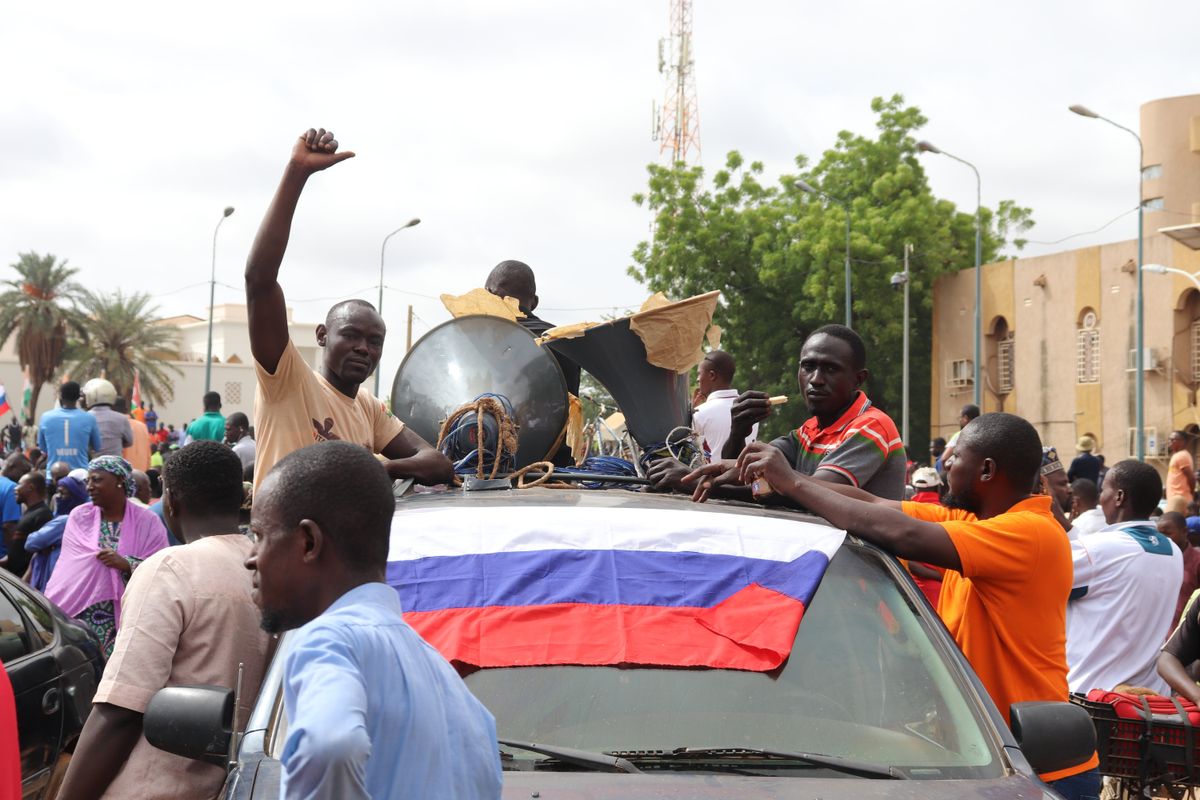 Reuters
Before Russia's invasion of Ukraine in Feb. 2022, Russian warlord Yevgeny Prigozhin, recently killed in a plane crash, was scarcely known outside diehard Russophile circles.

Prigozhin's celebrity status rose further after this summer's short-lived mutiny, when, after feuding with Russia's military leadership, he led thousands of his men from the frontlines in eastern Ukraine toward the heart of Moscow in protest.
Since Prigozhin was killed last week in an explosive event that few believe was an accident, there's been much speculation about the future of Wagner and its global operations, particularly across Africa, where the group has invested the bulk of its manpower in recent years.
Now that the man at the top is dead, along with his main deputies, what does this mean for the group's surreptitious activities across the world's fastest-growing continent?
---
Wagner: the origin story. After spending nine years in jail for robbery and theft, Prigozhin was released in the dying days of the Soviet Union. He then opened a successful hotdog stand in St. Petersburg, which transformed into a booming restaurant business that endeared him to Vladimir Putin, and ultimately led to him filling the bellies of the Kremlin's elite.
Prigozhin's entrepreneurial spirit peaked in 2014 when he started a private mercenary organization known as Wagner, named for Richard Wagner, Adolf Hitler's favorite composer and ideological kindred spirit. Although Wagner has been described as a private military company, it's closely intertwined with the Russian state, particularly the military and intelligence corps.
Wagner troops were first identified in a foreign conflict zone in 2014 when Russian troops invaded Crimea. Since then, they've operated in Syria, fighting alongside the Russian military to prop up the regime of Bashar Assad, and more recently, have zeroed in on Africa, serving as a security guarantor for authoritarian regimes across the continent.
Wagner in Africa
Under this burgeoning arrangement, Russian mercenaries have been given access to African natural resources in exchange for providing security guarantees – including arms and security services – to help authoritarian African military regimes stay in power.
In the process, Russian state-controlled arms companies have secured fat deals in West Africa while mining companies – both those controlled by the state as well as Putin-linked private enterprises – have also made a mint.
Wagner's first foray into Africa appears to have been in Sudan in 2017 after the Kremlin signed a series of lucrative deals with longtime Sudanese despot Omar al-Bashir. This included Russia setting up a naval base on the Red Sea as well as gold mining deals that also involved a Wagner subsidiary group.
In exchange, Wagner was charged with training Sudanese troops and helping crack down on protesters calling for the ouster of al-Bashir, who ruled the country with an iron fist for three decades until he was forced out in 2019.
Since then, Wagner fighters have been invited in by various rogue regimes – most notably in the Central African Republic, where they thwarted a coup against President Faustin-Archange Touadéra, as well as in coup-prone Mali.
A similar dynamic has played out in Syria, where Russian mercenaries have gained access to key oil outposts. This helps explain why the newly installed military junta in Niger, one of the world's top producers of uranium, reportedly wants to bring Wagner on board.
But the resources-for-protection game is only one part of a complex dynamic. Russian mercenaries in Africa also aim to sow discord and anti-Western sentiment in the world's fastest-growing continent in a bid to dilute Western influence in the region.
Pointing to this week's coup in the central African state of Gabon, Joana de Deus Pereira, a senior research fellow at RUSI Europe, says that anti-Western disinformation campaigns are now more dangerous than the aforementioned security arrangements with African regimes.
This propaganda pervades many countries, particularly in West Africa, and "prompted the end of the Burkhane operation [an anti-insurgency mission in West Africa led by France] and also led to the current withdrawal of UN troops in Mali, which is one of the biggest retreats of international personnel."
Pointing to the deepening Russian presence in the region and its propaganda machine (in CAR, for instance, there are posters proclaiming "Russia: hand in hand with your army!) have given rise "to a new trend that's triggering nationalist movements that are unleashing new coups," de Deus Pereira says.
The future of Wagner in Africa
Prigozhin was a savvy business person, turning a scrappy private army into one of Russia's chief foreign policy tools. Having cultivated close ties with African leaders and criminal enterprises – as well as serving as Wagner's chief financier – Prigozhin's death will certainly prompt something akin to a company rebranding. But will it impact the group's regional operations?
De Deus Pereira isn't convinced. "Wagner is an ecosystem. It's not only a person," she says, adding that "it's been a big mistake to personalize and associate the group with a single individual."
A similar sentiment was echoed by Ruslan Trad, a security researcher at the Atlantic Council, who says that "Wagner occupies an important role in this broader system, and the unit's structures will be used in one form or another even after Prigozhin." Trad says that, "ultimately, Wagner is not a creation of Prigozhin, but of the GRU [Russian intelligence] and veterans."
Another argument for the likelihood of continuity is that things are going pretty swimmingly for the Russians in Africa, and it is indeed in the Kremlin's interest to keep the cash rolling in to help fund its war machine in Ukraine. This is exactly what the Kremlin is doing in Sudan, where it's propping up a Sudanese militia in exchange for increased access to illegal gold mining.
Looking ahead. While the US and France are reducing their respective troop presences in the region, Russia continues to leverage the Kremlin's clout and Russian oligarchs' vast business interests to deepen its influence on a continent that includes 54 countries and 1.4 billion people.
"Wagner's presence in Africa has a lot to do with capitalization of grievances" – particularly in former French colonies – "that were already there for some time," de Deus Pereira says. And she isn't optimistic about where things are heading: "This is just the beginning. These coups will have a contagion effect."