Will Pegasus set Bibi free?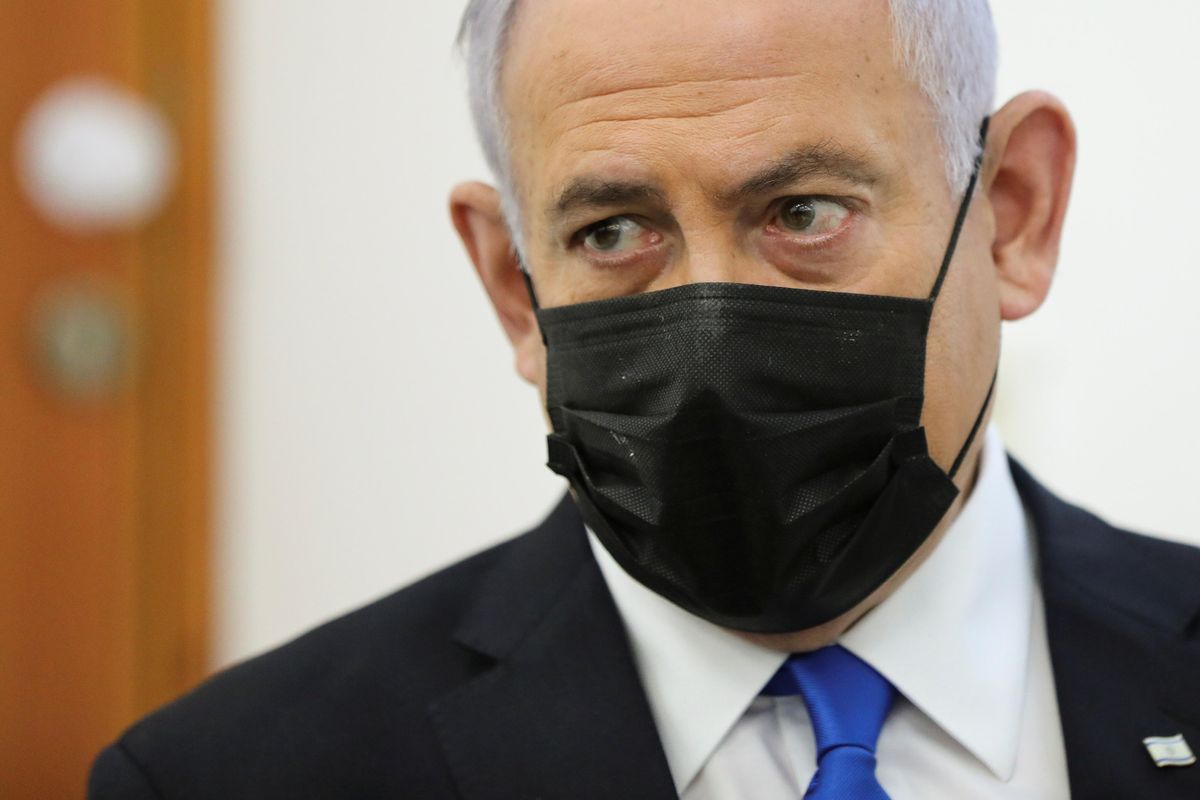 Abir Sultan/via REUTERS
Israel's spy agencies are notoriously sly operators. They have been known to take out high-profile targets in far-flung places around the world. Most famously, the Mossad tracked down and killed those involved in the massacre of Israeli athletes at the Munich Olympics in 1972.
---
But Israel's spying prowess is rarely used on civilians at home – until now. (They do regularly track Palestinians.) It was recently alleged that police used Pegasus, state-of-the-art spyware, to track and hack a slew of politicians, activists, and journalists. Crucially, the bombshell report by Calcalist, an Israeli financial daily, claims that members of former Prime Minister Benjamin Netanyahu's inner circle – including witnesses in his ongoing corruption trial – were also hacked.

A government-led investigation is now trying to get to the bottom of the still-uncorroborated claims. But if they're confirmed, the political ramifications could be mammoth.
Background. The name Pegasus might ring a bell. The software, developed by NSO, a private Israeli tech company, was sold to a variety of unsavory governments that used it to hack political opponents and dissidents. (The Saudis reportedly used malware to hack relatives of slain journalist Jamal Khashoggi.) Because of laws governing the export of cyber tools, the Israeli government, then led by Netanyahu, signed off on these sales.
Bibi resurrected? As Bibi's public trial on bribery, fraud, and breach of trust charges has brought yet more damning revelations to light, many observers have said in recent months that the Likud leader could end up in jail.
But if it is proven that police hacked and stole data belonging to Netanyahu's son, his political advisors, and other key witnesses without judicial approval, then much of the evidence presented in court could be compromised. While Israeli law does not require judges to dismiss evidence obtained illegally, the court handling this case will have to decide whether to disqualify any illegally obtained evidence on a case-by-case basis.
Natan Sachs, who heads the Center for Middle East Policy at the Brookings Institution, says it's too early to know what the court might do with the evidence. "In general, the Israeli rules for admissibility of evidence are less strict than in the US, and the 'fruit of the poisonous tree' is not dismissed quite as quickly," he says. Still, "a lot is still unknown … and I'm sure Netanyahu's legal team will mount an effort to dismiss the evidence."
Whatever happens, recent revelations are likely to dilute the prosecutor's case by lending credence to the pro-Bibi battle cry that the charges are part of a political "witch hunt." The court has already agreed this week to delay two hearings while the wiretapping allegations are probed. If Bibi – who heads the biggest party in the Knesset and is popular on the right – gets off with just a slap on the wrist, he would remain a formidable player in Israeli politics.
Can a fragile coalition survive? Last summer, after four elections in two years, Israel finally formed a new government. The broad coalition – made up of seven parties, including Arabs and Jews – is one of the most ideologically diverse in the country's history. Motivated by a shared ambition to keep Bibi out of power, the coalition – which successfully passed the first state budget in almost three years – has so far proven wrong the naysayers who predicted its imminent downfall.
Still, the coalition is unwieldy, and a scandal like this would be hard for any government to weather. Things could start to unravel if it's revealed that high-level government officials had any prior knowledge of the hacks.
But Lahav Harkov, diplomatic correspondent for The Jerusalem Post, disagrees. She doesn't think this scandal will impact the coalition's stability. "It seems that the entire government agrees that there should be an investigation of some type, and many ministers have publicly called for a commission of inquiry," Harkov says. This sort of "high-level government-appointed investigative body has been used to examine huge issues like the handling of the Yom Kippur War."
Indeed, recriminations are already flying: Gidon Sa'ar, who now heads the ministry of justice, says these illegal wiretaps occurred under Netanyahu's watch. Meanwhile, Bibi's Likud party, now in opposition, smells blood in the water and an opportunity to reverse its political misfortunes. But that effort is unlikely to succeed, according to Sachs, who points out that "this affair all happened, ironically, under Netanyahu, and most of the relevant ministers and police officials were his own appointments."
Looking ahead. Ultimately, a lot would have to go right for charges against Bibi to be dismissed. But never rule out the resilience of a man who has managed to maneuver his way across many political minefields over the past four decades.