Biden and Xi's Bali face-off: Agenda, forecast, and sticking points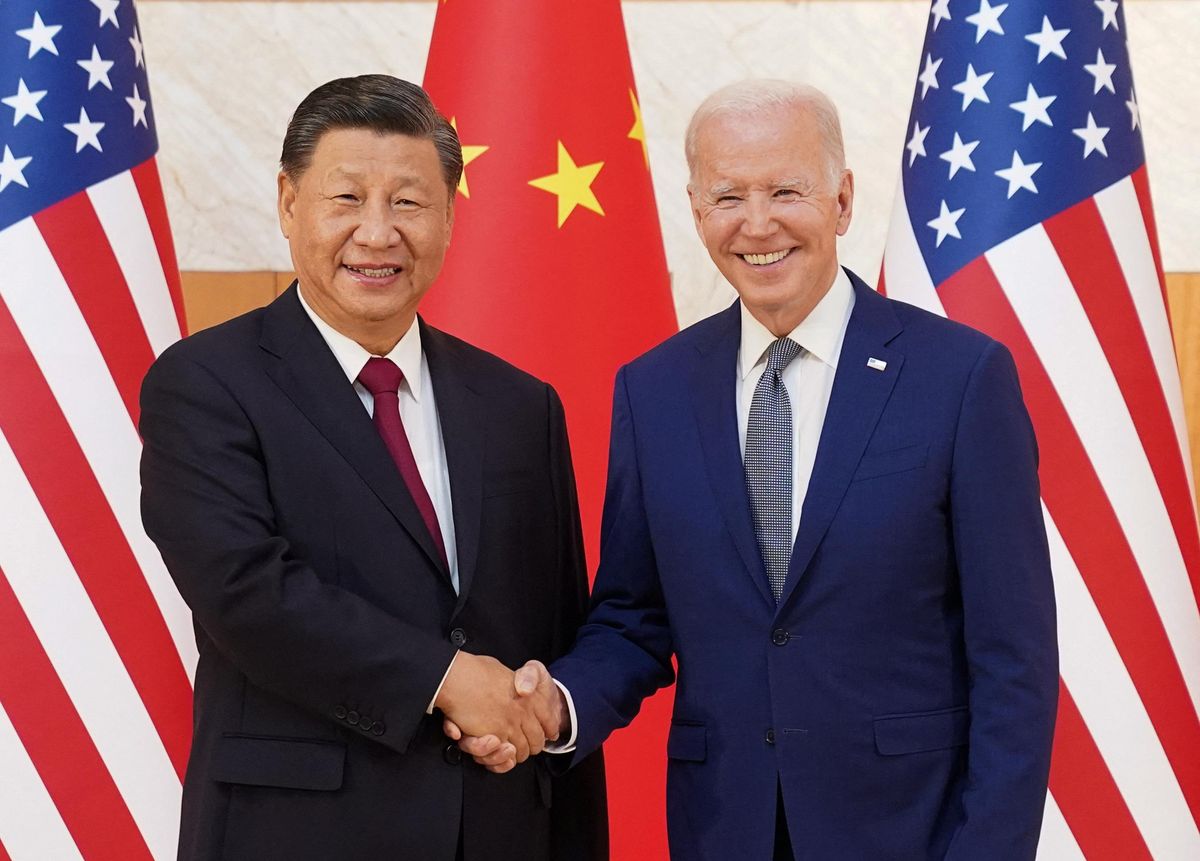 Reuters
On Monday, US President Joe Biden and his Chinese counterpart Xi Jinping met for their first face-to-face meeting since Biden was elected in 2020. "I look forward to working with you, Mr. President, to bring China-U.S. relations back to the track of health and stable development for the benefit of our two countries and the world as a whole," Xi told Biden.
What's at stake: Stopping the Russia-Ukraine war, Taiwan's sovereignty and defense, North Korea's increased weapons testing, battling COVID, resumption of global supply chains, and tackling climate change.

---
What's on the agenda: Bringing the relationship back to a functional mode with what the White House calls the establishment of "guardrails" and a "floor." The US worries about China's plans for Taiwan and Beijing's expanding nuclear arsenal. Meanwhile, China criticizes the US for stoking tensions by forming regional blocs like the Quad and AUKUS in its neighborhood, empowering anti-China/pro-independence voices in Taiwan, and politicizing trade with tariffs and export controls.

The venue is important: The meeting takes place on the sidelines of the G-20, where 19 of the world's richest nations and the European Union are gathering (Russia is a member, but President Vladimir Putin is skipping the event).
While the weather forecast is balmy for the summit in Bali, the political climate is hot. It takes place just months after US House Speaker Nancy Pelosi's visit to Taipei in August prompted China to conduct military exercises showcasing its readiness to cut off or invade Taiwan. And it comes mere weeks after Washington imposed a series of export blocks designed to reduce China's capacity to produce and access advanced computer chips, which form the technical core of China's scientific and military industries. The measures enjoyed bipartisan support, a rarity in Washington.
Both leaders are riding high. Xi recently secured a norm-defying third term in office and is more powerful than ever with a Politburo lined exclusively with loyalists. Biden just defied expectations in the midterm elections, with Democrats retaining control of the US Senate and awaiting results for several House races, though odds are slightly in the Republicans' favor.
But trust is low: While the White House says the two sides will "deepen lines of communication," neither side has tried to win the other over. Washington claims Xi has done nothing to kick off talks about nuclear weapon containment, which the Chinese president suggested he would do last year. Meanwhile, Biden has antagonized China by publicly declaring four times that the US will come to Taiwan's defense if China attacks (a point the White House has had to walk back).
Team Biden is in play: Biden's using the trip to Southeast Asia not just to attend three back-to-back summits over six days but also to shore up America's regional partners and allies to counter China. He's signed a strategic partnership to work with ASEAN, the powerful Southeast Asian trading bloc that he's calling "the heart" of the administration's Indo-Pacific strategy. He's reaffirmed the trilateral partnership with Japan and South Korea to secure and denuclearize the Korean peninsula, and he's warned China that it can help or watch the region further militarize. Biden has also said he will be briefing Taiwan's leaders about what Xi has to say, much to Beijing's chagrin.
Biden's policies aren't very different from Trump's, but his methods are. While his Republican predecessor wanted to confront China, slap tariffs, and implement controls on trade (all policies Biden has retained and/or reinforced), he also wanted to tackle China alone. Biden, however, has prioritized working with friends and allies to counter Beijing.
While the White House has warned there will be no clear deliverables from Monday's meeting, the fact that China changed its position last month from not being interested in the huddle to Xi declaring that Beijing is ready to cooperate is a diplomatic win in itself for Washington. But while Xi has been characteristically mute in the run-up to the meeting, Biden's been the opposite, managing expectations that he wants "competition, not conflict." The personal connection between the two leaders will also likely factor into the meeting.
"I know him well. He knows me," Biden told reporters on Saturday. "We just got to figure out where the red lines are and … what are the most important things to each of us going into the next two years."
But that in itself is an issue.
Biden and Xi are operating with very different levels of authority. Xi doesn't have to deal with a two-year horizon like Biden does. He essentially has total control over the world's second-most powerful country, and after his third five-year term, he might even stick around longer. Plus, he's got clout in the G-20: While some of the group's members are America's allies, many are also among China's best customers.
Importantly, while Biden may have the wind in his sails following the midterms, experts are warning not to take certain initiatives for granted with the newly elected Congress, regardless of which party retains control. These include the Indo-Pacific Economic Framework that the White House introduced as an alternative to the doomed Trans-Pacific Partnership last summer, and which Biden touted on Sunday with trade partners at the East Asia Summit in Cambodia.
"There are going to be lots of questions [in the new Congress] about what's actually in the IPEF because there hasn't exactly been a ton of information yet, so there'll be questioning," said Tobias Harris, deputy director of the Asia Program at the German Marshall Fund.
Biden could even come up against opposition from his own party. "Trade is clearly an issue that still cuts across both parties. And people in Congress, like [Democratic Senator] Elizabeth Warren are concerned about how agreements are negotiated, and [about] transparency, and whether we agree to rules that don't help American workers," Harris added.
Chances for a breakthrough: Biden upped the ante before the talks, saying he would make no "fundamental concessions" to Xi about Taiwan's defense. Meanwhile, the Chinese have warned that the US needs to "stop politicizing, weaponizing, and ideologizing trade issues."
But even as he talks big about Taiwan, North Korea, and indeed the region while aiming to set up "guardrails" for stabilizing the world's most important bilateral relationship, Biden's executive powers to deal with Xi's China are limited by checks and balances. The same can't be said for President Xi.
This was featured in Signal, the daily politics newsletter of GZERO Media. For smart coverage of global affairs that normal people can understand, subscribe here.