Opinion: Has the Jan. 6 committee killed Trump's 2024 chances?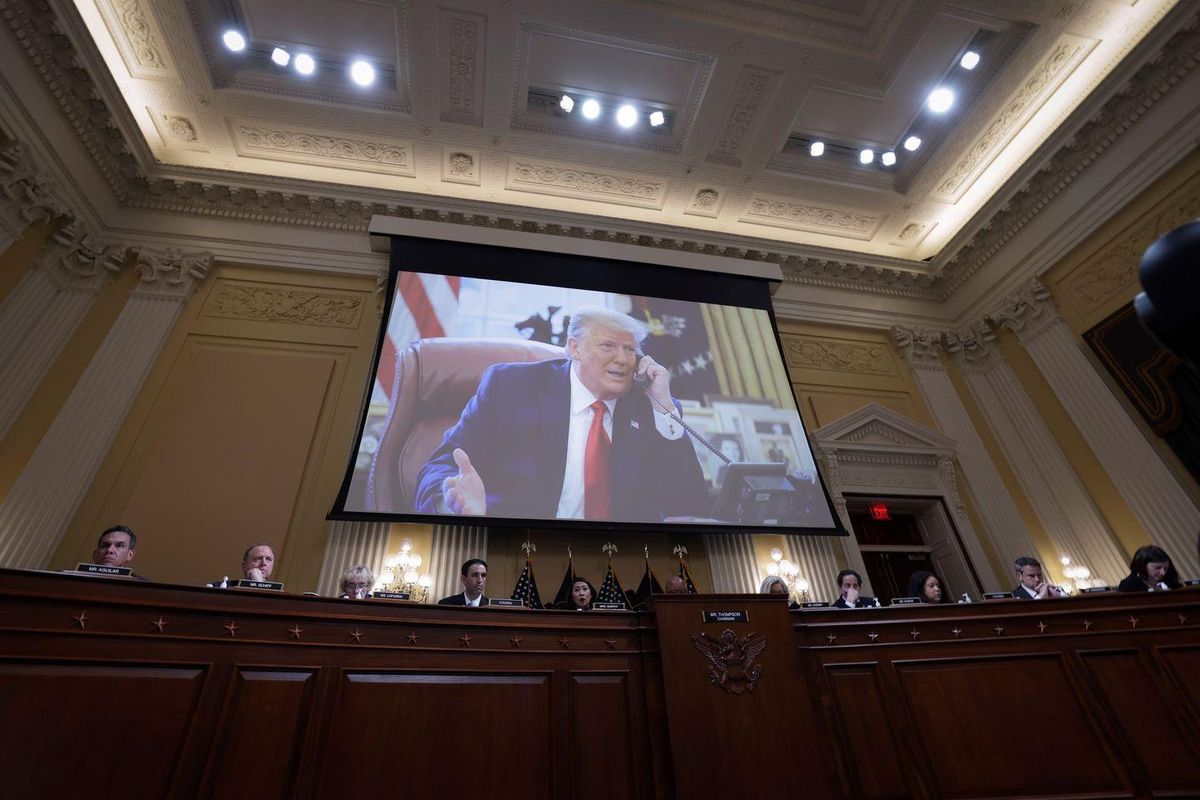 Donald Trump remains the most popular and strongest figure in the Republican Party. The former president is almost certainly going to announce his 2024 candidacy in relatively short order, and if you made me bet right now, I'd say he is more likely than not to clinch the GOP nomination.
But it's a close call.
---
Trump is more politically vulnerable than he was just a few months ago. Roughly half of Republican voters say they would support a candidate other than Trump. Recent polls show that Trump would lose in a rematch against President Joe Biden, even though the latter is historically unpopular and most Americans currently prefer a Republican president in 2024. And Trump's endorsement record in GOP primary elections has been mixed at best.
Want to understand the world a little better? Subscribe to GZERO Daily by Ian Bremmer for free and get new posts delivered to your inbox every week.
Some of the erosion in Trump's support is natural. He is no longer president, meaning he doesn't have the platform he had when he commanded the bully pulpit and the airwaves. He is banned from Twitter and Facebook, his most significant megaphones in the past. Truth Social, the social media network he created, has been a flop. As a result, he's lost a significant amount of attention and visibility. Even his speeches and rallies are not drawing the crowds they used to.
Some of it, however, can be attributed to the impact of the January 6 House select committee.
I know what many of you will say: the committee is nothing more than a partisan witch hunt, it's a rigged show trial/kangaroo court that violates Trump's due process rights, Democrats didn't let pro-Trump Republicans on the committee to cross-examine witnesses and defend Trump, what about the Democrats/Biden/Hunter/Hillary/Obama/Pelosi/BLM...
I'll happily grant that the committee would have been perceived as a much less partisan—and therefore much more legitimate—affair had there been full participation from across the political spectrum. There's no question about that.
But let's not forget it was House Minority Leader Kevin McCarthy's (R-Cal.) decision to pull Trump allies from the panel—after Speaker Nancy Pelosi (D-Cal.) vetoed two of his five picks for being election deniers and, potentially, material witnesses—that ensured only the solidlyconservative but anti-Trump Reps. Liz Cheney (R-Wyo.) and Adam Kinzinger (R-Ill.) would participate (to great personal cost, I should add). Trump himself acknowledges McCarthy's mistake and reportedly blames him for it.
More importantly, many of the people who have testified are hardly Democrats. In fact, many of the panel's witnesses were unrepentant Trump loyalists until January 6. The list includes White House counsel Pat Cipollone, Trump's deputy press secretary Sarah Matthews, his deputy national security advisor Matt Pottinger, his chief of staff's top aide Cassidy Hutchinson, his campaign spokesman Jason Miller, his campaign manager Bill Stepien, his attorney general Bill Barr, and even his own daughter Ivanka.
These are people who not only voted for him in 2020, but who also stood by him through numerous scandals. Yet even for them, Trump's conduct on January 6 was a bridge too far. This, I think, is one of the key reasons why the hearings have resonated despite the committee's political imbalance.
Now, let me be clear. The rank and file of the Republican Party still thinks this whole thing is a nothingburger. Only 18% of Republicans believe Donald Trump deserves a good deal or more of the blame for what happened at the Capitol—barely 4% more than in December before the hearings, an increase that's within the poll's margin of error.
But independent voters have shifted against Trump, with 57% now blaming him for January 6 compared to 48% before the hearings. Nearly two out of three independents have an unfavorable impression of the former president.
So has Rupert Murdoch, the powerful owner of Fox News Channel, The Wall Street Journal, and the New York Post who had been a staunch Trump ally and booster since 2016. These outlets were all-in for Trump in 2020, and suddenly that's not true anymore. Following the committee's second prime-time hearing on Thursday, the editorial board for the Post called Trump "unworthy to be this country's chief executive again." On the same day, the Journal's editorial board accused him of lacking "character." Fox News, meanwhile, has stopped carrying Trump's rallies, and its daytime coverage—unlike opinion shows like Tucker Carlson's and Sean Hannity's—has shifted in tone ever so slightly against the former president.
At the very least, we can now say Trump's hold on the GOP is weakening, and he is no longer a shoo-in for the 2024 nomination. It's increasingly likely that Florida Gov. Ron DeSantis, the most popular non-Trump choice among Republican voters, will run against him. Fox News has certainly been showering him with positive coverage in recent months. Of course, with a year and a half to go, DeSantis could also be the latest in a long line of candidates to peak too early. At this point in the 2016 contest, the leading contenders for the GOP nomination were Rand Paul, Mike Huckabee, Chris Christie, and Jeb Bush. But there will be other candidates, too. Trump won't have a clear path.
That's also true, by the way, of Biden's road to 2024. The president is currently the most unpopular he's ever been, with approval ratings firmly under 40%. He's fighting a losing battle against record-high inflation, a slowing economy, and a resurgent pandemic. He's also looking increasingly slow and ineffectual owing to his advanced age, leading many to question his competence for office. That's making two-thirds of Democrats wonder about whether Biden represents their best chance at holding the White House.
Both Trump and Biden, then, are increasingly vulnerable to serious primary challenges. As far as the nation is concerned, though, the identity of the Republican nominee matters much more than that of the Democratic nominee. That's because whether it's Biden or another Democrat that wins, it won't make much of a difference to the integrity and stability of America's political system or to its global standing. Given the former president's exceptional moral turpitude and his indifference to the rule of law, the same cannot be said about the impact of Trump relative to any other, more mainstream, Republican.
Again, if you made me bet right now, I would still say Trump gets the nomination. But the likelihood that he becomes president for a second time has gone down significantly. That's a good thing for America.
🔔 And if you haven't already, don't forget to subscribe to my free newsletter, GZERO Daily by Ian Bremmer, to get new posts delivered to your inbox.