Catch up on GZERO's coverage of the UN General Assembly (UNGA 78)
WATCH
GZERO Daily: the newsletter for people who love global politics
Sign up for our free newsletter to keep up with what's going on around the world - and why it matters.
Subscribe
GZERO Daily: the newsletter for people who love global politics
Subscribe Now

We have updated our Privacy Policy and Terms of Use for Eurasia Group and its affiliates, including GZERO Media, to clarify the types of data we collect, how we collect it, how we use data and with whom we share data. By using our website you consent to our Terms and Conditions and Privacy Policy, including the transfer of your personal data to the United States from your country of residence, and our use of cookies described in our Cookie Policy.
Russia-Ukraine crisis: What you need to know

THURSDAY, FEBRUARY 24 UPDATE: Russia launched a full-scale military assault and invasion of Ukraine, with troops crossing from multiple directions and explosions and fighting in multiple cities, including Kyiv. Read my latest take and subscribe to GZERO World with Ian Bremmer to get the latest updates on the war.
WEDNESDAY, FEBRUARY 23 UPDATE:
---
It's official: Russia is now invading Ukraine (for the second time), marking the beginning of a new Cold War between the West and Russia.
On Monday, after an hour-long televised address where he accused the United States of threatening Russia's security, denied Ukraine's right to exist, and laid out his case for its wholesale annexation, Russian President Vladimir Putin declared the eastern Ukrainian separatist regions of Donetsk and Luhansk independent.
Shortly thereafter, the president ordered Russian troops (which the Kremlin claims are "peacekeepers") into the two self-declared republics to "defend" Russian nationals from alleged (though unsubstantiated) Ukrainian aggression.
Want to understand the world a little better? Subscribe to GZERO Daily by Ian Bremmer for free and get new posts delivered to your inbox every week.
Then, on Tuesday, the Kremlin raised the stakes further when Putin clarified that the independence recognition includes not just the separatist-held areas of Donetsk and Luhansk but rather the entire Donbas, about two-thirds of which is held by Ukrainian government forces. Kyiv has been clear that it will not yield control of the rest of Donbas without a fight.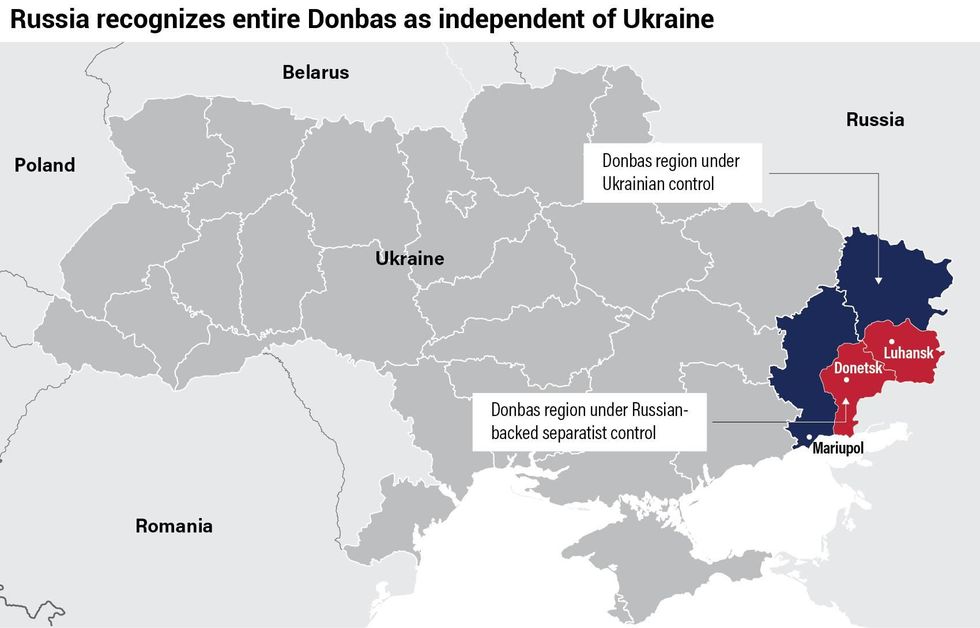 While Russian troops are already present in separatist-held Ukrainian territory in direct contravention of international law—and in fact they have been since 2014, despite the Kremlin's denials—they have yet to move into Ukrainian-held territory. However, Russia has for weeks been laying the groundwork to use any Ukrainian attacks in the Donbas—whether actual retaliation to Russian provocations or made-up "false flag" operations—as a pretext for escalation.
Moscow has already alleged multiple ceasefire violations by Ukrainian forces and warned that Russia would fulfill its "obligations" to defend Luhansk and Donetsk "if necessary." Kyiv has denied the allegations, with Ukrainian Foreign Minister Dmytro Kuleba assuring the United Nations on Wednesday that his country "has never planned and does not plan any military offensive in the Donbas [region], neither any provocations or acts of sabotage."
Putin's independence recognition put an end to the Minsk peace process, which sought to re-integrate an autonomous Donetsk and Luhansk back into the Ukrainian state and which until recently was Russia's and the international community's preferred path to resolve the conflict.
Because its maximalist scope entails a high likelihood of direct military confrontation with the Ukrainian army, the move was also tantamount to a declaration of war on Ukraine.
A winding road to war
While extraordinary, Moscow's escalation over the last 72 hours was not unexpected.
Even as Putin repeatedly denied any intention to invade Ukraine and engaged in negotiations with the United States and its European allies, Russia's military buildup continued throughout, massing an estimated 190,000 troops along Ukraine's eastern, northern, and southern borders and demanding a number of unlikely concessions from the West in exchange for de-escalation.
Western officials were right to be skeptical of the Kremlin's conciliatory messages last week, which happened at the same time as Putin reiterated the false claim that a "genocide" was being committed by Ukraine against ethnic Russians, the Russian Duma (i.e., its parliament) asked Putin to recognize the independence of the breakaway regions, Ukraine suffered a series of cyberattacks, and separatists shelled a Ukrainian kindergarten.
Indeed, the White House had been warning about an imminent Russian invasion of Ukraine for weeks, which the Kremlin dismissed as false and "provocative speculation." The American assessment (rightly) persisted despite the mixed signals coming from Moscow.
The latest escalation came after several days of frantic diplomacy—notably by France President Emmanuel Macron on Sunday and Monday—and Russian theater, starting with an obviously choreographed security council meeting where Putin "asked" his top officials to offer their "honest" recommendations on the Ukraine crisis, and ending with Monday's "bizarre" (as President Biden called it) address to the nation in which a rambling and combative Putin tried to rewrite history and aired his unhinged grievances with everyone from Bill Clinton to Vladimir Lenin.
Putin's Monday speech and subsequent actions ended any hopes for a negotiated solution and definitively laid to rest the theory that Moscow's previous escalations were an attempt at coercive diplomacy whose goal was to extract concessions from Kyiv and the West but not to actually use force.
Russia has long claimed its actions in eastern Ukraine are purely defensive, instead blaming the United States and its NATO allies for threatening Russia's security and painting Ukrainian sovereignty as an artificial construct and a naked tool of the West.
"Ukraine's membership in NATO poses a direct threat to Russia's security," Putin said on Monday.
The Russian president did allow for the possibility of an off-ramp to the crisis when he urged Kyiv to renounce its aspiration to join NATO, recognize Russia's annexation of Crimea, negotiate with the separatists, and demilitarize Ukraine—moves that Putin knows Ukraine President Volodymyr Zelensky cannot agree to.
"Otherwise, all responsibility for the possible continuation of the bloodshed will be entirely on the conscience of the regime ruling on the territory of Ukraine," Putin threatened.
Western unity will be put to the test
After initially hesitating to describe it as such, on Tuesday the White House began calling the Russian troop deployment into the Donbas for what it is: a "renewed" (now overt, unlike in 2014) invasion of Ukraine.
"An invasion is an invasion and that is what is underway," said Jon Finer, principal deputy national security adviser.
The use of this term matters because the United States and its NATO allies had promised sweeping sanctions in response to a Russian invasion, with severity to be calibrated to the scope of Russian actions. In a speech on Tuesday, President Biden confirmed that his administration sees the latest escalation as the "beginning of a Russian invasion of Ukraine" and warned the US and its partners and allies would respond with sanctions "far beyond" the ones imposed in response to Russia's 2014 annexation of Crimea.
As a start, Biden announced that the US would add targeted sanctions on select Russian banks and elites as well as a ban on the secondary trading of Russian sovereign debt to Monday's executive order prohibiting trade with and investment in the rogue Donetsk and Luhansk republics. And both the European Union and the United Kingdom agreed to slap their own sets of similar sanctions on Russian individuals and entities.
Yet for a number of reasons, Putin is undeterred.
While Washington, Brussels and London all left the door open for more aggressive measures in the future, they have thus far held back from the most painful measures, recognizing that if they drop the whole sanctions arsenal on Moscow at once they'll be left with no ammunition to dissuade Putin from escalating to a full-scale invasion and possibly even annexation.
Moreover, it remains to be seen how far Europeans will be willing to go given the immediate costs to their economies of decoupling from Russia. An encouraging sign came early on Tuesday when German Chancellor Olaf Scholz kept his promise to Biden and ordered the indefinite suspension of the Nord Stream 2 gas pipeline.
While NATO is the most unified and purposeful it has been since the end of the Cold War, Putin will do his best to give the West opportunities to trip up and drive a wedge in the alliance. As Biden himself correctly predicted in January, Russian military escalations short of full-blown invasion were always going to make it harder for the West to retaliate in a strong and cohesive manner, instead eliciting a more limited and divided sanctions response. Russia is likely to test NATO's unity and resolve even further in the coming weeks and months.
🔔 And if you haven't already, don't forget to subscribe to my free newsletter, GZERO Daily by Ian Bremmer, to get new posts delivered to your inbox.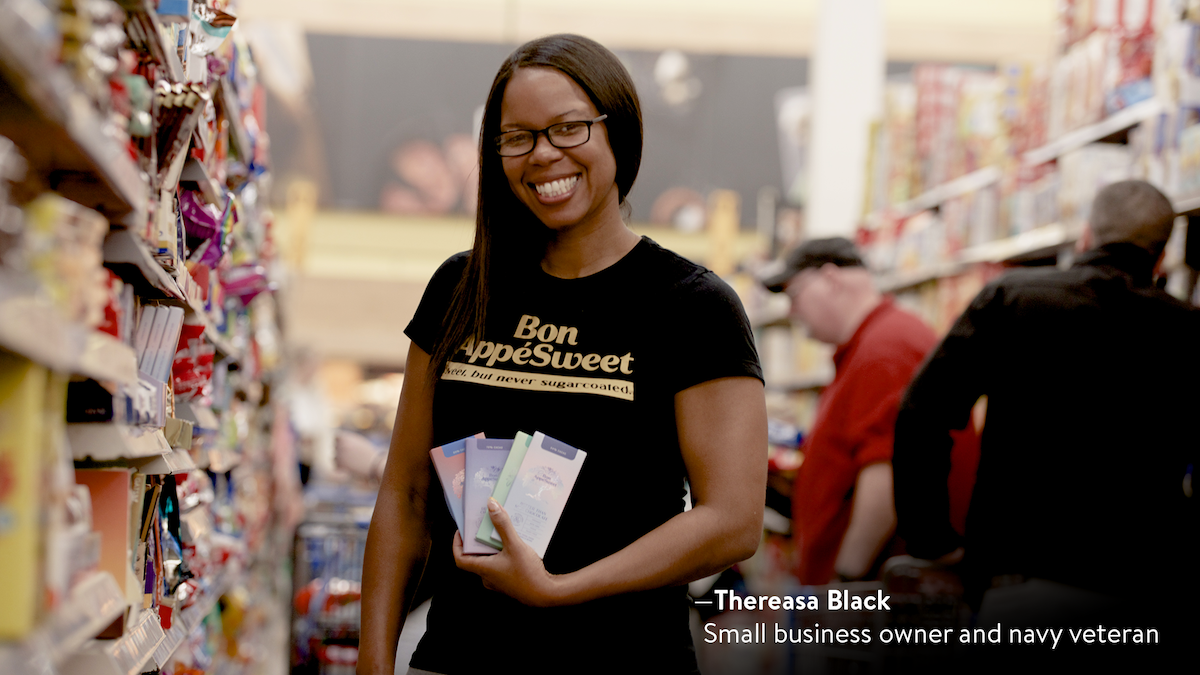 Walmart is creating more American jobs by strengthening their commitment to local communities, investing in US manufacturing and supporting veteran-owned businesses like Bon AppéSweet. America's largest company has spent $1 billion with veteran-owned businesses, helping Navy veteran Thereasa Black and her small business gain nationwide success.