GZERO Daily: the newsletter for people who love global politics
Sign up for our free newsletter to keep up with what's going on around the world - and why it matters.
Subscribe
GZERO Daily: the newsletter for people who love global politics
Subscribe Now

We have updated our Privacy Policy and Terms of Use for Eurasia Group and its affiliates, including GZERO Media, to clarify the types of data we collect, how we collect it, how we use data and with whom we share data. By using our website you consent to our Terms and Conditions and Privacy Policy, including the transfer of your personal data to the United States from your country of residence, and our use of cookies described in our Cookie Policy.
Is the Nagorno-Karabakh conflict over?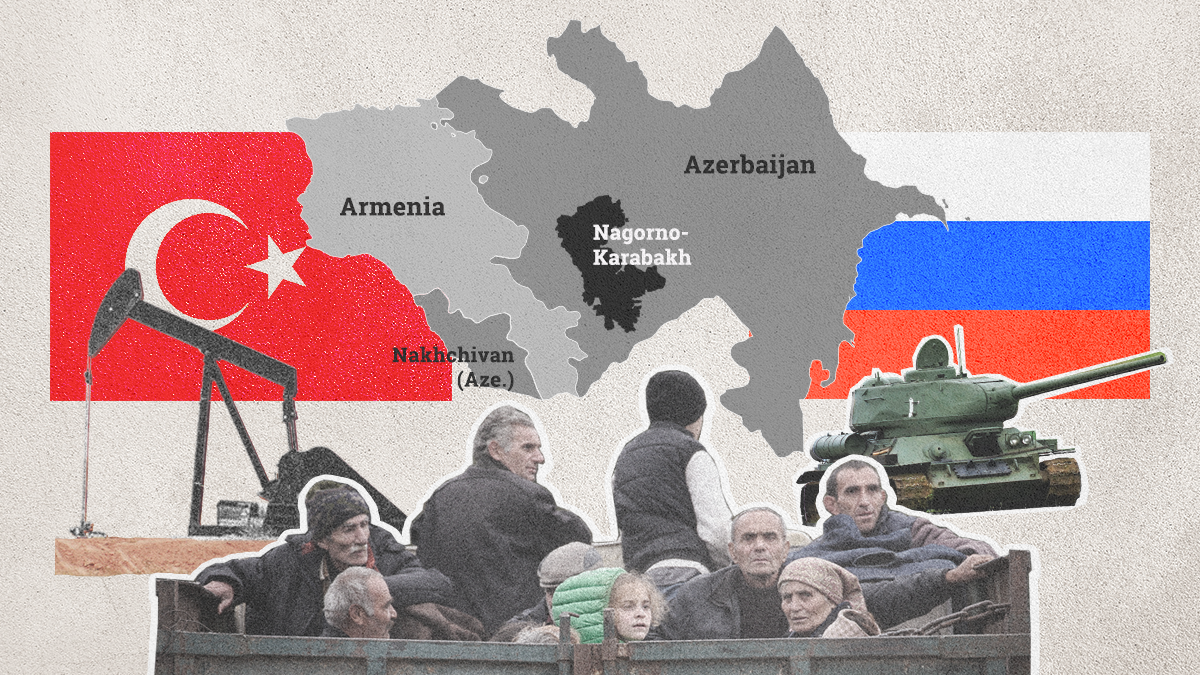 Jess Frampton/ GZERO Media
After more than a century of bitter clashes, the long-simmering conflict between Armenia and Azerbaijan over the contested territory of Nagorno-Karabakh came to a boil last week as Azerbaijan seized full control of the enclave.

Nagorno-Karabakh is a historically Armenian enclave that is internationally recognized as part of Muslim-majority Azerbaijan but had been de facto governed by its ethnic Armenian Christian population since 1994. That is, until now.
So, how did we get here? What just happened? And is the conflict over?
---
A brief history of Nagorno-Karabakh
Throughout history, this mountainous region in the South Caucasus has come under the control of various empires, including Persians, Turks, Russians, Ottomans, and, mostly recently, the Soviet Union.
In the wake of the Russian Empire's collapse in 1917, Armenia and Azerbaijan declared independence and laid claim to Karabakh (along with two other ethnically mixed regions, Nakhchivan and Zangezur). War broke out in 1920, but before the matter could be settled, the Soviet Union conquered the entire Caucasus, and by the following year Joseph Stalin had designated Nagorno-Karabakh an autonomous region within the Azerbaijan Soviet Socialist Republic with no land connection to Armenia.
By the late 1980s, ethnic tensions between Armenia and Azerbaijan exploded in Nagorno-Karabakh amid broader Soviet disintegration, culminating in what would become known as the First Karabakh War. As the Soviet Union collapsed, the enclave's majority Armenian population declared independence from Azerbaijan, triggering a bloody war for control of the region between the new republics of Armenia and Azerbaijan. After six years, over 30,000 dead, and more than one million (largely ethnic Azeris) displaced, the war ended in 1994 with ethnic Armenian forces backed by Yerevan asserting control not just of Nagorno-Karabakh itself, but also of large swaths of the Azerbaijani territory surrounding it. Absent a formal peace treaty, this area became an internationally unrecognized but de facto independent republic known to Armenians as the Republic of Artsakh.
Despite sporadic fighting, peace largely held over the ensuing decades as negotiations remained ongoing, though the conflict itself stayed unresolved. During this time, Yerevan formed a security partnership with Russia (which nonetheless sold weapons to both sides), while Azerbaijan developed close ties with Turkey.
The balance of power began to shift in Azerbaijan's favor in the 2010s as the country's growing energy wealth and ramped-up support from Turkey allowed it to build up its own military capabilities and bolster its geostrategic position. By the mid-2010s, Azerbaijan had cemented a meaningful military, economic, and geopolitical advantage over Armenia.
In late 2020, sensing an opportunity to turn the tide, Azerbaijan – backed by Turkey – launched an offensive that succeeded in reclaiming much of the territory Armenia had occupied since 1994 in and surrounding Nagorno-Karabakh. The Second Karabakh War lasted 44 days and ended with 6,500 dead and a Russian-brokered truce, to be enforced by nearly 2,000 Russian peacekeepers deployed along the three-mile-wide Lachin corridor – the sole overland route connecting Karabakh to Armenia. The ceasefire agreement granted Azerbaijan control of Karabakh's cultural capital, Shusha (Shushi to Armenians), and several towns in Nagorno-Karabakh, as well as the surrounding Azeri territories that Armenians had held since 1994 as a security buffer. Local Armenians got to keep control of the northern half of the region along with the capital, Stepanakert. The sides agreed that the final political status of the enclave would be determined in future peace talks.
While the 2020 ceasefire agreement brought about an end to active hostilities, the fundamental disagreements between Armenia and Azerbaijan regarding the region's status persisted. And yet, despite repeated ceasefire violations and low-level skirmishes, this uneasy truce mostly held.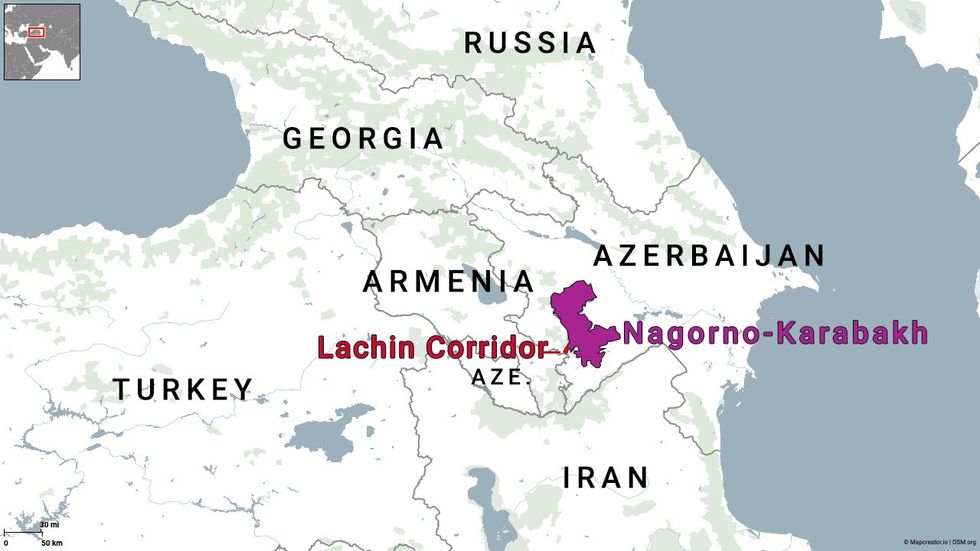 A map of Nagorno-Karabakh.
The final showdown
Fast forward to December 2022, when Azerbaijan closed off the Lachin corridor to shift the facts on the ground to its advantage and force the local Armenians to the negotiating table. A blatant violation of the 2020 ceasefire agreement, the nearly year-long blockade caused a severe humanitarian crisis as the region's 120,000 inhabitants were denied access to food, fuel, and medicine, to the indifference of the Russian peacekeepers charged with safeguarding the corridor.
In April, as the humanitarian situation turned more desperate, Armenian Prime Minister Nikol Pashinyan announced Yerevan would renounce its claim on Karabakh as long as Baku guaranteed the rights of ethnic Armenians there. But it was too little, too late.
By that point, Baku had correctly calculated that it held the definitive military and strategic upper hand in the conflict. Yerevan's only ally, Moscow, had since 2020 demonstrated a weakened commitment to Armenian security as well as waning influence in the region more broadly. Russia's disastrous invasion of Ukraine not only distracted Moscow further, but it also raised the value to Europe of Azerbaijan's oil and gas reserves as alternatives to Russian energy. Moreover, Moscow increasingly relies on the North-South transport corridor that partially runs through Azerbaijan en route to Iran and the Persian Gulf. Absent serious pushback from Russia and backed by a more geopolitically active Turkey as well as expanded energy ties with the EU, Azerbaijan saw a chance to change a political status quo it had long seen as unacceptable but had been unable to correct by diplomatic means.
On Sept. 19, Azerbaijan launched a ground and artillery offensive to take full control of Nagorno-Karabakh after what it claimed were terrorist attacks on Azeri civilians by Karabakh Armenians. Moscow, occupied by its own war and chafed at Yerevan's growing alignment with the West, did not intervene on behalf of the ethnic Armenians in Nagorno-Karabakh. Neither did Yerevan. Within 24 hours, the overwhelmingly superior Azerbaijani military had killed more than 200, injured 400, and forced the local Armenian authorities to surrender, leaving Azerbaijan in effective control of the territory.
As part of the ceasefire brokered largely by Russian peacekeepers, the local authorities agreed to disband their armed forces and discuss the region's reintegration into Azerbaijan in exchange for Azerbaijani promises to safeguard the rights of ethnic Armenians who remain in the region.
Not that those promises are credible, given the rich history of atrocities by both sides: As of Sept. 27, more than 50,000 of the about 120,000 local Armenians who live in Karabakh have already fled the breakaway region for Armenia, fearing persecution, violence, and even ethnic cleansing from Azerbaijan. Many more will surely follow.
All in all, the outcome of the third (and apparently final) Karabakh war represents a diplomatic setback for the West, a modest win for Russia, and a source of concern for Iran. Brussels' and Washington's attempts to sideline Moscow in its role as regional powerbroker failed. Russia lost (abandoned?) Armenia but won points with Azerbaijan and Turkey and will get to keep its peacekeepers on the ground. And Iran, which has a vested interest in both maintaining the status quo and preserving its clout in the South Caucasus, has reasons to worry about an emboldened Azerbaijan and Turkey's growing geopolitical influence in its near abroad.
What's next?
It seems that Nagorno-Karabakh's disputed status has been effectively settled once and for all, with Azerbaijan now set to take full control of the breakaway enclave.
But a potentially bigger fight between Armenia and Azerbaijan may be brewing over a different region: Armenia's southernmost province, Syunik. This 25-mile-wide territory separates mainland Azerbaijan from Nakhchivan, a landlocked, autonomous Azerbaijani territory that shares a slim border with Turkey – and a much bigger one with Iran. This majority ethnic Azeri exclave of about 460,000 people has been largely cut off from Azerbaijan proper since the end of the First Karabakh War, but the November 2020 ceasefire agreement called for Armenia to "guarantee safety" of transport and transit between them.
Not part of the agreement? The creation of the "Zangezur corridor," a transport corridor linking Nakhchivan and mainland Azerbaijan that would run through Syunik province but without Armenian checkpoints. This project has been a goal of Baku and Ankara since 2020. The corridor would not only connect Turkey and Azerbaijan to each other, but it would also create a strategic new trade route between Europe, the Middle East, Central Asia, and China. Yerevan opposes the corridor as a violation of its sovereignty and would use military force to repel any Azerbaijani attempts to establish it against its wishes, as Azerbaijani President Ilham Aliyev threatened to do in 2021.
On Monday, Aliyev hosted his Turkish counterpart Recep Tayyip Erdogan in Nakhchivan, where the two leaders celebrated Azerbaijan's victory in Nagorno-Karabakh and broke ground for a new gas pipeline from Turkey. At a joint news conference, Aliyev hinted at his Zangezur aspirations, days after Erdogan had done the same before the UN General Assembly. (Erdogan softened his tone on Tuesday, stressing that if Armenia doesn't agree to the Zangezur corridor, they will simply shift the route to Iran.)
Should Azerbaijan hope to capitalize on the momentum created by its Karabakh win by accelerating the forcible creation of this so-called corridor, war in the Caucasus could break out again soon. And unlike Nagorno-Karabakh, this flashpoint could draw in other regional players like Iran and Turkey, threatening geopolitical stability in Eurasia and beyond.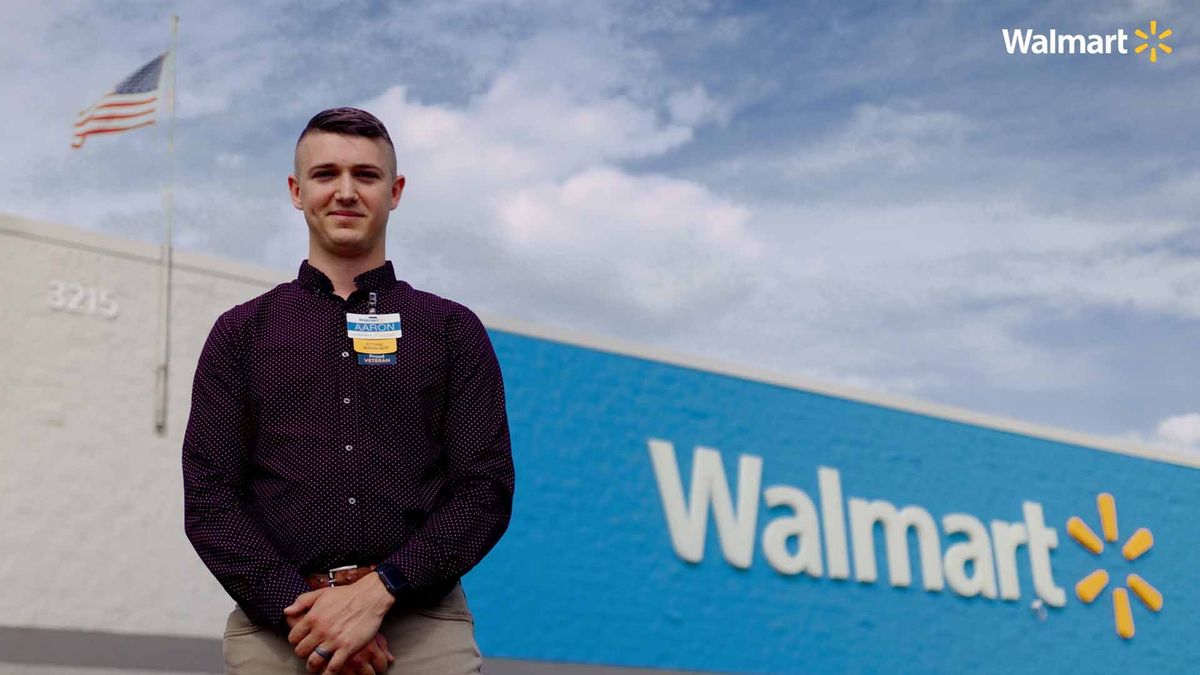 Aaron started at Walmart as a part-time cashier after serving in the Marine Corps, and now he's a store manager. Since 2013, Walmart has promoted more than 60,000 veterans and military spouses. At Walmart, veterans and their families have the unique opportunity to build successful, meaningful careers after serving their country.
Learn how Walmart is supporting veterans during their service years and beyond.