Turkey's sultan Erdogan is not going anywhere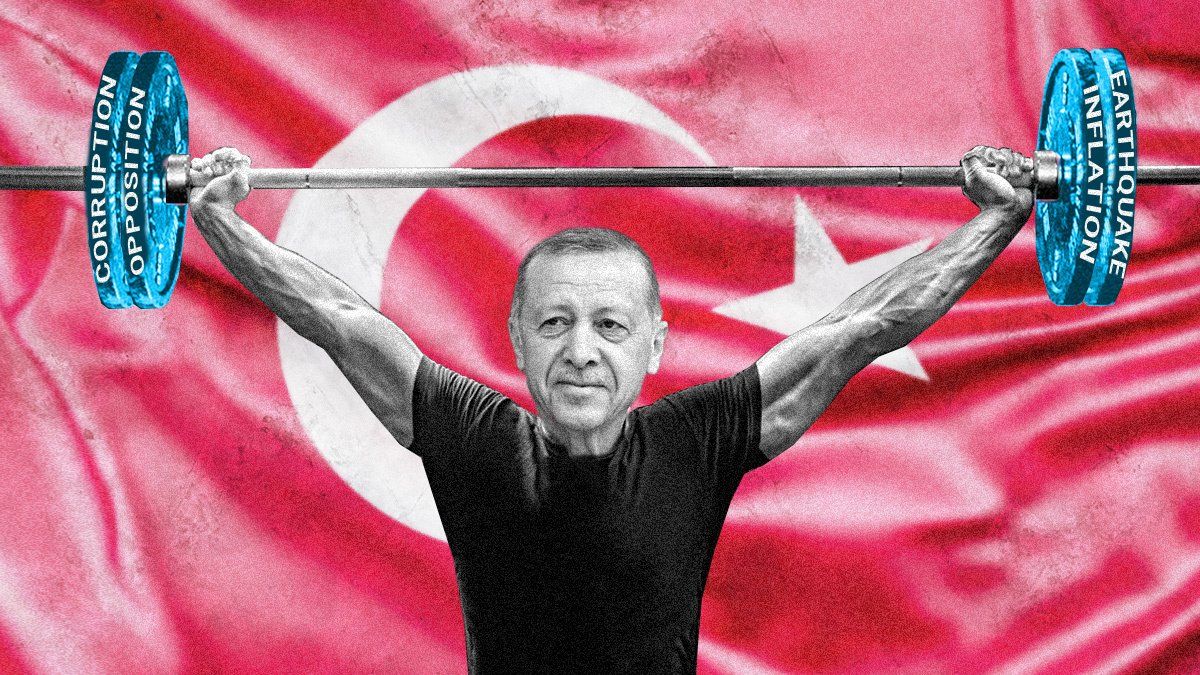 Jess Frampton
Turkish strongman Recep Tayyip Erdogan is … strong.
Despite most opinion polls predicting a win for main-opposition candidate Kemal Kilicdaroglu, a soft-spoken technocrat who leads the secularist Republican People's Party (CHP), President Erdogan received 49.5% of the votes in Sunday's presidential election compared to Kilicdaroglu's 44.9%. Erdogan's Islamist Justice and Development Party (AKP) and its People's Alliance coalition, meanwhile, defied expectations to retain majority control of Turkey's 600-member parliament.
---
On paper, the election was the most serious challenge of Erdogan's 20-year iron rule.
Turkey's economy is in shambles, plagued by soaring inflation, a plummeting lira, and a cost-of-living crisis at least partly caused by Erdogan's kooky economic policies. The government's shambolic response to February's deadly earthquake in southeastern Turkey (which killed 50,000 and displaced 1.5 million), added to the AKP's many corruption and mismanagement scandals, created more headwinds for the president. And, for the first time in ages, Turkey's notoriously fractious opposition managed to unite behind a joint candidate able to broaden the bloc's appeal, giving voters a credible alternative to Erdogan.
All this explains why almost every part of the country shifted against Erdogan relative to the most recent presidential election in 2018, forcing the president to a run-off for the first time in two decades.
But while his dominance has slipped, Erdogan remains the most popular leader in Turkey. He has outlived economic downturns, refugee crises, corruption scandals, protest movements, and even a coup attempt. He is a skilled populist with ample experience leveraging the bully pulpit, stoking nationalist sentiment, and exploiting identity politics and security concerns in his favor.
Having dismantled most independent checks on his power (including the military, the judiciary, and the media) and expanded presidential powers, Erdogan's electoral strength is further underpinned by his incumbency advantages, which allow him to dominate the airwaves and use state levers to woo voters and weaken opponents. Yes, Turkey's election was free ... but it certainly wasn't fair.
This is why I expected him to clinch reelection, despite polling data showing as much as a five-percentage-point lead for Kilicdaroglu ahead of the first-round vote.
What's next
While Erdogan came half a point short of the 50% he needed to avoid a runoff, he is the overwhelming favorite to secure the presidency in the second round on May 28.
The math is simple. Erdogan was within just 275,000 votes of winning the presidency outright on Sunday, whereas Kilicdaroglu's shortfall was 2.8 million. The president will carry that 2.5 million advantage into the runoff, where Kilicdaroglu would need to not only increase or at least maintain his turnout – a huge hurdle given the demoralizing impact of his Sunday losses – but also win virtually all the voters who backed the far-right nationalist Sinan Ogan (5.2%) and the populist Muharrem Ince (0.4%) in order to unseat Erdogan. That's not going to happen.
Ince had surprisingly withdrawn from the race three days before the vote but remained on the ballot. Most of his supporters are protest or anti-establishment voters who won't head to the polls for the runoff. Even if they did, at less than 250,000 votes they wouldn't move the needle for Kilicdaroglu.
Ogan, on the other hand, drew his 2.8 million votes roughly evenly from both Erdogan and Kilicdaroglu. Among them, nationalist voters who typically vote for the Erdogan-allied Nationalist Movement Party (MHP) or the ruling AKP will be highly motivated to cast their ballots for the incumbent to prevent a Kilicdaroglu presidency. But backers of the opposition-aligned, Turkish nationalist Good Party (IYI) are less likely to turn out to support Kilicdaroglu.
Ogan himself has said he'd only endorse the opposition leader if he distances himself from his Kurdish supporters, playing into Erdogan's baseless accusations that Kilicdaroglu is "backed by terrorists." But Kilicdaroglu can't risk alienating the Kurdish vote, which makes up around 10% of Turkey's electorate.
These numbers alone give Erdogan a nigh insurmountable edge. And that's before you even get to the campaign trail, where the president will use his incumbency powers and scare tactics to energize his base, depress opposition turnout, and tilt the balance further in his favor.
Why it matters
A victorious Erdogan will be emboldened to double down on the playbook that has hollowed out Turkey's democracy, turned its economy into a basket case, and distanced it from its traditional Western allies.
The president's insistence on unorthodox economic policies will prove unsustainable sooner rather than later, pushing the country toward a full-blown economic crisis it'll have a hard time recovering from.
Little by little, one-man rule will replace the rule of law as Erdogan makes himself sultan for life, pushing Turkey ever closer to autocracy and away from representative democracy.
Abroad, Erdogan will continue his delicate balancing act as he seeks to expand Turkey's global clout, deepening ties with Russia and China to the chagrin of its longstanding allies, the United States and Europe.
Despite growing mistrust and tension, Turkey's economic and security dependence on the West means relations will continue to be ruled by pragmatism. Erdogan will continue to both expand trade with Russia and support Ukraine and avoid Western sanctions. He will ratify Sweden's membership in NATO but only once the US finally agrees to sell him F-16 fighter jets. He will keep Turkey in NATO but increasingly act as a spoiler.
This approach to foreign policy will help cement Turkey's role as a geopolitical swing state (see today's Moose treat), but it will also make Ankara a more unreliable ally and increase the risk of miscalculation. As we've seen in Russia and China, extreme consolidation of power, centralization of decision-making, and suppression of dissent are a recipe for bad policies. Unchallenged power means unchallenged ability to make mistakes.
A third Erdogan term will bring about a more unstable, authoritarian, and unpredictable Turkey. Short of a miracle on May 28, the future of Turkey looks bleak.