The politics of recovery in Syria and Turkey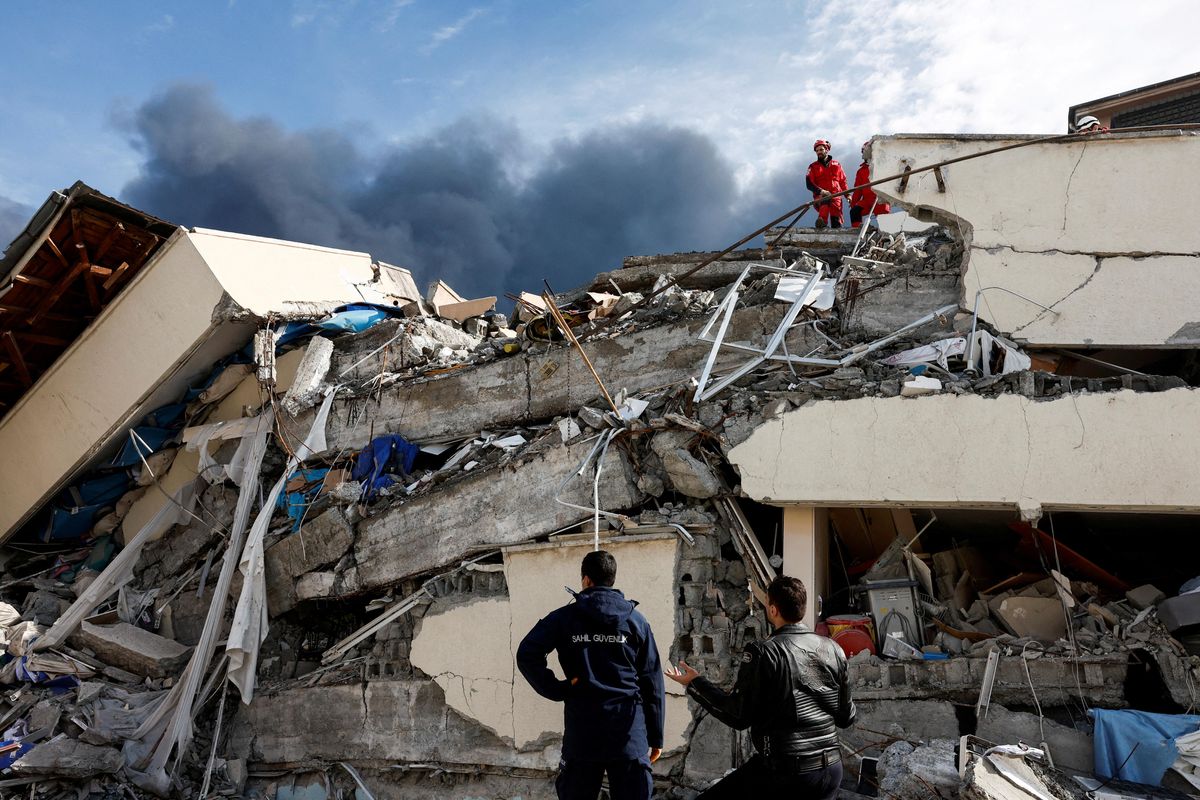 REUTERS/Benoit Tessier
As the death toll mounts from Monday's 7.8-magnitude earthquake, rescue efforts are intensifying in southern Turkey and northern Syria, with thousands of international aid workers flying in to assist.
The rescue effort, however, is anything but smooth sailing, not least because of frigid weather conditions. (Aid workers say that snow makes debris heavier and increases the risk of more building collapses.) But there are also political factors obstructing the recovery work.
---
The view from Syria. Most of Syria is now back under the control of President Bashar Assad, who stands accused by the West of using chemical weapons on his own people at least nine times since the civil war broke out in 2011.
Northern Syria, however, is a lawless terrain: The northeast is held by US-backed Kurdish forces that the Pentagon armed in recent years to fight the Assad regime, while the country's northwest, which has borne the brunt of the earthquake, is held by Turkey as well as a ragtag group of militant outfits. The US, for its part, still has 900 troops on the ground in the north.
Indeed, turf wars and ongoing aerial attacks make a coordinated aid response in Syria almost impossible. While the European Union announced on Wednesday a €3.5 million ($3.7 million) emergency humanitarian package for Syria, it remains unclear how this will be distributed, particularly as the Assad regime demands that all assistance pass through Damascus. This suggests the regime won't allow deliveries to opposition forces in the north, which Brussels cannot accept. On Thursday, six UN aid trucks entered northwestern Syria bringing in "shelter items ... including blankets and hygiene kits" but no food.
Nodding to Damascus' broad obstructionism, a spokesperson for the United Nations Office for the Coordination of Humanitarian Affairs said on Wednesday: "Our trucks are ready and the willingness is there. We are just waiting for the access to do it."
The view from Turkey. While Turkey has a sprawling state apparatus capable of coordinating a unified response, President Recep Tayyip Erdoğan has been accused of failing to get operations off the ground fast enough. Erdogan, for his part, condemned the opposition for using the tragedy to score political points and said it is not possible to prepare for such extreme events. But many Turks are asking what happened to the billions of lire raised under a national earthquake levy introduced after the devastating quake in İzmit in 1999 that killed more than 17,000 people.
In a sign that Erdogan is clearly concerned about incoming criticism, Ankara limited access to Twitter after the platform was used to vent frustration with the government's recovery effort, though access has since been restored. Clamping down on detractors is more important now than ever for Erdogan, who is facing a tough reelection battle on May 14.