GZERO Daily: the newsletter for people who love global politics
Sign up for our free newsletter to keep up with what's going on around the world - and why it matters.
Subscribe
GZERO Daily: the newsletter for people who love global politics
Subscribe Now

We have updated our Privacy Policy and Terms of Use for Eurasia Group and its affiliates, including GZERO Media, to clarify the types of data we collect, how we collect it, how we use data and with whom we share data. By using our website you consent to our Terms and Conditions and Privacy Policy, including the transfer of your personal data to the United States from your country of residence, and our use of cookies described in our Cookie Policy.
Food security: one area where Putin's plans are bearing fruit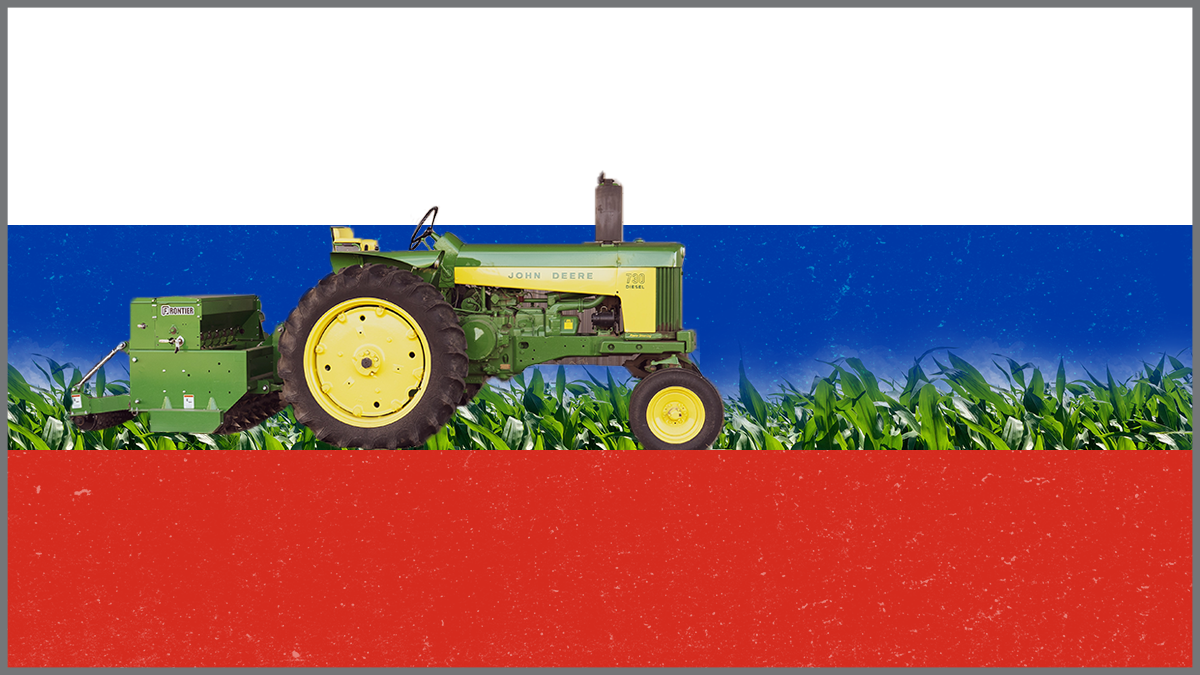 Paige Fusco
Shortly after Russia invaded Ukraine, Russians were seen scrambling for packets of sugar at supermarkets. It was the first sign that Western sanctions meant to punish President Vladimir Putin for the war might actually be having a serious impact. Stores imposed limits on the purchase of some products, and Putin's government rushed to reassure Russians that they would have enough to eat.
Russians are facing shortages of everything from smartphones and cars to paper, but experts say there's one area where the country might be able to largely insulate itself from the sanctions that have otherwise ravaged the economy: food security.
Since 2014, when Russia's annexation of Crimea triggered a wave of targeted sanctions, the Kremlin has been preparing for the possibility of more wide-ranging economic punishment from the West. Through a massive program of import substitution, it has tried to reduce the dependence of Russia's economy on imports by developing domestic industries across sectors over the past eight years. While those efforts have failed in most fields, they have yielded some success in food and agriculture.
---
Soon after the Crimea invasion, Moscow banned the import of food from countries that imposed sanctions on Russia. At the same time, it unveiled major subsidies for domestic farmers and agri-tech firms to build up the country's food manufacturing capacity. The result: In 2020, Russia's need for meat imports was 62% lower than in 2014, while fish imports were down 35%, according to United Nations Comtrade data. The world's largest wheat exporter, Russia has also temporarily banned the sale of grains to neighboring nations, further bolstering stocks for its domestic consumption.
"Today, Russia produces enough basic foods to avoid significant shortages," said Denis Davydov, a senior lecturer in accounting and finance at the University of Vaasa, Finland, who has closely followed the Russian economy over the past decade.
That's a major change for a country that — throughout its modern history — has suffered from desperate famines, food shortages, and bread lines, which weakened the authority of both Czar Nicholas II and the subsequent Soviet regime. Putin appears to have learned at least some lessons from the follies of his predecessors, say analysts.
The first seeds of Russia's move toward agricultural self-sufficiency were planted in 2010, when the country introduced a food security doctrine that laid out targets for domestic production of everything from salt and sugar to meat and potatoes. But that document wasn't translated into actual policies at the time, said David Laborde and Joseph Glauber, researchers at the International Food Policy Research Institute.
The economic penalties Russia faced in 2014 proved a turning point. The Kremlin's subsequent focus on reducing Russia's reliance on food imports reflects its careful preparation for even tougher sanctions of the kind that the country today faces, said Stephen Wegren, a political science professor at Southern Methodist University, whose research focuses on the political economy of post-communist states. "I think a big factor has been the goal to make the Russian agriculture sector sanctions-resistant," Wegren said. "National security has been a driving force."
The weather has helped Russian agriculture in recent years, said Wegren. Warming temperatures because of climate change have allowed farming in parts of the country that were previously too cold for cultivation. Meanwhile, the devaluation of the Russian ruble following the 2014 sanctions "simply made any remaining imported food product uncompetitive relative to domestic analogs," further helping the homegrown agriculture sector, said Davydov.
But it wasn't just luck: The Putin administration has also proactively worked to get Russians to change their palate, said Laborde and Glauber. Instead of rapeseed oil, which is partially imported, Russia has encouraged the use of sunflower oil — the country is behind only Ukraine in the production of sunflower seeds. Similarly, beer — which relies on cereals that Russia produces — is replacing imported wine, they said, even as Russians are on the whole turning away from alcohol. "There is an economic rationale justifying these successes," said Laborde and Glauber.
To be sure, Russia's successes in food security have serious limitations, and the country faces challenges in the coming months. It is still dependent on the import of some key foods. By 2020, the country had managed to reduce its spending on imported fruits by only 20% compared to 2013, according to the National Rating Agency, an independent Moscow-based ratings institution. Russia is also the world's fourth-biggest importer of butter.
In time, sanctions could start hurting even those parts of Russia's food industry where it has dramatically increased domestic production because the country's agricultural sector "is heavily dependent on imported equipment and farming machinery," said Davydov. "The efficiency and costs of food production will depend on whether it will be possible to continue importing this equipment or re-channel imports from other countries." Where imports are still possible, they'll be costlier in the future if the ruble — which has stabilized for now after plummeting in February and March — takes further hits.
Meanwhile, the Russian Central Bank's decision to raise interest rates to an all-time high of 20% in order to tame inflation will adversely affect lending rates for firms that need to borrow money to purchase or service equipment. "More expensive financing will obviously transfer into higher product prices," Davydov said. Already, the absence of foreign competitors has in recent years led to sharp increases in food prices: Beef today costs four times as much as it did in March 2014. Experts are convinced that this trend will continue.
Still, Russia's self-sufficiency in many basic food commodities means it can always import the rest from "friendly" nations, said Wegren. China, one of the world's largest agricultural exporters, is unlikely to impose sanctions on Russia.
"There may be localized shortages, but I do not expect mass hunger," Wegren said.
That's good news for Putin. In February 1917, food riots over bread shortages were catalysts for the Russian Revolution later that year, in which the Bolsheviks dethroned the tsar. Whatever happens to Russia's current autocrat, food likely won't bring him down.
Charu Kasturi is a freelance writer specializing in foreign affairs. He is based in Bangalore, India, and often writes for outlets such as Al Jazeera and Foreign Policy.