Lebanon is on fire. Where's the fire brigade?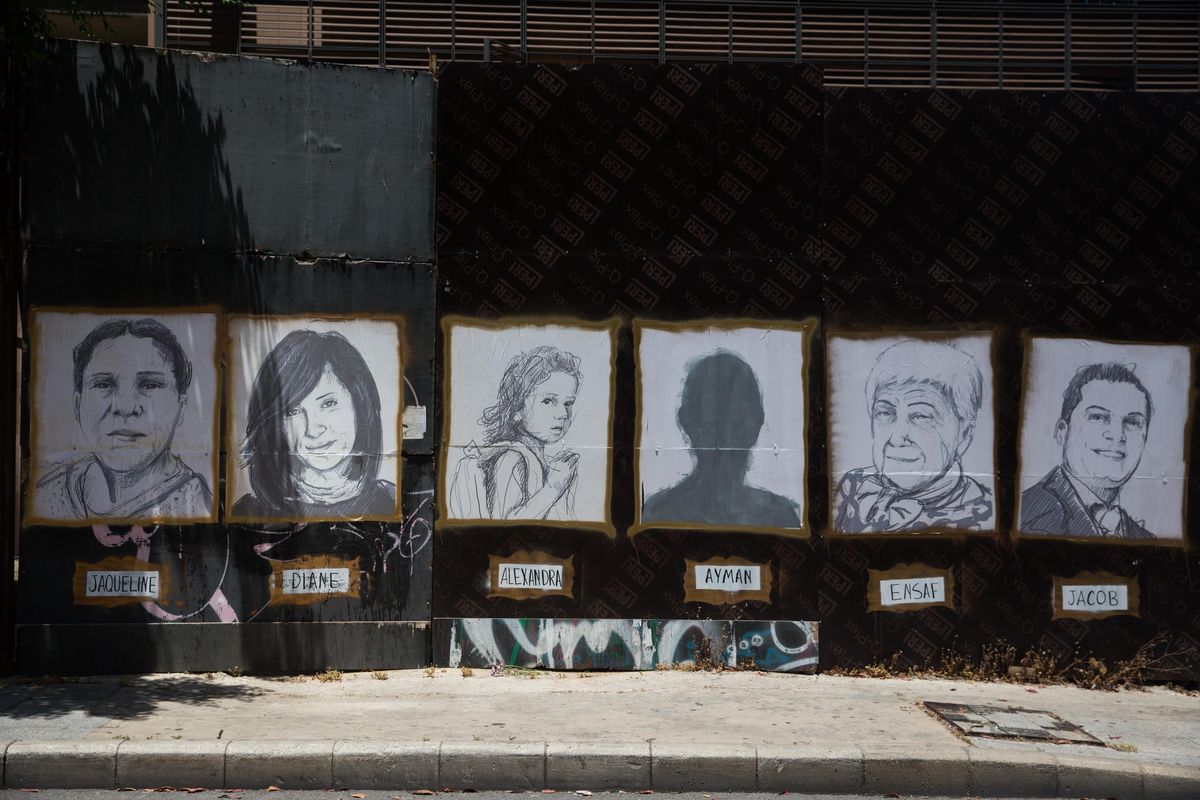 It's been 365 days since twin blasts at a Beirut port decimated Lebanon's capital. More than 200 people were killed and some 7,000 were injured, yet accountability has been scarce. There is ample evidence that multiple Lebanese officials knew that ammonium nitrate was being improperly stored at the port. Four high-ranking politicians, including former PM Hassan Diab, have been charged by a Lebanese judge, but they all refuse to cooperate with the ongoing investigation.
Since then, Lebanon's already-dire economic and financial crises have only intensified. The Lebanese pound, the national currency, has plummeted, losing 90 percent of its value since 2019, when the country's economic crisis erupted. And more than 50 percent of the population is now living below the poverty line.
---
Some locals say Lebanon has become "unlivable" in recent months. So why isn't the country — now approaching failed-state status — getting the help it needs?
Corruption and dysfunction. International donors resent the corruption and cronyism that have long plagued Lebanon's political class and impeded meaningful political reform. And they have little reason to expect change. Despite international outrage in the aftermath of last year's explosion, Lebanese lawmakers have refused to lift immunity from prosecution for several former ministers wanted for questioning, stonewalling the state's investigation.
Even before the blasts, Lebanon's byzantine sectarian power-sharing system had brought the government to a standstill, while years of pocket-lining by politicians had crashed the economy and sent standards of living into free fall.
For those at the top, there has been little incentive to implement reforms: industry "entrepreneurs" have benefited from lack of government regulation and services — often giving generous kickbacks to politicians for preserving the status quo. Lebanon's sketchy electricity industry, which relies on so-called "generator mafias" with ties to the political elite, is a case in point.
Foreign aid distribution is politicized. Last summer, Emmanuel Macron, president of France, Lebanon's former colonial power, jetted into Beirut twice within a few weeks and vowed to help usher in the reforms needed for Lebanon's political and economic "rebirth." But he has also said that unlocking international aid would be contingent on Lebanon instituting some basic reforms, like forming a new government and rooting out corruption. So far, that's been a bust: just weeks ago, the interim PM Said Hariri threw in the towel after failing to find common ground with President Michel Aoun.
"Real reforms require the political class, as well as Hezbollah, to give up too much of the power, money and influence they accumulated over years and they're not ready to do that," Kim Ghattas , author of Black Wave and contributing writer at the Atlantic, told GZERO Media. "The real work and the real opportunity for change is next year, when Lebanon will have legislative, municipal and presidential elections."
Macron has made no secret of the fact that he's fed up with Lebanon's untrustworthy elite. Still, after last summer's aid-pledging conference covered just 5 percent of the damages, he will hold a second fundraising event this week.
International financial heavyweights are frustrated. Bailout talks between Beirut and the International Monetary Fund have also reached an impasse. Before the port explosion, Lebanon's central bank had refused to accept the IMF's assessment that it had incurred losses of $49 billion, and the IMF has grown frustrated at the lack of progress on meaningful political reforms its assistance is tied to. Earlier this year, the World Bank also approved loans to help struggling families, but some analysts say that the loan structure shortchanges needy Lebanese while benefiting the political elite.
"For years, the international community helped feed corruption by pouring aid into Lebanon to support stability but without ever inquiring about where the money went," Ghattas said. Looking ahead, "the US and France and their allies should continue to stress the need for justice and accountability, not only for the port blast but also for the country's economic crash. Without accountability there is no stability, anywhere."
Regional players have their own agenda. To make matters worse for Lebanon, wealthy Gulf states like Saudi Arabia and the United Arab Emirates have pulled back on doling out funds in recent years. In 2016, Riyadh scrapped a total $4 billion in aid to Lebanon's military and police, citing Iran's heavy hand in the country's affairs. The Saudis and Emiratis don't want the money going to Iran-backed Hezbollah, a dominant force in Lebanese politics, and they want to see Iran and its proxy take the blame for Lebanon's popular unrest.
So why should outsiders bail out chronically unstable Lebanon? There is, of course, the moral dimension of human suffering. For those who care about their fellow human beings, that's incentive enough.
But there's also the regional implications: instability begets instability, and Lebanon lives in an unstable neighborhood. The spillover effects of a more chaotic Lebanon won't help a region still coping with large numbers of refugees and the continuing fallout from civil wars in Syria and Yemen, and potential instability elsewhere.