So, what is Vladimir Putin thankful for?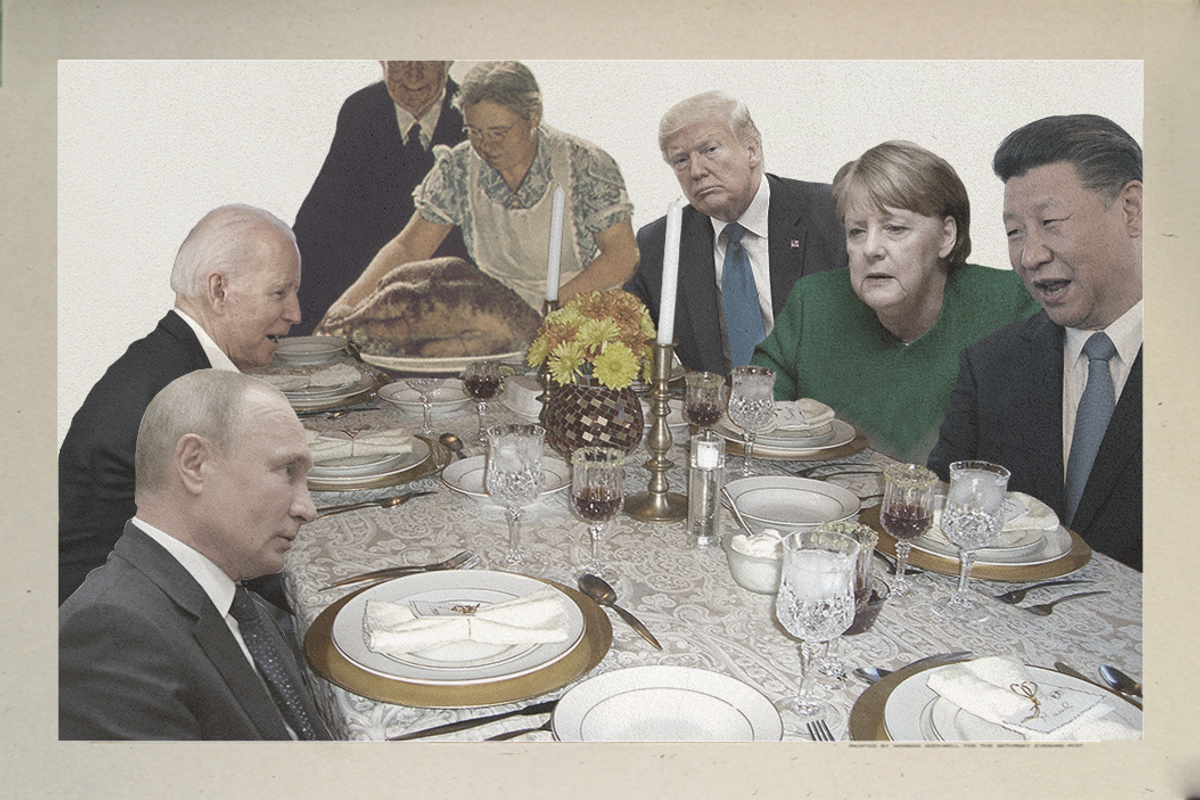 Not everyone celebrates the US holiday of Thanksgiving, but we've all got something to be grateful for in this awful year, right? So as Americans gather around the table — or the Zoom — to give thanks on Thursday, here's what a few world leaders are grateful for at the moment.
---
Donald Trump, US President

Very strongly grateful that although my legal appeals are MELTING faster than my attorney's hair dye, tens of millions of people still believe my claims of election fraud. That will be very useful to me in my next reality TV project — stay tuned! BIG RATINGS!
Vladimir Putin, President of Russia
I'm grateful that although Trump lost, he has done more to delegitimize American democracy and institutions in the past four years — four weeks even! — than I could manage in a lifetime. Separately, I think Turkey is highly overrated.
Angela Merkel, Chancellor of Germany
Unfortunately there is not (yet) a German word for "the feeling when you are thankful that although you are retiring next year after 15 years of running Germany you are at least reasonably happy that the transatlantic relationship, troubled as it is, might be on an upswing now that Biden won."
The Coronavirus, Pandemic-in-Chief
Not psyched about all this vaccine news, but "it is what it is," as they say. At the very least I'm thankful that it could still take years to distribute globally. Now, let's sit down to dinner shall we? Come a little closer, can't quite hear what you are saying ...
Xi Jinping, President of China
Thankful to have shared 2020 with my dear friend Donald. If it weren't for him, our COVID coverup, Hong Kong crackdown, Xinjiang repression, and all those faulty PPE products we shipped to Europe would have made me the world's most hated person.
Kamala Harris, VP-elect of the US
Thankful for the chance to put on these Converse All-Stars and walk all over the haters for the next four years.
Abiy Ahmed, PM of Ethiopia
Thankful that the Nobel Committee gave me that peace prize two years before I threatened earlier this week to kill civilians in my deepening conflict with Tigray rebels.
Boris Johnson, PM of the UK
Well it's been a bloody awful year. Brexit, then Covid. Then more COVID — and now COVID and Brexit at the same time. And 2021 doesn't look much better with that sleepy Irish bloke in the White House. At the very least I'm grateful that Americans are obsessed with The Crown.
Jair Bolsonaro, President of Brazil
I'm grateful that no matter how outrageously I behave, 30 percent of Brazilians will always have my back. Is that enough to win again in 2022? We'll see.
Recep Tayyip Erdogan, President of Turkey
Ha ha, very funny. President of "Turkey" has to comment, eh? No! By the way, Vladimir, I saw that comment above — you better have been talking about the bird, which is legitimately bland and overrated, like Russia.
Narendra Modi, PM of India
Thankful that we will probably start getting those H1B visas back again. But if Biden goes wobbly on China we will NOT be happy. By the way, agree with Recep on the turkey — why don't you, like, put some decent spices on that?
Benjamin Netanyahu, PM of Israel
Just a word of gratitude for the carte blanche that Trump gave me these past four years — on settlements, on Palestine, on the Golan Heights, on Jerusalem — because let me tell you, without him in the White House, things are about to get a lot harder for me.
Ayatollah Khamenei, Supreme Leader of Iran
Great Satan is Great Satan, no matter how you slice that turkey, but we are pretty thankful that Joe Biden won. At least there is a chance to revive the Iran deal and get rid of some of these sanctions. Still, Death to America! Death!
Alexander Lukashenko, President of Belarus
Thankful to Venezuelan President Nicolás Maduro for showing me the way: despite months of protests, sanctions, and general global hate over my blatant theft of the election in August, my security services are sticking with me and I'm not going anywhere.