Sri Lanka slipping into anarchy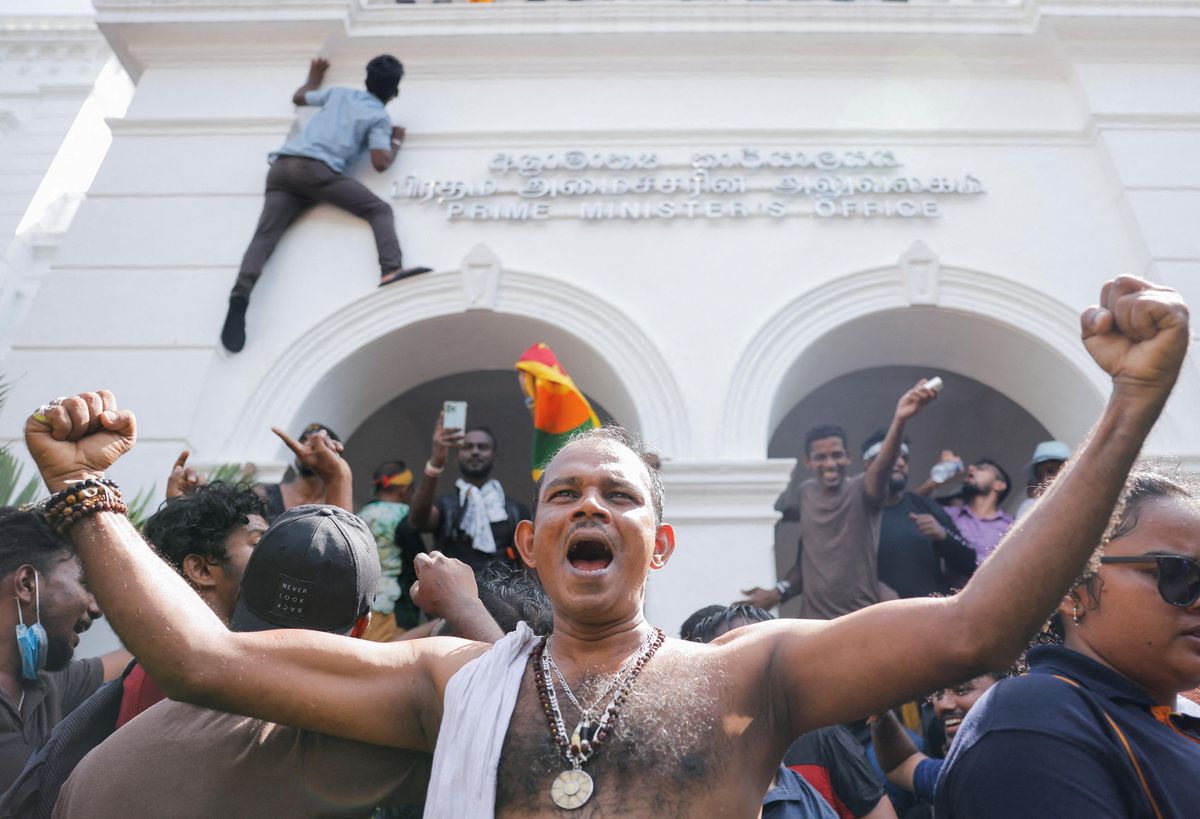 REUTERS/Dinuka Liyanawatte
Things have gone from bad, to worse, to outright crazy in Sri Lanka since the beginning of the year.
We warned you early on that the country would default on its huge sovereign debt, which it did in May. Since then, the economic crisis has quickly morphed into full-blown political turmoil and a social catastrophe the likes of which the region has not seen for a long time.
And there's no easy fix.
---
The backstory. Thanks to the double whammy of COVID killing tourism and dismal economic policies — like banning chemical fertilizers to grow more organic food — the island nation depleted its foreign currency reserves weeks ago.
Sky-high inflation has pushed food prices through the roof and left one-quarter of Sri Lankans hungry. Life in Colombo has become a dystopian nightmare of empty schools by day and dark streets by night to save power since the country is virtually out of fuel.
Long-simmering public fury at deeply unpopular President Gotabaya Rajapaksa boiled over last weekend, when protesters occupied the presidential palace to demand his resignation. The president, from a dynasty that has dominated Sri Lankan politics for two decades, reluctantly agreed but has not been seen or heard from since.
The latest. Rajapaksa fled the country on Wednesday, and from the Maldives appointed his also-reviled PM Ranil Wickremesinghe as caretaker president. Wickremesinghe — who'd previously promised to quit himself — then declared a nationwide state of emergency, which protesters defied by storming his office. The interim leader responded by ordering the army to do "whatever's necessary" to maintain order.
We're still waiting for Rajapaksa's official resignation letter, and no one seems to know who's really in charge.
So, what might happen next? Don't count on a swift resolution, says Akhil Bery, director of South Asia Initiatives at the Asia Society Policy Institute.
Even if Rajapaksa and Wickremesinghe keep their promises to step down and MPs appoint successors, Bery believes a new interim government will lack a popular mandate, and be too weak and unstable to pass the tough economic reforms the IMF requires to bail out Sri Lanka. What's more, Rajapaksa's party controls parliament, having won a two-thirds majority in the 2020 election.
Finally, opposition leader and presidential hopeful Sajith Premadasa is also quite unpopular, and he lost big in the 2019 presidential election against Rajapaksa.
What about a coup? Bery says a military takeover — which would be Sri Lanka's first — is unlikely because the army so far hasn't cracked down hard on protesters. And the institutions, especially the judiciary, remain strong.
The only way out seems to be to hold a general election. But no one is talking about that, the cash-strapped government can hardly afford the cost, and the people are clearly in no mood to wait four months to vote.
The scarier and more likely scenario is continued unrest. What would that look like?
"Anarchy," predicts Bery, drawing a comparison to crisis-ridden Lebanon. "Sri Lanka has gone from having one of the highest development indicators in South Asia and being on the cusp of becoming an upper-middle-income country to [...] going backward. You could be staring at a lost generation here."
Meanwhile, the anger will keep bubbling. "There's as much frustration with the political situation and the capture of politics by the elite as there is with the economic crisis," Bery says.
"The no. 1 big political risk in South Asia is food inflation. People don't care about much, but if you can't put food on the table, that's when they take to the streets."