Does the West ultimately bear the responsibility for the crisis in Ukraine? Political scientist John Mearsheimer argues in a recent op-ed in The Economist that while Vladimir Putin started the war, it was NATO's "reckless" expansion that provoked Russia to attack. In this episode of The Red Pen — where we do our best to keep op-eds honest — Ian Bremmer and Eurasia Group analysts Graeme Thompson and Zachary Witlin review Mearsheimer's points and show that nothing the West did, or didn't do, caused Putin's invasion of Ukraine.
Our topic today is who to blame for Russia's bloody and relentless attack on Ukraine, a war that has now entered six plus weeks and it's showing really no signs of resolution. And I've maintained that it's President Vladimir Putin alone who bears the responsibility for this invasion, that he is a war criminal, and he has single handedly damaged Russia's place in the world with these actions. But there are some who feel that the West, in particular the United States and NATO allies, who have provoked this situation and who bear the blame. And one of them is American political scientist, John Mearsheimer, whose ideas have generated quite a bit of conversation over the past few weeks. And I want to focus on a piece he recently wrote for the Economist titled "Why the West is principally responsible for the Ukrainian crisis." And the title alone merits bringing out the Red Pen.
So first, Mearsheimer argues that the West and especially America deserve blame for Russia's invasion of Ukraine because Moscow feared Kyiv was poised to join NATO. He further claims that Western support for Ukraine after the 2014 Russian annexation of Crimea and invasion of the Donbas with military assistance, training, and weapons shipments amounted to de facto Ukrainian membership of NATO and led directly to the current war.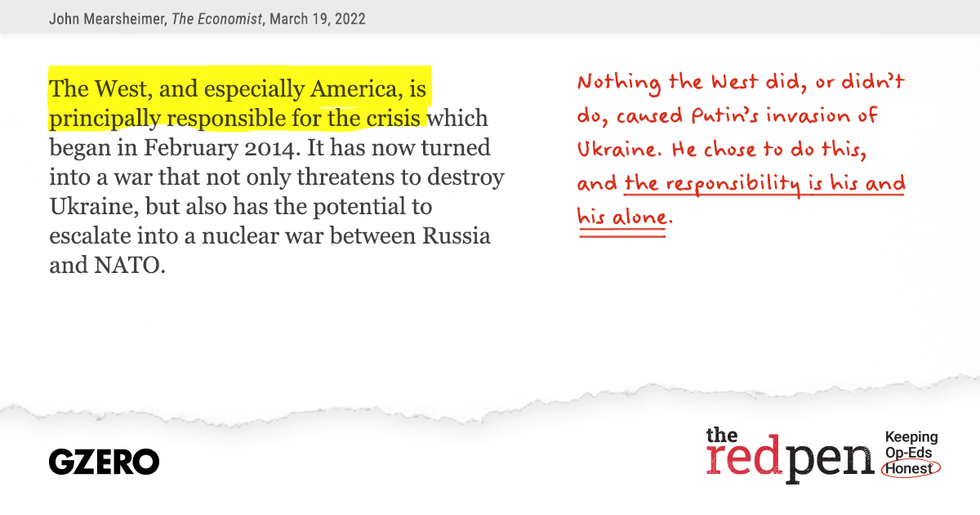 I think this is a strawman argument. We shouldn't take Russia's claim that Ukraine was integrating with NATO at face value. It is true that nominally NATO had an open-door policy, but no one seriously thought that Ukraine was or is about to join NATO. And the support that NATO did provide after Russia had already sponsored a war in Eastern Ukraine in 2014 as Mearsheimer notes, included things like advice and handheld weaponry and supplies like radios. A de facto NATO member would've received actual NATO troops to defend their country.

I accept that the West failed to anticipate Russia's reaction to NATO's eastward expansion and that miscalculation absolutely enhanced Russia's threat perception in their backyard. But to me, the principal West mistake was not about expanding NATO and embracing the East Europeans. No, the mistake in the 90's was not creating a Marshall Plan for Russia, that is making Russia's prosperity and partnership and cooperation a top priority for the Western world. So, Russia's future wasn't just about how they lost the Cold War and that feeling of humiliation and that failure more than anything else, I would argue, laid the groundwork for the structural tensions that eventually led to this war. But to be clear, nothing the West did or didn't do caused Putin's invasion of Ukraine. Putin chose to do this and the responsibility for the war is his and his alone.
Now next Mearsheimer writes, "Bringing Ukraine closer to the EU and making it a pro-American democracy were part of a US plan to make Ukraine a Western bulwark on Russia's border."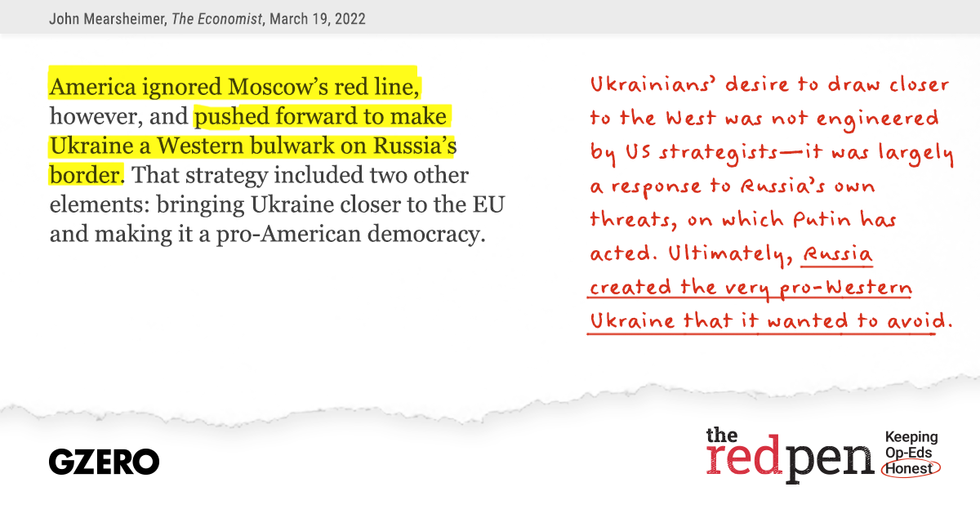 Now, wait a second. Ukrainians actually have agency. They want a democracy that's closer to the EU and they're grateful for Western help. Putin is paranoid about the example of a successful democratic Ukraine and the threat it would pose to his own increasingly autocratic regime. It was the Ukrainian people that voted for NATO and EU membership to be national goals. Neither of those choices were in any way forced upon them by the United States and its allies. In fact, I'll go further, the West was and still is reluctant to accept Ukraine into these institutions. Ukrainians haven't been dragged into NATO or the EU, the Americans and Europeans were and are actually putting up roadblocks. Ukrainians desire to draw closer to the West was not engineered by American strategists, it was a response to Russia's own threats on which Putin has acted. Ultimately, Putin created the very pro-Western Ukraine that he wanted to avoid.

Mearsheimer also dismisses the idea that Putin covets Ukraine for historical or ideological reasons. For Russian leaders, he writes, "what happens in Ukraine has little to do with their Imperial ambitions being thwarted. It's about dealing with what they regard as a direct threat to Russia's future."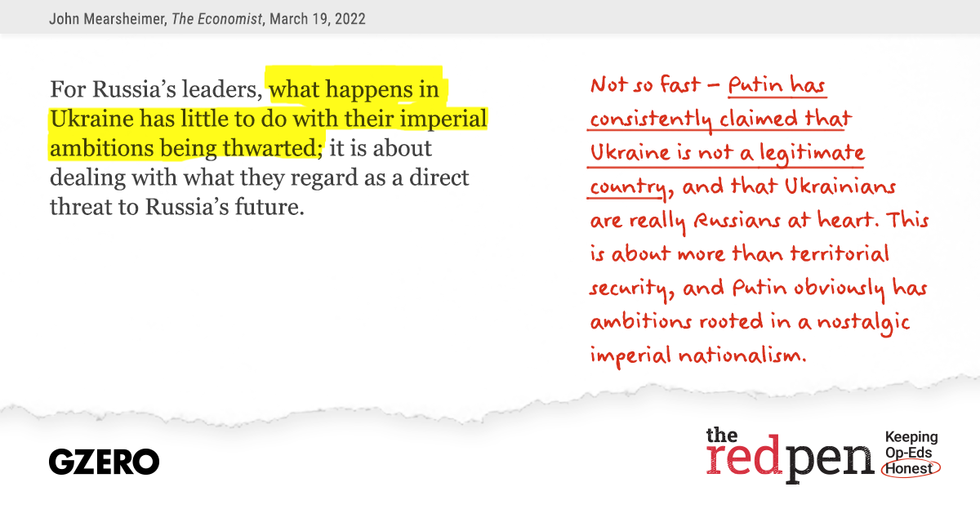 But Putin has consistently claimed that Ukraine is not a legitimate country and the Ukrainians are really Russians at heart. This is about more than just territorial security and Putin obviously has ambitions that are rooted in a nostalgic imperial nationalism. Now is that the only factor that drives his actions? Of course it isn't, but why would you dismiss it in the face of Putin's own repeated statements to that end?
And finally, and here, I want to give him credit, Mearsheimer concludes that the West may be able to prevent a Russian victory in Ukraine, but the country will be gravely damaged alongside lasting damage to the Russian economy and the threat of nuclear escalation.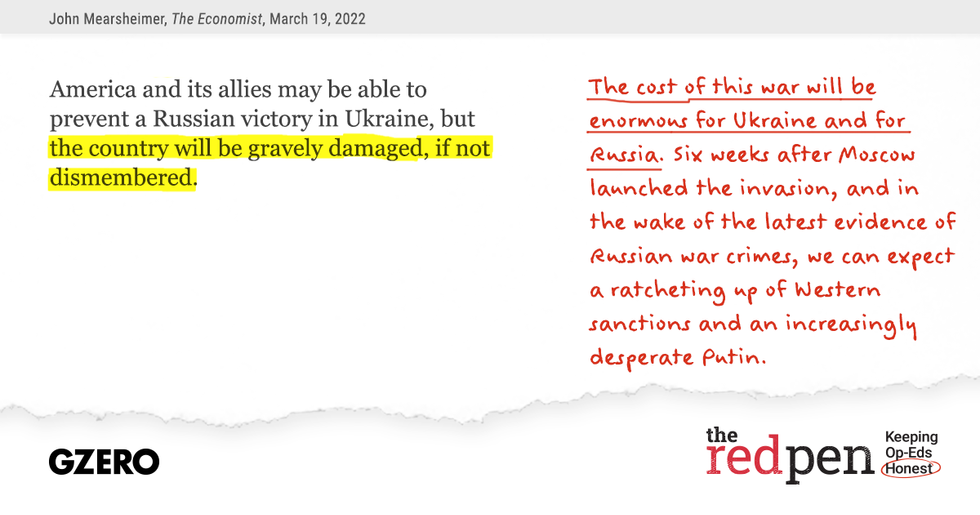 And I have no argument with any of that. The cost of this war will be enormous for Ukraine and for Russia. Six weeks after Moscow launched this invasion and in the wake of the latest evidence of Russian war crimes, you can expect a ratcheting up of Western sanctions and an increasingly desperate Vladimir Putin. Ukrainians are fighting a war of survival, and we are still very firmly in an environment of escalation. That's ugly and it's going to do enormous damage to both nations, to Ukraine and to Russia. And it's going to have a rippling impact globally, but no, the West did not cause Putin's horrible choice to wage this war of aggression.
So, there you have it. That's your Red Pen. Stay tuned to GZERO for more news and analysis about the war in Ukraine. I am Ian Bremmer, see you again real soon.