The Graphic Truth: US inflation slows a bit, but ...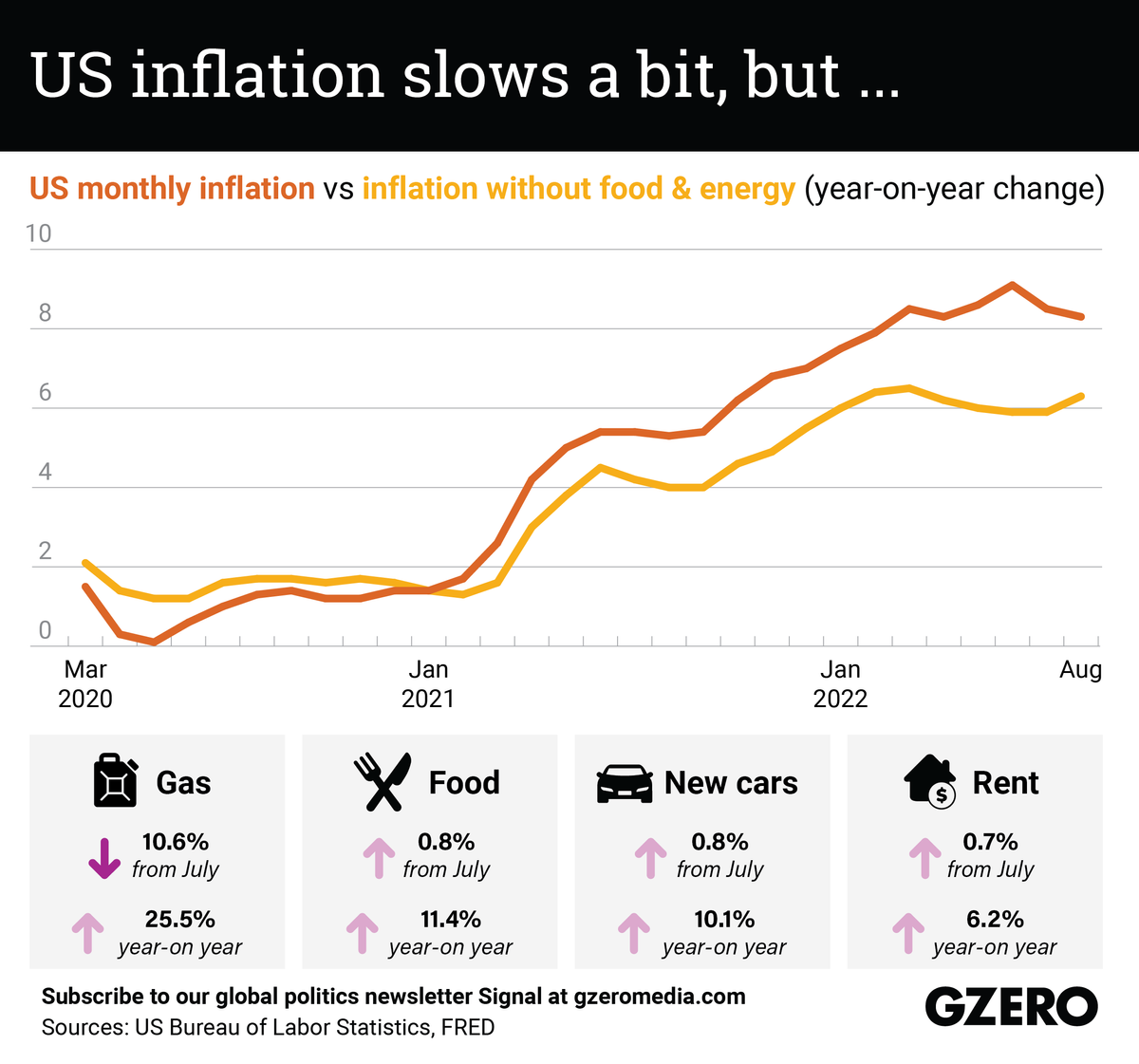 GZERO Media
The US inflation rate for August was released on Tuesday and the figures are sure to cause anxiety in the White House. Overall, the consumer price index, which measures a range of consumer prices, rose 8.3% from the same time last year – 0.2% more than many economists anticipated – though it's down from 8.5% in July and 9.1% in June.
Indeed, the latest findings surprised many analysts who predicted that the drop in US gas prices in recent months – down from $5 a gallon in June to a current national average of $3.70 – is a sign that the economy is cooling across the board.
---
But that doesn't seem to be the case. The ongoing war in Ukraine and related global supply chain issues have meant that food and energy prices remain sky-high. The US Department of Labor's food index rose a whopping 11.4% in August year-on-year, up 0.8% since July – marking the largest increase since Sony introduced the walkman.
While Americans opting for alternative transportation (carpooling, public transport) may be contributing to weaker demand and lower gas prices, families have fewer options when it comes to food consumption. Even prices of no-frills staples like flour, butter, and potatoes are still on the rise.
What's more, core inflation – which excludes notoriously volatile food and energy prices – continues to surge, suggesting that Americans are still grappling with too-high prices for commodities like medications, furniture, and new cars. Meanwhile, energy markets remain volatile as European efforts to ditch Russian natural gas have caused shortages and price shocks around the globe.
The CPI report shocked the markets, sending the Dow down nearly 1,300 points amid concern that the US Federal Reserve would continue to raise interest rates in order to cool the economy, resulting in investors pulling money from the markets. The Fed will hold its monthly policy meeting next week, and it is expected to again raise rates by 0.75 points, which would be its third three-quarter point hike in recent months.
Federal Reserve Chair Jerome Powell said in a keynote address last month that efforts to curb inflation would not be painless. He explained that the Fed would continue with its aggressive strategy despite fears that too much belt-tightening could lead to mass layoffs and recession.
Inflation has thwarted the US' post-pandemic recovery for months and fueled President Joe Biden's tanking
poll numbers
ahead of midterm elections this November. Things were starting to look a little better for the Democrats in recent weeks after Biden enjoyed several legislative successes. But more bad economic news could be a boon for Republicans who already have the
strategic advantage
of
not
belonging to the same party as the incumbent president.